Explain How Costs Affect Pricing Decisions Essay Sample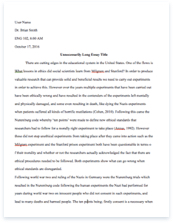 The whole doc is available only for registered users
OPEN DOC
Pages:
Word count: 320
Category: cost
Download Essay
Get Full Essay
Get access to this section to get all the help you need with your essay and educational goals.
Get Access
Explain How Costs Affect Pricing Decisions Essay Sample
Companies' main objective is to earn profits. To stay in the business, a company's management wants to increase profitability, thus it is important to determine how their decisions will affect profits. Profits depend on several factors, including selling prices, volume, and costs.
The two basic components that affect product pricing are costs of manufacture and competition in selling (Marketing, 2004). Pricing decisions must take into consideration various factors such as the production cost, selling or marketing cost, and administrative cost. In addition, companies must also take into account the selling price other competitors are offering for the same product.
A product's cost can be classified as either fixed or variable, according to whether the total amount of the cost changes as production volume changes (Dominiak & Louderback, 1997). Fixed cost is cost that remains the same in total regardless of production volume. Examples of these costs are property taxes, advertising, insurance, and utilities. Variable cost on the other hand, are cost that changes in total, in direct proportion to changes in production volume. Examples of variable cost are sales commission, packaging, and shipping costs.
Profit planning must take into account expected changes in cost. An increase in cost with no corresponding change in selling price will greatly affect company profits. Inflation is a major cause of changes in both fixed and variable costs. Suppliers might raise their prices, owners might raise rents, and salaries might rise. Because of inflation or competition, companies might also change selling prices. Cost is a major factor for pricing decisions. Variances between actual and budgeted cost are inherent in business. Actual cost may not correspond with budgeted cost, thus, it is important to have a thorough planning on how can these cost affect company profit.
References
Dominiak, G. & Louderback, J. (1997). Profit planning. Managerial Accounting, Eight ed. (pp. 31-33). South Western College Publishing.
Marketing (2004). Encarta reference library. Microsoft Corporation.