Explore the Strengths and Weaknesses of The Coaching Sessions Essay Sample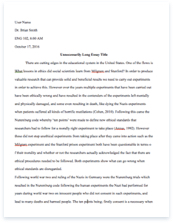 The whole doc is available only for registered users
OPEN DOC
Download Essay
A limited time offer!
Get a custom sample essay written according to your requirements urgent 3h delivery guaranteed
Order Now
Explore the Strengths and Weaknesses of The Coaching Sessions Essay Sample
It was relatively easy to establish the strengths and weaknesses that were there during my first coaching session.
The speed in my first session was not really up to scratch, as I spent a substantial amount of the time allocated on explaining the drills I had set and as a consequence spent hardly any time on my final drill. For the next coaching session I take, I sense it could be relatively more beneficial if I was to deliver a more brief explanation on the drills, granting me more time to expend in observing the techniques of the various players and correct them if necessary. This will also afford me more time to give demonstrations / visual guidance; and thus give the group a more logical understanding of what they are doing.
From observing how the first session went, I could tell there were players at various different levels of standard among the group. There were players with less ability whom discovered even the basic drills relatively complex and hard to combat, whereas there were also a few players whom were familiar within the sport that found the drills pretty straight forward. For the session I take, I'm going to give the two more advanced players a more skilfully challenging set of drills and then spend more time with the bunch that were having difficulties in session one. Doing this will prove more useful as well as beneficial for them as it will help them to add the more basic techniques and skills to their respective games, prior to moving on the next step. This will also mentally, give the players a lot more self belief within their game as they can be able to be involved in further more slightly advanced and technical activities amongst the group inputting what they've learnt to their game.
As the group of players consisted of a mixed level of playing ability the more established players grew bored due to having to go through drills they found no trouble at all accomplishing. I sense it would have been more professional to set drills that were likened to all levels in ability to affirm continuous level of learning and with that interest.
The quality of equipment was another weakness factor that arose in my session. The shuttle cocks were mostly worn out which made them non aerodynamic and the a few the badminton rackets size of heads looked to be some what vandalized. For my next session I shall attempt to get hold of better quality rackets and shuttles from the sports department.
Activity 2
According to the feedback I received from my assessor, it became evident although my enthusiasm, personality and demonstrations were up to scratch; the drills were a bit to unchallenging and basic for the more advanced players. This was as I did not conduct enough three shot rally drills.
I catered very well for individuals needs by pairing up players of similar abilities. I made sure I made my self heard so that everyone was able to determine the tasks requirements.
As it became apparent one pair of participants was in a stage of difficulty with a drill, I adopted use of communicating tactfully and guiding them the technique through mechanical means. (Shaping / moulding their body's in to correct stance) I made sure I delivered praise and admiration if a pair or player was showing signs of improvement. (Did something good) Mentally this aided their confidence and gave them a feel good factor which in turn encouraged them to strive for better. I also delivered positive feedback to the players that were putting lots of effort in as well as giving them constructive advice and criticism.
Come the closure of the session, I elaborated to the pairs on how I believed they had done, what I felt they did well at and what I believed they needed to work on. This was so they could go away and feel not only had they achieved something but yet with a little more practise and commitment might still be able to develop their game.
With all this said, there were weaknesses evident during the session. A factor that arose was that I didn't make some of the drills difficult enough for the two technically advanced players. This may have come across badly as the better players might not have enjoyed the session as much. (Or learnt much) Probably the most vivid weakness I had, was failing to be clear with reiterating the need for the players to input what they had learnt and picked up from the drills in to the match free play at the end of the session.