To what extent does there exist a universal predisposition towards religion Essay Sample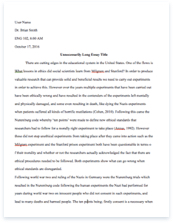 The whole doc is available only for registered users
OPEN DOC
Download Essay
Get Full Essay
Get access to this section to get all the help you need with your essay and educational goals.
Get Access
To what extent does there exist a universal predisposition towards religion Essay Sample
Christians believe that in the world there exists a universal predisposition to religion. They provide many arguments to support their claim including, the persistence of religion, and religious experiences. Humanists however are not as convinced. Like all aspects of religion they believe it all to be in the mind, they believe that religion has a hold over a person that does more harm than good.
One of the key arguments in favour of a universal predisposition to religion is the persistence of religion. Although religions have changed dramatically since there beginnings thousands of years ago, the fact remains that they have stood the test of time. The early religions of Eastern Europe and Asia have evolved into the main religions of this age, Hinduism, Buddhism, Judaism, Christianity and Islam.
Humanists argue this theory. They believe that the continuation of religion is more to do with the mind than anything else. Richard Dawkins author of "The Selfish Gene" believes that religions act as 'fads', which in some way replicate themselves through genes from one generation to the next.
Humanists go on to argue that if there is a persistence of religion then why is there such in a decline in people worshiping religions. They believe that this is an inevitable consequence of the spread if education and science. Not only do they think that the decline of religion is inevitable, it is desirable. Many western European countries have seen a rapid decline in traditional religion in the post World War 2 period, especially under the influence of liberalism and humanism.
For example, in the Netherlands before the war approximately half of the population were Roman Catholic and the other half were Protestants, with a small percentage of Jews and other minorities. This has changed since World War 2 where there is now a higher percentage of humanists than either Protestants or Catholics. Humanists agree that religion was a big part of the first few millennia of the human race but they conclude that it won't be a feature of the coming years.
However, Christians are quite successful when responding to this. Ninian Smart, a professor of religion at the University of California, has concluded that the decline of religion is actually more of a northern European decline than an overall decline. He argued that if you look outside northern Europe it doesn't seem such a good argument for humanists,
"The thesis never really held good in the US…the fluctuations in religiosity in America are not that great"
Religion is a very prominent issue in the United States and anyone who believes that religion is declining would only have to take a look at America. It is thought that only 6-8 % of the American population may be classified as unbelievers.
Religion is one of the most pervasive and enduring characteristics of human culture. Predictions by scientists and rationalists at the end of the eighteenth and nineteenth centuries that religion would eventually disappear surely were premature, because at the end of the twentieth century it remains as strong as ever.
Three dramatic religious events illustrate the perennial power of religious faith in human culture. The first is the huge annual assembly of Islamic pilgrims drawn to Mecca. Last year it was thought that there were as many as three million pilgrims from all classes flocked to Mecca. The second is the impressive annual event is the millions of Hindus in India who congregate at the Ganges River in accordance with ancient religious rituals. At the most recent event, an estimated 10 million people appeared at the Kumbha Mela festival. And the third is the huge amount of visitors who flock to see the Turin Shroud that it is believed Jesus Christ was wrapped in and buried in.
Christians put a lot of faith in the evidence from Anthropology and Archaeology to prove the existence of a universal predisposition to religion. Modern anthropology concludes that the belief in the supernatural and the presence of religious ideas and practices is virtually universal. While there is many variations in the degrees of religiousness shown by individuals the fact remains that there has always been some form of religion in human societies. It is more difficult to identify characteristics of religion that are universal, there is evidence pointing towards a series of recurrent ideas. The social anthropologist Pascal Boyer suggested that belief in non-physical beings is the most common feature of religions.
The origins of religion are thought to date back many thousands of years ago to a period anthropologists call the upper Palaeolithic period, probably about 40,000 years ago. Archaeological finds from this period include many underground painted caves which are thought to be where the rituals took place. Famous examples of these are the painted caves of Les Trois- Freres in France. On the walls are pictures of sorcerers or shamans which experts believe could be their version of God. Some critics have labelled the pictures as simplistic but Steven Mithen, an anthropologist, believes that these caves depict a mythological world with ideas as complex as those of the Australian Aborigines Dreamtime and stated,
"We are indeed seeing here the first appearance of religious ideologies"
Archaeology also plays a part. Evidence from burials around the Upper Palaeolithic period show that not everyone was buried, since this was the case it is believed that only the religious leaders of the time would be buried. An example of this is the burials at Sungir in Russia. The burial consisted of a 60 yr old man and a joint burial of a male and female adolescent. Each of the corpses was decorated by thousands of ivory beads. This leads us to believe that these people obviously believed they were going somewhere, maybe to the next life. Steven Mithen stated,
"It is difficult to believe that such investment would have been made in burial ritual, as at Sungir, had there been no concept of death as a transition to a non-physical form"
This kind of behaviour is not unlike that of our own outlook today. We have our own burial rituals in which the deceased is dressed in their best suit or dress or a new suit or dress. The reason could be that we want them to look their best in the afterlife.
However, the evidence doesn't seem quite as conclusive when it is learned that the Neanderthals had no such rituals. While it is clear that some people were put into a pit upon death there is no evidence to show that they were buried with any sacred artefacts or by any ritual as was the case at Sungir and still is the case now.
Religious Experiences have their part to play in the claim to a universal predisposition to religion. Religious experiences can take many forms and do not only affect believers; in fact work carried out by Sir Alistair Hardy has proven that more often than not it happens to children, atheists and agnostics. Religious experiences don't only take the form of near death experiences and angels etc, Rudolf Otto believed that religious experiences can be the sense of mystery which people come to feel in certain circumstances. An example of which could be the sudden feeling of awe or the feeling of being in the presence of something eerie or uncanny which is powerful.
However, humanists disagree with this theory of religious experiences. David Hume, a humanists, thought it a "miracle" in itself that people who believe in miracles are willing to subvert all of the evidence of the senses and the processes of rationality in order to accept their beliefs.
It has been suggested that religious experiences are part of a general disposition to look for and find meaning in life. It could be a scenario of people trying to justify their beliefs and values to give meaning to their lives. Within human life in general, it would seem, a degree of faith prevails over doubt and despair.
Therefore, referring back to the question, it would seem that there is a universal predisposition to religion. I believe that humanists don't put up much of a fight on this issue because they know that it's probably correct. They justify this view point by indicating that while religion may have featured prominently up to now, it's on its way out. Christians have some very strong arguments regarding the predisposition to religion that I believe prove that it does exist.