External and Internal Environmental Analysis Essay Sample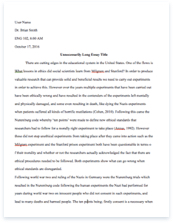 The whole doc is available only for registered users
OPEN DOC
Download Essay
A limited time offer!
Get a custom sample essay written according to your requirements urgent 3h delivery guaranteed
Order Now
External and Internal Environmental Analysis Essay Sample
Both external and internal environmental analyses are very important process for any company's strategy plan. To find out which way compete competitor and be successful, every organization needs to review both of these environments enables the company. Through this planning an organization may identify the weakness and strengths of its. Apple Inc. was first launched into the technology market as a computer company. In 1976, Steve Jobs and Steve Wozniak launched Apple Inc. with the mission of reaching a diverse community globally to market its products. Since that time, there have been changes in the external environment of the company that has an impact on the decisions the organization makes. Apple Inc. has implemented frameworks to assess its external and internal environment. The company has identifies the specific domains that affect the operations of the company from the outside. These forces of the organization enable the operations of the company to be influenced. Apple Inc. considers the global market to be of high importance. Globalization is becoming a criterion for large organizations to excel above their competition.
Apple Inc. needs managers and executives proactively understanding that if the company is not globalizing it can leave them behind of the competition. This can be a tough challenge for Apple because many U.S. companies have not been successful capturing many global markets. Apple never thought about capitalizing on its digital future globally until they made a change in their strategy. Apple had to realize just how much influence it would make by expanding its products and service to a global level. It would help to increase their visibility and marketability worldwide. Because of the rise in revenue and the need to go international, specifically in Japan, Apple created a strategic plan to go forward in the direction of globalization. There are many companies who market some of the same products as Apple. If Apple gains 2% of the digital technology market in other major countries no other rivalry or new entrants in the market can compete in the next 50 years.
Apple Inc. can take advantage in the global countries that always have Apple computer stores located. Apple can feed off the success these stores have as they have remained operational and profitable. Technology is a continuous development in today's society and is an important factor in management. Apple Inc. is a technology company that profits from the development and selling of personal computing products and services. Apple must continue to stay ahead of the competition with their continuous increase in technology. There are currently many other companies in the same business as Apple such as Microsoft and Google, which poses a threat to the company. Google is a major competitor because of its Android platform that competes with Apple's iPhone and Microsoft with its Windows platform against Apple's OSX platform (Apple, 2012). Apple has developed new technologies to create new innovative products, such as the iPhones and the iPads. These products have forged and created new technology markets. Apple's challenge is with the competitors and rivals that they are faced with daily. Many companies have computers that they continue to market such as IBM and Microsoft.
These companies along with other companies try to beat out Apple in innovation, product performance, and quality of products. Companies such as Blackberry, Samsung, and Google, just to name a few are making products to mirror what Apple has produced. Apple Inc. continues to enhance its products and will need to improve each year. Apple has continuously enhanced the iPhone to make it the best product over any other company. There is word that the iPhone 5 will be released soon with better quality and updates than the iPhone 4s. Apple continues to look for ways to make its products better than ever and keep customers intrigued and looking for more. Apple is also faced with many companies who try to do product substitutes of its products. For example, the walkman's and MP3 players; the Blackberry and Samsung to duplicate the iPhone.
Apple has to be pay attention to these products and other companies to ensure they continue to advance their products as much as possible. Apple has continued to stay ahead of the competition by developing new ideas and technology. They must continue to develop, design, and evaluate the overall success of the products to determine if it is good enough. Implementation and planning of a new product to launch to consumers is crucial to the success of the product and the company. A strong management team enables a product to be successful because they understand the industry and what customers want and need. Internal factors will contribute to the growth of Apple's success. Innovation, differentiation, competition, and leadership are factors that can contribute to the success of Apple. Steve Jobs put Apple in the place where they would be successful and even after he is gone they continue to travel down the right path to continue to remain innovative in the phone world. Innovative strategies are what make Apple who they are today.
Apple is always in the front in producing digital technology, which keeps them ahead of competitors. Apple is the first to introduce many of its products, such as the iPod nano and the original iPod. Apple never waits for any product to become old before a new one is already produced. Steve Jobs developed a strategy that enabled Apple to be at the beginning of the computer generation. Jobs led Apple's introduction of such as application as iTunes, the iPhone, iMovies, the Apple computer, and the IPod. Apple Inc's goal is to create value and competition sustainable for the company to attain high profit maximization levels. Apple Inc. can remain number one in the computer market with the strong brand image the company portrays to consumers which will in turn lead to strong relationships between the company and its customers.
Organizations use SWOT analysis to analyze its progress in the market and where the strengths, weaknesses opportunities of an organization can be uncovered. Through the company innovative products, the Apple organization creates a great impact in the PC industry. It is through these innovative ventures that the organization can be able to fulfill the needs of the customers despite the changes being experienced in e-commerce. One weakness Apple Inc. is facing is the act of product recalls. This occurs when the defective products from the company are returned to the company from the market. This request of product recall entails the return of a selection or the entire product line of commodities to the selling company because of specific reasons. This company weakness costs the organization valuable funds because of the legal liabilities that they have to meet in terms of the damages for withdrawal when the goods are recalled back to the Company.
It is important that the external environment is controlled to avoid any circumstances that will affect the operations of the company. The company has great competitive advantage over other corporations in the same field of business because of its unique products constantly placed in the market. The opportunities that the company has are the new smart phones that have captured great market value. The products have been proven to give the esteemed clients value for their money yielding to high levels of customer satisfaction. These high rates of customer satisfaction create customer loyalty for Apple Inc ("All about strategic planning", 2012). Apple Inc. stands ahead of other companies because of the offering of its products in retail stores. The company provides itself with an opportunity to build on a relationship with its customers, meet their needs, and build clientele within the business market. The retail stores are a great competitive position that Apple has because customers can provide their feedback on the performance and quality of the products with employees directly.
References
Apple. (2012). Retrieved from http://www.apple.com
Apple (2012). Apple and the Environment. Retrieved August 25, 2012, from http://www.apple.com/environment/
Apple Reports Third Quarter Results. (2012). Retrieved from http://www.apple.com/pr/library/2005/07/13Apple-Reports-Third-Quarter-Results.html All About Strategic Planning. (2012). Retrieved August 25, 2012 from http://managementhelp.org/strategicplanning/index.htm
Barney, J.B. (2007). Gaining and sustaining competitive advantage (3rd ed.). Upper Saddle River, NJ: Pearson Prentice Hall.
History of Apple Inc. (2012). Retrieved from ttp://en.wikipedia.org/wiki/History_of_Apple_Inc. Pearce II, J. A., & Robinson, J. R. (2011). Strategic management: Formulation, Implementation, and Control (12'th ed.). New York: McGraw-Hill Irwin.