Eye Health Care Professionals: Progression, Rivalry, and Outlook Essay Sample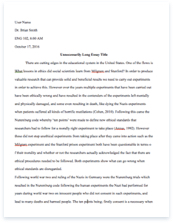 The whole doc is available only for registered users
OPEN DOC
Download Essay
Get Full Essay
Get access to this section to get all the help you need with your essay and educational goals.
Get Access
Eye Health Care Professionals: Progression, Rivalry, and Outlook Essay Sample
Eye health care professionals have drastically changed over the years. A growing number of eye care providers are making waves and new job specifications have been introduced. There are now a diversity of health care professionals that offers eye care– opticians, optometrists, ophthalmologists and ophthalmic registered nurses. These eye care health professionals have different background education profiles and their practice restrictions are established by varying levels of guideline.
There are a number of eye care providers practicing in the country that caters to a variety of patient needs. There are eye care providers who make routine eye care needs of consumers, while others practice in a more serious and delicate side of eye care such as deliver acute care or treat more serious conditions. The features distinguishing the different eye care professions may not be evident to consumers, but the services they provide varies, as well as with their training and education, and how they are regulated. Set forth below are detailed summaries of common eye care providers, and a discussion of their distinguishing characteristics.
Optometrists
What they do
Optometrists, also known as doctors of optometry, or ODs, provide most primary vision care. They examine people's eyes to diagnose vision problems and eye diseases, and they test patients' visual acuity, depth and color perception, and ability to focus and coordinate the eyes. Optometrists prescribe eyeglasses and contact lenses and provide vision therapy and low-vision rehabilitation. Furthermore, they analyze test results; interpret to enable them to develop a treatment plan.
To assist patients with vision problems, they administer and prescribe drugs to their patients to treat their eye diseases. Cataract patients were provided by Optometrists with preoperative and postoperative care as well as to patients who have had laser vision correction or other eye surgery. They also diagnose conditions caused by systemic diseases such as diabetes and high blood pressure, referring patients to other health practitioners as needed. (http://www.bls.gov/oco/ocos073.htm)
There are lots of job opportunities for optometrists because most of them are in general practice. While others specialize in work with the elderly, children, or partially sighted persons who need specialized visual devices. Some specialize in contact lenses, sports vision, or vision therapy. While others are in education where they teach optometry, or in a research field or others become consultant.
Most optometrists are in the business field where they are private practitioners who also handle the business aspects of running an office, such as developing a patient base, hiring employees, keeping paper and electronic records, and ordering equipment and supplies. Optometrists who operate franchise optical stores also may have some of these duties. (Soroka, 2005)
Training, Other Qualifications, and Advancement
All States and most of the countries required the optometrists be licensed. A pre requisite for applicants for a license must have a Doctor of Optometry degree from an accredited optometry school and must pass both a written National Board examination and a National, regional, or State clinical board examination. Many States also require applicants to pass an examination on relevant State laws. The Doctor of Optometry degree requires the completion of a 4-year program at an accredited optometry school, preceded by at least 3 years of preoptometric study at an accredited college or university. (http://www.bls.gov/oco/ocos073.htm)
Optometrists wishing to teach or conduct research may study for a master's or Ph.D. degree in visual science, physiological optics, neurophysiology, public health, health administration, health information and communication, or health education.
One-year postgraduate clinical residency programs are available for optometrists who wish to obtain advanced clinical competence. Specialty areas for residency programs include family practice optometry, pediatric optometry, geriatric optometry, vision therapy and rehabilitation, low-vision rehabilitation, cornea and contact lenses, refractive and ocular surgery, primary eye care optometry, and ocular disease. (Occupational Outlook Handbook, 2006-07)
Ophthalmologists
What they do
Ophthalmologists are medical doctors who specialize in all aspects of eye health. They give primary eye care services – such as prescribing glasses and contact lenses – and prescribe medications and perform surgical procedures, such as laser surgery and lens replacement. They diagnose and manage eye diseases, conditions, and disorders, and treat and repair eye trauma and injuries – using both surgical and non-invasive techniques. As part of their routine, ophthalmologists evaluate medical and surgical histories, test visual acuity, and examine the function of the eye. (National Consumer League, 2005)
Training, Other Qualifications, and Advancement
Ophthalmologists are physicians, either a doctor of medicine (MD) or a doctor of osteopathy (DO), who have attended college and completed 4 years of medical school, at least 1 year of internship, and 3 or more years of residency training specializing in medical and surgical eye care. Ophthalmologists may have also completed 1 or more years of subspecialty training in a specific area of ophthalmology, such as retina, cornea, glaucoma, pediatrics, oculoplastics, and neuro-ophthalmology. (http://www.emedicinehealth.com)
There are medical doctors who are licensed by the state to enable them to practice medicine and who can perform surgery. Their services covers the total eye care which includes performing a complete eye examination, prescribing eyeglasses and contact lenses, diagnosing and treating eye diseases, and performing surgery.
   Because they are graduates of medical school, ophthalmologists are often more attentive of how various diseases may have an effect on the eye and findings noted during an eye examination may indicate serious disease elsewhere in the body. In addition, ophthalmologists often have a better understanding of how different medications can interact with each other as well as how they may interfere with other health conditions and can cause unintentional side effects, and thus prescribing medical treatment are one of their expertise.
Ophthalmic Registered Nurses
What they Do
            Ophthalmic registered nurses typically work in ambulatory surgery settings, since most procedures can be performed on an outpatient basis. But they also work in refractive surgery or laser centers, home health, research, eye banks, industry and charitable organizations. In ambulatory settings, they provide education and perform preoperative assessments, which include acquiring information about patients' overall health, prescribed medications, allergies to other medications, systemic conditions, and whether they suffer from any anxiety-provoking factors, such as claustrophobia. In the operating room, ophthalmic registered nurses function either as a circulator or a scrub nurse. (Clouser, S., 2005)
Ophthalmic nurses are more involved in providing eye care to the patients. They are very important in helping patients understand the entire disease process. For an instance, they teach patients with diabetes the importance of regular ophthalmic checkups and how strict monitoring and control of blood sugar can slow the progress of diabetic retinopathy that often leads to blindness.
Training, Other Qualifications, and Advancement
All States and most of the countries required, students must graduate from an approved nursing program and pass a national licensing examination, known as the NCLEX-RN, in order to obtain a nursing license. All States require periodic renewal of licenses, which may involve continuing education. There are three major educational paths to registered nursing: A bachelor's of science degree in nursing (BSN), an associate degree in nursing (ADN), and a diploma. BSN programs, offered by colleges and universities, take about 4 years to complete. (Occupational Outlook Handbook, 2006-07)). They have to choose to specialize and train in ophthalmic field.
The most common way to learn about ophthalmic nursing is through self-study, continuing education and on-the-job training. The American Society of Ophthalmic Registered Nurses, (ASORN), includes an affiliate membership for anyone on the ophthalmic team including ophthalmic medical personnel, ocularists, opticians, administrators and even ophthalmologists. (Clouser, S., 2005)
Opticians, Dispensing
What they Do
Dispensing opticians fit eyeglasses and contact lenses, following prescriptions written by ophthalmologists or optometrists. Dispensing opticians check written prescriptions to decide the specifications of lenses. They also advise eyeglass frames, lenses, and lens coatings after careful consideration of the prescription and what the customers prefer based on their facial features, work, or other aspects.
Dispensing opticians measure clients' eyes, including the distance between the centers of the pupils and the distance between the ocular surface and the lens. For customers without prescriptions, dispensing opticians may use a focimeter to record eyeglass measurements in order to duplicate the eyeglasses. They also may obtain a customer's previous record to re-make eyeglasses or contact lenses, or they may verify a prescription with the examining optometrist or ophthalmologist. (Occupational Outlook Handbook, 2006-07)
Training, Other Qualifications, and Advancement
Employers usually hire individuals with no background as an optician or as an ophthalmic laboratory technician. Most dispensing opticians receive training on the job or through apprenticeships lasting 2 or more years. Some employers seek people with postsecondary training in the field.
Knowledge of physics, basic anatomy, algebra, and trigonometry as well as experience with computers are particularly valuable, because training usually includes instruction in optical mathematics, optical physics, and the use of precision measuring instruments and other machinery and tools. Dispensing opticians deal directly with the public, so they should be tactful, pleasant, and communicate well. Manual dexterity and the ability to do precision work are essential. (Occupational Outlook Handbook, 2006-07)
Job Outlook for all Eye Care Professionals
In response to the vision care needs of a growing and aging population, expected rise of employment for all eye care professionals are expected to grow faster than average for all occupations through 2014. Because of the onset of vision problems in middle age, including those resulting from the extensive use of computers, people will be more likely to visit optometrists and ophthalmologists because there's an increase of growth in the oldest age group who were likely to have cataracts, glaucoma, diabetes, and hypertension. Greater recognition of the importance of vision care, along with rising personal incomes and growth in employee vision care plans, will have an impact for the demand of the job.
Issues on Eye Care Professionals
American Osteopathic Association Shocked by Oklahoma Governor's Approval of Optometrists Performing Surgery
Oklahoma Governor Brad Henry decided to allow optometrists to perform surgery. This decision has been a dismayed for The American Osteopathic Association (AOA), representing more than 54,000 osteopathic physicians across the United States including thousands of ophthalmologists.
Ophthalmologists felt that the Governors decision was deliberately disregard for the safety of eye care patients in America. It was also a sign of disrespectful towards ophthalmologists who have been practicing and giving surgeries under rigorous training and specialization.
In 1998, Oklahoma optometrists were granted rights to perform laser surgery which represented an increase in their scope of practice. Since 1998, Oklahoma optometrists have been taking the laser surgery one-step further and performing other surgeries including removing foreign objects from the eye without the education and training to do so. (Business Wire, 2004)
It has become a discussion across the United States because of a serious matter. It has caused a domino effect that several states would like to follow such incident. It has been pointed out that Optometrists are not licensed physicians and they just can't perform surgery.
Surgery should be considered a serious matter, and intensive training should be observed and the doctor who will perform on it should be his specialization and not just one click you'll be able to do it. It's beyond cutting the eye, because it involves pre-operative care, anesthesiology and post-operative care. It's total quality care; And Optometrists aren't trained to perform surgery or oversee these other areas of care. They were not required to complete a surgical residency, which the ophthalmologists has a specialized training.
Rivalries Between Eye Care Professionals
Competition is tough for eye care professionals, but it varies from state to state. State have laws covering eye-care professionals differ from one group of practitioner to another, and vary sharply from State to State for optometrists and opticians. Ophthalmologists, as medical specialists, are governed by medical practices acts, which are essentially consistent from State to State.
However for optometrists and opticians, depends to other specific regulations such as those issued by State optometry boards. Generally, the regulations on these two classes of practitioners cover professional qualifications for licensure; restrictions on employment activities and optometric and optician outlet locations, including branching; and limitations on doing business under a trade name. Optometrists are usually more restricted than ophthalmologists and less restricted than opticians in their provision of eye-care services.
An analysis of restrictions on opticians' activities raises the question of the extent to which they are warranted as consumer protections and the extent to which they are intended to constrain the competition posed by opticians against ophthalmologists and optometrists.Let's take a look for an example for opticians, where their practices are limited from state to state. Please refer to the figure below.
Eye care is a serious matter. We should be able to identify various eye care professionals in order for us to consult. Eye Care Health professionals will continue to increase over the years because of the demand of various eye treatments. There may be varying of job descriptions at the moment, but soon other scope of health field will be covered by these eye care professions. Some ophthalmologists may enter into cosmetic surgery, like what have others been practicing now. And the issue between optometrists operating may be soon legalized in other states, provided that they will undergo an intensive training.
Our vision is very essential to our well being, and we should take good care of it. Our health is very important for us, and being educated in various eye care health problems, disease providers and practitioners will benefit us. It will enable us to get the best result for our health.
Works Cited
Belikoff, Kathleen. Opportunities in Eye Care Careers. Chicago: VGM Career Books, 2004.
Bohlman, Hal. "The Obesity Epidemic: A New Role for O.D's?" www.revoptom.com 11 October 2006 http://www.revoptom.com/index.asp?page=2_1764.htm
Chastian, Sue. "If You Can See This It Sill May Not Be Enough." The Philadelphia Inquirer 15 September 2006: 1J+
Clouser, Susan. " How to Become an Ophthalmic Nurse" The Journal of American Society of Ophthalmic Nurses. August 2005, p.6
Gearon, CJ. "Medicine's Turf Wars." U.S News & World Report 31January – 7 February 2005: 138, 56-60, 62, and 64.
Stein, Harold A. The Ophthalmic Assistant: A text for allied and associated ophthalmic personnel. Philadelphia:  Elsevier Mosby, 2006.
 Soroka, Mort. Feldman, Lauren. "Optometry in a Hospital Setting." Journal of Community            Health v. 30 no.1 February 2005: 13-22
Voorhees, Lorraine. et.al. "Men and women in optometry: II. Attitudes towards career and family." Journal of the American Optometric Association. 68, no.7 July 1997: 435-47.
Wischnitzer, Saul, and Edith Wischnitzer. Top 100 Health-care Careers: 2Nd Ed. New York: JIST Works, Inc, 2005.
 "American Osteopathic Association Shocked by Oklahoma Governor's Approval of Optometrists Performing Surgery." www.findarticles.com. 12 October 2006
http://www.findarticles.com/p/articles/mi_m0EIN/is_2004_Nov_2/ai_n6275982
"Ruling: Oklahoma optometrists performing LASIK is not OK.(Legal revision)." www.findarticles.com.
            http://findarticles.com/p/articles/mi_hb3331/is_200405/ai_n8040759
"Optometrists." www.bls.gov 25 September 2006. http://www.bls.gov/oco/ocos073.htm
"Best Jobs in America: Optometrist." www.money.cnn.com 25 September 2006
http://money.cnn.com/magazines/moneymag/bestjobs/snapshots/22.html
"Medicare issues important to Optometry." www.aoa.org 29 September 2006 <http://www.aoa.org/x5999.xml>
Bureau of Labor Statistics, U.S. Department of Labor, Occupational Outlook Handbook, 2006-07 Edition, Registered Nurses, on the Internet at (visited November 05, 2006).
http://www.bls.gov/oco/ocos083.htm
"White Paper on Eye Care Providers" National Consumers League, October 2005
http://www.emedicinehealth.com
http://www.wws.princeton.edu/ota/disk3/1984/8409/840909.PDF