Faces Of Citizenship Essay Sample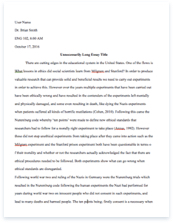 The whole doc is available only for registered users
OPEN DOC
Pages:
Word count: 324
Category: city
Download Essay
A limited time offer!
Get a custom sample essay written according to your requirements urgent 3h delivery guaranteed
Order Now
Faces Of Citizenship Essay Sample
There are six faces of citizenship. An exclusionary citizen is one who keeps to himself. He has no knowledge of anything past his own experience and is disconnected from the rest of the community. An oblivious citizen uses the community as a resource to draw information from, but remains detached and alone. A naïve citizen randomly engages members of the community in activities, but has no history with them and no knowledge of culture. He has no vantage point.
A charitable citizen believes in helping the community. He meets the needs of others and tries to end suffering. A reciprocal citizen is one who both gives aid to and is aided by the community. He is aware of democracy and culture. The generative citizen and other citizens are interdependent. He is civically prosperous; know of the struggles for democracy, see from multiple vantage points and looks toward the future to improve it.
In one study group, I suggested weekly meetings, rather than monthly get-togethers. Conflict arose when others suggested that dedicating too much time to studying, rather than acting was counterproductive. We were able to reach a compromise, meeting twice a week, rather than monthly or weekly.
When I was younger, I thought leadership and monarchy were synonymous. I now see that leadership does not mean the exclusion of the ideas of others, rather, it can involve conflict and collaboration. It centers on effective organization, rather than random whims. Participating in organizations has broadened by view of the world. I have become a less naïve citizen, drawing from the resources of others and contributing what I can to the organizations I have been a part of.
I am especially skilled at staying calm under pressure. I manage time well, so that I can meet demands without becoming overtired. However, I am not always open to new ideas and often merely exist, rather than becoming excited with new projects.