Facing the Giants Essay Sample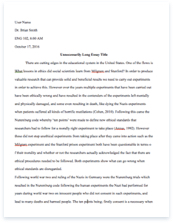 The whole doc is available only for registered users
OPEN DOC
Get Full Essay
Get access to this section to get all help you need with your essay and educational issues.
Get Access
Facing the Giants Essay Sample
I. Introduction
"Never give up." "Never back down." "Never lose faith." "With God NOTHING is IMPOSSIBLE." These are just some of the quotations that were mentioned in the movie. Grant Taylor, who is a football coach, is struggling to keep the school's football program alive. But when things seems like they can't get any worse, Grant prays, gets inspired and renew his entire philosophy of coaching. The movie strengthens my faith in God and at the same time it reminds me of the quotation in Filipino "nasa Diyos ang awa, nasa tao ang gawa." From this movie, you will learn not to give up on your dreams, because with God nothing is impossible.
II. Summary
A failing high-school football coach finds that in order to succeed he must convince his team that there's more to sports than fame and glory in an inspirational tale of courage on the gridiron and the power of God's word. Grant Taylor has been coaching the Shiloh Eagles for six years, and he has yet to realize his dream of a winning season. When the team's star player transfers schools, the first three games of the new season show no promise for improvement, troubles at home begin to take their toll, and a plot among the player's fathers to have him fired finds his future in football looking bleak, Coach Taylor is faced with the prospect of either cutting his losses and admitting defeat or turning his life over to God in an attempt to test the true power of faith. With his job on the line and nothing left to lose, Coach Taylor convinces his determined team of underdogs that there's nothing they can't accomplish with a little faith — including the miracle of a winning season when all hope seems lost.
(Source: http://www.starpulse.com/Movies/Facing_the_Giants/Summary/)
III. Reaction Paragraph
At first, I thought that the movie was all about "winning the football game" only. I am not a fan of sports that's why when the movie was starting I said to myself that I would not be able to understand the movie. But as the story goes I realized that it is not just about the game but on how the coach change his philosophy of coaching and changing also the lives of his team. Before they start playing football, they pray for God's guidance and say that "win or lose they will still praise God". Most of the time they win, but there was one time they lose, but still one member of the team announces that "win or lose we will praise God" and so they did. Days after, they were called and told that they will still be able to play because there opponent cheated. And that is where the quotation "nasa Diyos ang awa, nasa tao ang gawa" comes into my mind. No matter how hard it is for us, we should still continue what we are doing for the love of God. We should do our best and leave the rest to Him.
IV. Conclusion
In any problem or challenges in our lives that we know is impossible for us to do, the only way is to believe and have faith in God because WITH GOD NOTHING IS IMPOSIBBLE! God will make a way and we should give him the lead to our success.