Factors Affecting Academic Failure Among High School Students Essay Sample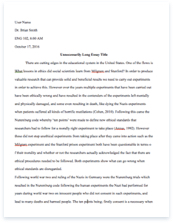 The whole doc is available only for registered users
OPEN DOC
Get Full Essay
Get access to this section to get all help you need with your essay and educational issues.
Get Access
Factors Affecting Academic Failure Among High School Students Essay Sample
Education makes a man perfect. Everyone has to pass through three stages of education. These are – primary education, secondary education and higher education. In primary education children start to learn the basic knowledge.
After that they come to the stage of secondary education. High school is the destination where students have to come to take secondary education. In this stage students are not children. This stage of education has a great effect on everyone's life.
Teens that are going through high school are also going through one the most important times of their development. For many, this moment in life is a time in which a cross-road is approaching; determining the path that they will take after high school graduation. In addition to maintaining grades, there are barrages of different elements that burden teens during this time that can make their lives among the most stressful.
Education at secondary school or teen level is supposed to be the foundation towards higher knowledge in college. It is an investment as well as an instrument that can be used to achieve a more rapid economic, social, political, technological, scientific and cultural development in the country. The National Policy on Education (2004) stipulated that secondary education is an instrument for national development that fosters the worth and development of the individual for further education and development, general development of the society and equality of educational opportunities
The Millennium Development Goal of Education of the United Nations stated that "Education is the key that allows people to move up in the world, seek better jobs, and ultimately succeed fully in life. Education is very important, and no one should be deprived of it." But with many factors that interferes studies specifically the different difficulties that students face both inside and outside the classroom the end goal-education for all, might not succeed especially on the larger scope not just in STMA but on the society at large.
With these in mind, the researchers understand that the school should look seriously on the factors affecting student's performance academically. Factors that hampers' the advancement of the students that if unchecked will ultimately hamper them to pursue higher education and quit their studies and eventually add to the future burden of the society.
Conceptual Framework
The framework of this research as can be viewed below will anchor on the independent variable high school students while factors affecting academic performance are the dependent variable with specific subunits of a. social b. economic and c. personal
Factors Affecting Academic Failure
a. Social
b. Economic
c. Personal
Factors Affecting Academic Failure
a. Social
b. Economic
c. Personal
High School Students
High School Students
Independent VariableDependent Variable
Fig. 1 Research Paradigm
Statement of the Problem
This study will focus on answering the following problems:
Major
1. What is the extent of students' academic failure factors in terms of:
a. Social b. Economic c. Intellectual/emotional
2. What are the reasons why students fail in their academic subjects?
Minor
3. What are the common subjects students have difficulty coping up with?
4. What could be the contribution of the following to solve academic failure?
a. students b. parents/guardians c. school
Assumptions
The study assumed the following:
1. Students have difficulty coping up with their studies due to various reasons like social (vices), economic (not enough money for tuition and projects) and personal (parents are always fighting).
2. Students are not open with their parents regarding their difficulties in school thus they tend to fail. Parents expect too much from their children yet they lack follow up on their children's academic performance.
3. Though helpful, technology like internet and cellphones affects students' academic performance.
Scope and Delimitations of Study
This study sought to know the different factors that affect academic failure among high school students of St. Thomas More Academy academic year 2012-2013. The respondents of the study were high school students currently enrolled irrespective of year level and sections nor age and gender. It limits itself only on the factors that directly and indirectly affect their studies and their personal experiences on the difficulties they encountered in the classroom with regards to their lessons or subjects.
Significance of the Study
This study was about the various factors that influences the academic failure of high school students of St. Thomas More Academy Inc. for their awareness of its consequence on their academic performance. The persons that would benefit are the following;
Students
A better understanding on various factors that affects students' performance would enable them to rethink their study habits and achieve improved grades. Further, students would be able to gauge the negative factors its immediate negative effects on their grades. Teachers
The findings of this study may likewise motivate and challenge them to understand their teaching methods and suit their teaching technique and strategies so that students would be able to motivate, grasp and appreciate more their respective subjects.
School Administration
The researchers sincerely hope that the administration may be able to use the result of this study to plan academic activities and curriculum that will enhance students' performance and capabilities. Parents
The result of this study may be used by parents to let them understand what their child is going through that may affect their performance at school. Future Researchers
Future researchers will be able to use the findings of this study to understand that the present batch experienced the factors stated on this study and be able to pursue other factors or a follow up an in-depth study of taking the factors individually.
Definition of Terms
The following special terms has been sued to suit this study.
curriculumA course; particularly, a specified fixed course of study
difficultythe quality of something that makes it hard to do
educationthe field of study that deals mainly with methods of teaching and learning in schools
factors something that helps produce or influence a result : one of the things that cause something to happen
gradesa number or letter that indicates how a student performed in a subject.
parental pressurepressures coming from parents or adults to students to study harder and get better grades.
peer pressure a feeling that you must do the same things as other people of your age and social group in order to be liked or respected by them
subjects In the case of this study would refer to the academic or school lessons being offered in high schools; an area of knowledge that is studied in school
teacher factor-Refers to the act or acts, behavior, lesson strategies that affects students' performance in class.
Chapter II
Review of related literature and studies
In preparing this study the researchers earnestly searched for different books, newspaper articles and other media as point of reference. There are numerous sources that the researchers found especially on the internet related to these. The researchers thoroughly examined the following related literature and studies; Related Literature
A new study shows that children's academic interests increasingly match the subjects in which they get the best grades as they progress from elementary through high school. The study tracked approximately 1000 children from first grade through twelfth grade. Boys and girls were found to have differing patterns. This specialization might help children focus on a certain field, yet a more generalist approach could be beneficial for a labor market that requires flexibility. In a parental article written by Stormy Hickman entitled The Importance of Good Grades in School he stated that "Making good grades in school isn't only about keeping your parents happy. It is also important for long-term reasons. Putting effort into your studies will make your high school transcript a picture of a dedicated, intelligent student". (PDI Sept. 23, 2008)
Catherine Anderson said that "Getting good grades while in high school is not just important for the future. It is also important during the years that the student is in high school. While in high school, students typically find themselves facing a great deal of peer pressure to smoke or do drugs. Diane Swanbrow, News and Information Services, states that students who get good grades are less likely to smoke in high school, and they're also less likely to smoke during their 20s." Good grades can have a rewarding effect on students. Not only are the teachers happy with the student, parents are, too. Parents and teachers want to see students do well in school. Many rewards are given to students that perform well academically. At the end of the academic year, some schools award students trophies for good grades, states Dr. Patricia Fioriello, an education consultant specializing in secondary school solutions.
Aremu and Sokan (2003) submit that the search for the causations of poor academic achievement is unending and some of the factors they put forward are: motivational orientation, self-esteem/self-efficacy, emotional problems, study habits, teacher consultation and poor interpersonal relationships. Poor academic performance according to Aremu (2003) is a performance that is adjudged by the examinee/testee and some other significant as falling below an expected standard. Poor academic performance has been observed in school subjects especially Mathematics and English language among secondary school students (Adesemowo, 2005). Aremu (2000) stresses that academic failure is not only frustrating to the students and the parents, its effects are equally grave on the society in terms of dearth of manpower in all spheres of the economy and politics.
Bakare (1994) also made efforts to categorize factors militating against good academic performance into four principal areas which are: i. Causation resident in the child such as basic cognitive skills, physical and health factors, psycho-emotional factors, lack of interest in school subjects and lessons. ii. Causations resident in the family such as: cognitive stimulation/basic nutrition during the first two years; type of discipline at home; lack of role model and Finance iii. Causation resident in the school such as school location and physical building; interpersonal relationship among the school personnel iv. Causations resident in the society such as instability of educational policy; under-funding of educational sector, leadership; Job losses
Related Studies
Numerous studies, such as those carried out by Fullana Noel (1995) and Montero Marcos (1990) have sought to understand the factors which account for low achievement of students in schools. Studies seeking to identify what determines academic failure frequently appear as a reaction to conditions of change such as; technological advancement, change in lifestyle, change in values and morals as well as change in the society at large.
In general, the various studies which attempt to explain academic failure do so beginning with the three elements that intervene in education: parents (family causal factors), teachers (academic causal factors), and students (personal causal factors). Among personal variables most studied are motivation and self -concept. Motivation is considered to be the element that initiates the subject's own involvement in learning: when a student is strongly motivated, all his effort and personality are directed toward the achievement of a specific goal, thus bringing to bear all his or her resources.
According to González (1997), a consensus exists among the diverse motivational theories and approaches inasmuch as they conceptualize motivation in terms of conscious beliefs and values. In the arena of motivation there exist all kind of opinions and results, some research claims that motivation maintains a circular relationship with the level of information processing and this in turn with performance (Núñez, González-Pineda, García, González -Pumariega, Roces, Álvarez & González, 1998). In other research motivation is found to be one of the elements that most distinguishes those required to repeat a schoolyear from those being promoted (Burgaleta, Valverde & Fernández Garrido, 1988), the repeaters being those who are most bored in class (Campuzano, 2001). Other authors have found that subjects themselves attribute low performance to low ability and to luck (Valle Arias et al, 1999)
An undergraduate thesis entitled The Effects of Internet on the Academic Performance of STMA High School Students (Reyes et al, 2011) showed that more than half of the 400 respondents were addicted to internet gaming and online social networking and enumerated the ill effects of it on their studies like tardiness, not doing assignment and projects, cutting classes and worse not attending classes at all. This correlates with the study made by Lubiano et al (2011). On their undergraduate thesis, they stated that most of the students fail on their subject due to the following; lack of parental support, lack of academic facilities, lack or absence of study habits, lack of academic comprehensive program that will enhance student's capabilities.
Both undergraduate studies of Bautista (2011) and Ebis (2011) tackled about parental problems and domestic issues that directly affect students' emotional, spiritual and most especially academic aspect of their life.
Chapter III
Methodology
This chapter deals with the methodology of the studies. This is presented on the following sections: (a) Research design (b) Sampling Technique (c) Instrumentation (d) Data-gathering procedure and (e) Statistical treatment of data.
Research Method
The descriptive survey method was used in this research. The descriptive method is concerned with the analysis of the relationship between non-manipulated variable employing the use of the development of generalization. This means that variable have already occurred and are just selected and observed Fraenkel and Wallen (1998) also define the descriptive research as involving collection of data in order to test hypothesis and answer questions concerning the current status of the subject of the study. Since the study deals with The Factors That Affects Academic Failure Among High School Students of St. Thomas More, the descriptive survey method was deemed appropriate to be used.
Sampling Technique
The population of the study involved a total number of 319 respondents randomly selected representing at least more than half of the school's population irrespective of the age, year, selection and gender.
Research Instrument
The researchers devised a self-made questionnaire designed to obtain information related on the objective of the study.
It consisted of the following parts:
Part I – This part of the questionnaire dealt with personal information regarding the respondents (year and section)
Part II – This part of the questionnaire intended to ask the respondents if they have failed any academic subjects.
Part III – This part of the questionnaire was intended to ask the rationale behind the respondent's failure
Part IV – This part of the questionnaire was intended to ask what affects the respondent's academic failure.
Data Gathering Procedure
The following data gathering procedures guided the researchers
Phase 1 – copy of the questionnaire was presented to the thesis adviser. The researchers asked for his/her comments and suggestions;
Phase 2 – the researchers presented the edited questionnaire and asked for further assistance from teachers. The edited questionnaire was then
presented to the principal for further improvement and approval.
Phase 3 – the researchers conducted data gathering procedures during December 2012.
The figure below is the flowchart of the data gathering procedures done by the researchers. Fig. 2
Phase 1
Questionnaire Formulation
Phase 2
Editing of Questionnaire
Phase 3
Manual Data Gathering
Phase 1
Questionnaire Formulation
Phase 2
Editing of Questionnaire
Phase 3
Manual Data Gathering
Statistical Treatment of Data
For analyzing the data, the researchers will use the following statistical tools:
Percentage
This refers to the number of parts per one hundred. It is a statistical tool used to express how large one quantity is, relative to another quantity. To get the total percentage of specific number and total number respondents in the questionnaire the formula is:
% = F/N * 100
Where N = 319
Unless otherwise stated the above formula will be used except for multi-response questions which is represented by the symbol (≠)
Weighted Mean
The weighted mean is obtained by multiplying the scale value of response by the total responses indicating it. The total weighted point is taken by getting the sum of all the weighted points for each scale value. Weighted mean of each item is obtained by dividing its total weighted points by the total number of responses. The total respondents for this research are three hundred ninety one (319) students.
Chapter IV
Analysis, Prevention and Interpretation of Data
Presentation and Data Analysis
Table 1 Subject Failure
1. Have you failed in any of your subjects?| Responses| %| Yes| 125| 39.18|
No| 194| 60.81|
Total| N = 319| 99.99|
Table 1 showed that 39. 18% percent of the 319 respondents have failed academically while 60.81% have not. This table shows that most have not failed in any subjects.
Table 1.2 Subjects Failed
2. If yes, what particular subjects?| Responses| %|
Mathematics| 80| 33.61|
Science| 50| 21|
Filipino| 28| 11.76|
English| 36| 15.12|
Technology and Livelihood Education| 16| 6.72|
Social Studies| 10| 4.20|
MAPEH| 10| 4.20|
Christian Values Education| 6| 2.52|
Computer| 2| 0.84|
Total| N = 238| 99.97|
Table 1.2 shows that of the 238 respondents, most have failed in Mathematics with 33.61% while 21% failed in Science, 11.76% in Filipino, 15.12% in English, 6.72% in T.L.E, 4.20% in Social Studies and MAPEH, 2.52% in C.V.E and 0.84% in Computer.
Table 2 Year Level Repeated
3. Have you repeated any year level in high school due to failed subject/s?| Responses| %| Yes| 2| 0.86|
No| 230| 99.13|
Total| N = 232| 99.99|
Table 2 shows that of the 232 respondents, 0.86% of them have repeated a year level in high school due to academic failure while 99.13 have not. It shows that almost all of the respondents have not repeated any year level.
Table 3 Summer Classes
4. Have you taken summer classes?| Responses| %|
Yes| 13| 6.31|
No| 193| 93.68|
Total| N = 206| 99.99|
Table 3 shows that the majority of the 206 respondents, summing up to 93.68%, have not taken summer classes while 6.31% of the respondents have taken summer classes.
Table 3.1 Subjects Taken
5. If yes, what particular subjects?| Responses| %|
English| 10| 35.71|
Mathematics| 14| 50|
Science| 4| 14.28|
Total| N = 28| 99.99|
Table 3.1 shows that of the 28 respondents, half or 50% have taken summer classes in Mathematics. While 35.71% have taken English and 14.28% have taken summer classes in Science.
Table 3.2 Reasons
6. What are the reason/s why you failed in the said subject/s?| Responses| %| No allowance to buy school requirements/projects| 2| 0.93| Always absent| 11| 5.11|
Playing online games| 32| 14.88|
Having vices| 42| 19.53|
Poor study habits| 68| 31.62|
Problems at home| 16| 7.44|
Non participation on class discussion| 30| 13.95|
Lovelife| 10| 4.65|
Peer pressure| 4| 1.86|
Total| N = 215| 99.97|
Table 3.2 shows that of the 215 respondents who were asked what were the reasons of their failure, 31.62% failed because of poor study habits, making it the major reason of the respondents' failure. 19.53% failed due to vices, 14.88% failed because of playing online games, 13.95% failed because they do not participate in class discussion, 7.44% failed because of problems at home, 5.11% failed because they are always absent, 4.65% failed due to lovelife, 1.86% failed because of peer pressure and .93% percent failed because they have no allowance to buy school requirements/projects.
7. How does the listed reason/s above contributed to your failure?
The reasons above mostly contributed to their failure because those reasons discouraged them from studying. If not discouraged, they were distracted from their studies especially by addiction to online games. They tend to neglect their studies due to the reasons stated above, causing them to get low grades or failing completely.
8. What was your parents/guardians reaction upon learning that you failed?
The respondents' said that their parents/guardians, upon learning that they failed, were mostly mad and disappointed. Others became upset while some didn't have any reaction to their child's failure. Some of the respondents' did not inform their parents/guardians of their failure making them clueless towards their child's academic performance. And a few said their parents abused them physically because they failed.
9. What are the ways you did to pass your failed subjects?
Most of the respondents' answers were to review, study harder and do better next time. Some of them asked for help from their subject teachers by asking them to give reviews more frequently. Others sought the help of a tutor or mentor. While a few said that they will pass their requirements on time and will participate more in class. Surprisingly, a number of respondents said that they would cheat in order to pass.
10. What do you think the school can do to further help you if ever you failed in your subjects?
The respondents suggested many ways to further help themselves pass their failed subjects. One of them is by giving free tutorials because not all of the respondents can afford the rate of tutors. They said that the school should motivate and encourage their students to study more. They also said that the school should give students more time to study. Many answered that they want better or more effective teachers so that they may learn more.
Chapter V
Summary, Conclusion and Recommendations
This chapter presents the summary of the study, summary of findings, conclusions and recommendations.
Summary of Findings
The main purpose of this study was to find out what factors affect the academic failure among the high school students of St. Thomas More Academy, Inc. to further expand our knowledge on what contributes to the students' failure whether it may be socially, economically or personally. Failure is the state or condition of not meeting a desirable or intended objective, and may be viewed as the opposite of success.
The first table showed that 60.81% of the respondents have not failed in any subjects while 39.18% said they have failed. It clearly shows that a few or less than half of the respondents have not failed in any subjects.
Table 1.2 presents what subjects the respondents mostly failed. Most of them failed in Mathematics which has the highest percentage with 33.61% of the respondents' answers. Followed by Science with 21%, English with 15.12%, Filipino with 11.76%, T.L.E with 6.72%, Social Studies and MAPEH both with 4.20%, C.V.E with 2.52% then Computer with 0.84%.
Table 2 asks the students if they have repeated any year level in high school due to academic failure. Outstandingly, 99.13% of the respondents answered no and only 0.86% answered that they have repeated a year level in high school. On table 3, the respondents were asked if they have ever taken summer classes. Of the 206 respondents, more than half or 93.68% said that they have not taken any summer classes while 6.31% said that they have. Table 3.1 correlates with table 3 with the question, "what particular subjects?" Those who have taken summer classes mostly took Mathematics with 50% followed by English then Science. These tables show that many students have difficulty in Mathematics.
Table 3.2 also correlates to tables 3 and 3.1. This table shows what are the reasons that contribute to the respondents failure in the indicated subjects. They mostly answered poor study habits with 31.62% followed by having vices with 19.53% and 14.88% answered because of playing online games. Non-participation on class discussion with 13.95% and problems at home with 7.44% while 5.11% answered because of their absences. 4.65% answered lovelife and 0.93% on no allowance to buy school requirements/projects.
Numbers 7 up to 10 are open questions. Open questions are questions which ask the respondent for his or her knowledge, opinion or feelings.
Number 7 asked the respondents how does the listed reasons contributed to their failure. They answered that the reasons given somewhat discourages them from their studying. Number 8 pertains to what were their parents reaction upon learning that their son/daughter have failed. Almost all the respondents answered that their parents/guardians were mad, disappointed and upset. While number 9 is about what did the respondents do in order to pass their failed subject. Their answers were mostly to review, study harder and do better next time. And number 10 asks the respondents about what do they think the school can do to further help them in their studies. Which the respondents answered with they should give free tutorials and that they should motivate and encourage their students to do more academically.
Many factors affect students' performance academically. Some of these factors contribute to their failure on particular subjects. Conclusion
The researchers made an arduous research on this study because they concluded that students fail because of several reasons. May it be social, economical or personal reasons. The researchers concluded that;
* Majority of the high school students have not failed academically
* Most of the students have difficulty in Mathematics
* Students are easily discouraged from their studies
* Students are not open with their parents in terms of their performance at school
* Technology, though helpful, sometimes contribute to the students' academic performance
* Students may go to any lengths just to pass
Recommendation
It is with fervent wish of the researchers that the following recommendations were to be considered by the concerned;
a. The school administration – The school administration should monitor the performance of each students. Not only that, the school should also monitor the ways the teachers they hired teach the students because it is not only the students fault that they failed it is also the teachers. Because it is their obligation to educate students and pupils. The school administration should also give free tutorials to students who need is most because not all students can afford the price rate of tutors.
b. Teachers – A teacher is someone who provides education to pupils and students. After they have become teachers they should continue to learn, a process known as continuing professional development. Teachers should use pedagogy of teaching styles because students are easily bored and distracted. They should use other teaching techniques so that the students may be encouraged to listen to their teachers.
Understanding the pedagogy of the students in a classroom involves using different activities as well as supervision to meet the needs of all students in the classroom. And it has been found out that teachers who showed enthusiasm towards the course materials and students can affect a positive learning experience towards the course materials. One of the problems is that teachers may have repeatedly covered a curriculum until they begin to feel bored with the subject which in turn bores the students as well. Students who had enthusiastic teachers tend to rate them higher than teachers who didn't show much enthusiasm for the course materials.
c. Parents/Guardians – Parents/guardian should look out for the academic performance of their child. They should monitor how their child is doing in because their child might not tell them if they have problems coping up in school. Parents should ask how their child is doing, they should check up on them because students sometimes fail because their parents neglect them. And the worst that could happen is that their child might rebel and stop going to school. Parents shouldn't be hard on their child. They should understand what their daughter/son is going through and help them with their problems.