Factory Workers' Conditions in Mines Essay Sample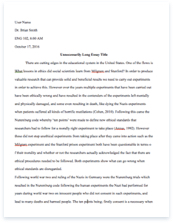 The whole doc is available only for registered users
OPEN DOC
Pages:
Word count: 1048
Category: factory
Download Essay
A limited time offer!
Get a custom sample essay written according to your requirements urgent 3h delivery guaranteed
Order Now
Factory Workers' Conditions in Mines Essay Sample
 The 19th century was a period dominated by revolutions. These comprised of cultural, political and economic transitions. However, political and economic factors contributed immensely to the kind of lives the people lived. According to the economic concerns, industrial revolution served as a hallmark of the era. The economic regard coupled with the political factor characterized colonialism and struggles for liberty from slavery were major determinants of the fate of workers. However, the working conditions of were not as flexible as it appears in today's world.
The longer period of the 19th century was fully occupied by episodes and scenes of development creating economic changes in the world views. Factories and firms were set up to accelerate production in order to curb the problem of products shortages due to increased population and also for the betterment of the community lives. However, the theoretical agenda could only be categorized as political deceptions not only to the communities but also by the employees. Despite the anticipated positive outcomes, the actual results were far much below the expectations. The poor working conditions in the factories bleached and tinted the brilliant century of development, a situation which has made many people to keep it in memories of generation to generation. Although communities felt much over trodden by the exploitation of their resources, employees experienced multiple folds of exploitation which made them to live a live of misery and desperation. (Lenard, 1992)
The gestures which the employees of the transformed world are seen as unbearable work environment are described as minute traces of the past. Employees of the 19th century had to combat challenges of intentional and non-intentional one work conditions. Despites the fact that working conditions have not been harmonized even in today's factories, former factory employees encountered  gigantic environments of physical beating which created a lot  of stress and tyranny in the mining labor force. It is believed that the employers had every opportunity to expand their factory by the tactical employment trick that nurtured used of illiterate people.  The heavily use of unskilled work force not only enhanced the chances of exploitation of employees by mining factory employers, but it was also away of diminishing the employees' ability of airing their grievance.
In spite of the little the knowledge they had on the kind of work they undertook, they worked in an industrious manner carrying heavily metal rods, chemical and other diverse hazardous substances without the required attires of such works. Some got scratches while others were scalded by chemicals loosing their precious beauty. Besides this, often physical injuries like fractures and falling to deep ditches were often cases.  But all these went without causing much alarm to the managements. Thus the working conditions in the factories were as worse as the leaving conditions at their residential places.
Slavery as well as tyranny filled every situation and direction employees took in the factory. The workers were more or less working like machines in which they complied with the dictatorships of their supervisors and management rules and regulations. They worked from dawn at 6 am to dusk at 8 pm none stop. This killed their human control signals. Apart from perseverance to the long working hours with strapping at their backs incase of weak unsatisfactory performance, they further had to cope with the poor sanitary condition where flies and mosquitoes reigned for 24 hours (Daunton, 1995)
Dusts on tattered clothes were the common features which made the flies roaming around to swamp on the workers' body. The employees claimed that they only had thirty minutes of rest in a week. In facts this was evident by the pungent smell which acted like flower scent for the roaming flies. Mothers, fathers and the children were exposed in the same environment which posed shame and risks of disease to the families and future generations. Due to the poor sanitation, epidemic and endemics became a common phenomenon in the working places as well as in the residential home. Diseases such as cholera and typhoid frequently attacked most people of the community wiping a number of them and leaving many others in convalescence. (Lenard, 1992
 Workers were demoralized and disappointed by the management by its uncouth operations. The mining factories were disappointing and discouraging by laying the employees off without need of prior informing. Conversely, the labor forces   would endure the harsh work conditions throughout the year with peak workloads, meaning that holidays and leisure time for works remained words written in papers but never practically heard of in such factories. (Daunton, 1995)
Factory owners' efforts towards improved work conditions
The factory bosses were very satisfied with their operations which cultured the theory of getting rich and the old business style of management. The masses then continued to suffer from the oppressive life which they led until the moment of liberty was dawn. Although the factory owners did all they can to oppress the paupers, they did it due to the pervasive rules and regulation. The wake of the parliamentarians in the process did the rescue of the poor by changing such laws which tried to give the poor man the least wages and general unacceptable working conditions. (Lenard, 1992)
Skeptically, the white bulls claimed   that their investment in the factories had enabled the employees to be more productive. The increased productivity in the mining industries was thus adequate source for family income that would have enabled them to obtain their daily bread.  The peanut earnings were claimed to change the living standards of the employees. However, the advantages of such employment made full ways to labor force employees when the acts of European countries changed, which   compelling the employers to pay  a set minimum wages rather than their early setting of maximum salaries. This also emerged with other forms of benefits which were considered as vitally paramount essential for relieving the suffering paupers.    Factory bosses were then    obliged to decease from the employment of underage individuals; and thereafter the burden of housing, food, sanitary and to some extent education needs were put on their shoulders. (Daunton, 1995)
References
Lenard, R. (1992): The Industrial Revolution and work in nineteenth-century Europe: Routledge
Daunton, J. (1995): Progress and Poverty: Oxford University Press