Fairytale vs Reality Essay Sample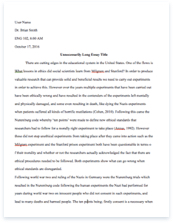 The whole doc is available only for registered users
OPEN DOC
Pages:
Word count: 876
Category: reality
Download Essay
A limited time offer!
Get a custom sample essay written according to your requirements urgent 3h delivery guaranteed
Order Now
Fairytale vs Reality Essay Sample
Each individual contains a mind of their own that represents them. Whatever people say or do, whoever they may embody, whatever character or personality they have, people can not live in an illusion that they have invented in their minds. Reality and fairytales have two different meanings of life; Reality shows the facts about life, and fairytales consist of only imagainations that people yearn to come to life. Although life itself acts as the most wonderful fairytale of all, one can not go astray from the real world.
There are many that believe in fairytales. One of the most convincing fairytales happen to consist of love. All of humankind hopes for that special someone that will sweep them off their feet and walk off into the sunset where they live happily ever after. To say this dream unsatisfies people would be idiotic. This dream pleasantly pleases people all over the world. Everyone aches for love. The person that views things as they really are also wants love. However, they do not believe in things such as horse carriages or doves delievering love letters. What people would expect from a realist consist of going to the movies, eating at resturants, having strolls in the park, and other actions such as going to carnivals. These common actions represents the beliefs of a realist when on the topic of love.
The future of a person that inhabits the life of a character in a fairytale will not survive the harsh conditions of reality. To not have a life planned beforehand and assuming it will play itself out can hurt that person. In fairytales, the protagonist always ends up with everything he or she ask for. People can not live life thinking things will be thrown at them just because they want it. Knowing that hard work will pay off symbolizes a realist. People that do not believe in fairytales, understands that hard work achieves the goals worth working hard for. Their idea to take action and do something with their life will effect them possitvely. It will not get anyone anywhere if they think people will offer things to them for free.
Superman, spiderman, captin america, thor, and other beings with powers, are considered heros through the eyes of a person that has faith in super heros. These made-up characters grabs hold of peoples hearts and continue making them think they can save them. Dreaming of flying in the sky with superman or swinging through the city of gothem with spiderman shows just how deluusional one can get with fairytales. Watching movies with characters like that, causes people to forget who actually protects them. Those that pay attention in the real world, would see plenty of people doing things that asssits the needy. Millions of people die protecting others and these people don't get the appreciation they deserve like the way people appreciate these hot young men that play a role of an impossible and made up hero.
In a fairy tale, magic provides a solution that usually involves curing an ill person. Relying on magic to revive a sick person causes many problems and gives false hope to those that believe in magic. A realist does not believe in magic. "Magic" in the real world, most likly is a chance of luck. Obviously, magic can not save a dying person. Medication and health services saves the sick people.
When a mistake takes place, one would want to turn back time and undo what was done. This occurs only in fairytales. Those that wants this to be possible needs a reality check. Reversing time and having an undo button would fill everyone with joy. However, to have the power to do this, people would never understand what it means to learn from mistakes. People that live in the real world would make many mistakes and learn from them while those living in their imaginations, would not understand how beautiful things can turn out from a mistake.
Having prince charming and a beautiful princess has always been a fantasy of countless of people. Prince charming and the beautiful princess would have an amazing body, with a loveable personality along with the fact that they are perfect for anyone. Fairy tale believers depend on this image of their significant other, hoping to come across someone just like that. But in reality, no one has the whole package. No one can ever be "perfect". Those living in reality experience bad relationships and heart breaks. Even though these people go through tough times finding their other half, they do not have those expectations of the fairy tale believers. They will eventually find some one "perfect" just for them. fairytales comes across as a nice thing, but life does not function that way. Instead of expensive love, go for a real classic love. Instead of expecting things to come to you, work for it. Instead of believing in super heros, believe in people to be heros. Instead of wanting magic to cure people, have hope. Instead of wanting to undo mistakes, learn from them. Instead of having high expectations for someone, believe people can be "perfect". Most impotantly, instead of living in a fairy tale, live in reality.