Family Analysis Project Essay Sample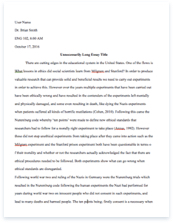 The whole doc is available only for registered users
OPEN DOC
Download Essay
A limited time offer!
Get a custom sample essay written according to your requirements urgent 3h delivery guaranteed
Order Now
Family Analysis Project Essay Sample
The content of this paper is to thoroughly analyze the relationships and functionality of the family chosen to be studied and assessed. By assessing, incorporating the lessons taught throughout the past five weeks in this class and inter-relating the family's sociocultural background, communication patterns, physical environment setting, values and beliefs, power and role structure, communication patterns, adaptation and level of development as well as their healthcare decisions, a practicing, licensed nurse can use these inferences as guidance and/or resource when dealing with similar encounters while delivering patient care at their respective work places. Description of Nuclear Family or Variant Family Form
The nuclear family I have chosen to analyze in this paper involves a family of three: Jane, the mother and head of household is 59 years old, together with her two sons, John who is 30 years old and Tom who is 20 years old. The father in this family passed away in 2000 due to Colon Cancer. They are all blood related, pure Asian family and they are all born and raised in the China and have migrated here in California in the year 2009. Jane's two sons have both obtained and graduated with a Bachelor's Degree at California State University, Dominguez Northridge and Jane is a Doctor of Medicine in China but does not practice here in the United States. Sociocultural Data: Cultural/Ethnic Assessment, Social Class Status
Both Jane and John are working full time during the days, while Tom is responsible for household chores and is searching and applying to get into med school. They can be considered to be at the working middle class in the socioeconomic scale. The family is very traditional and conservative, can be seen to still mirror the practices of their family in China even if they already live in the US. They have set rigid rules to be followed in the house, with majority of the authority to Jane and partly to John. They all also still have Chinese accent when they speak. Environment: Physical Setting (Home, Neighborhood, Community)
This family owns a townhouse located in a gated community at a quiet neighborhood in the city of Rancho Cuacamonga. They purchased this home back in 2005 and has lived there since. The home is always kept clean and organized as they have a weekly rigid schedule to clean the house, no matter what. The townhouse is a three level home with plenty of stairs with a two car garage and has a home security system installed because they have been recently robbed of personal belongings. It is a big adjustment for them because they were living in a busy and business district in China before they came here. The home is proximal to their father's parents house. Communication
In this family, communication is always done with respect. The sons always responds to their mom with Chinese courtesy and respectful words primary in their native tongue, Cantonese. Given the advanced technology today, they also make use of their phones to communicate more often. Whenever there is a problem, whether or not it is within the family circle or not, they all sit down and talk about it face to face. They also keep constant communication via the internet and/or long distance phone calls to their family in China and Hong Kong almost everyday. Role Structure: Relationships (Formal and Informal)
This family has a close knit tie with their relatives, more on the mother side as compared to the father's side of the family. The extended family is involved in everything that this family is going through and have an open communication and understanding. It is also noted that this family has a very good relationship to their mother despite of her strict rules and the fact that she is a disciplinarian. They often share and talk about each other's problems openly. Both the sons have also a relationship with a significant other which Jane is nice amenable to it so as long as marriage is not yet involved. Values: Norms and Rules
Though her sons are over the age of 21, Jane sets rigid house rules, curfew times to her children and imposes a great deal of disciplinary actions when disobeyed. They practiced the traditional Chinese culture wherein the eldest or the head of the household has the final say in everything that goes on. Her sons follows her rules with no questions asked. It can be inferred that she is domineering and wants control of her sons even if they are on their way to seek independence and live their life on their own. She wants a say in every aspect or decision that her sons will make and she actually can be defined as overprotective stage mother. Spiritual Activities
All of the members in this family, given the fact that they are all born and raised in a third-world, Buddhist dominant country, guards religion as a major part of their daily lives. Jane, the mother and head of household, goes to the temple every single day in the morning and also is part of the volunteers and helper every weekend on Sundays. This has been their family tradition since even when they lived in Chinese and even after migrating to a first world country, they still carried on and continued their religious practices here in the United States. Socialization: Child Rearing Practices; Intrafamily Support/Social Network; Recreational/Leisure Activities
Jane raised her children in China with the help of a maid and her mother to ensure that her sons are well attended to and taken care off. It was almost like a totalitarian environment because Jane and her late husband has disciplined her sons well, raising them to have respect for each other and every one they meet. The immediate family member that lives close to them are all from their late father's family who have migrated in the US on the year 1970s. Jane's immediate family are all in China, she is the only one in her family that resided out of the country. The family rarely goes on leisure activities. They consider leisure the fact that they go out every Sunday to eat out at a restaurant. They only have leisure when they go back home in China. Adaptation: Role Conflicts/Overload/Changes; Coping Strategies; Problem Solving Skills
The main problem solving and adaptation tool that this family uses is open ended communication. They always have an open table discussion about any issues that are ongoing. Conflicts may sometimes arise because Jane's children are now more influenced on the more liberal way of life in United States in which she is not accustomed to. Religion and family involve play a big role in support and coping most especially at the very difficult time of their lives wherein they lost their father, Henry. Health Care: Beliefs Regarding Health and Illness and Practices Including Promotion/Prevention Efforts
The family has been exposed in the medical field even before they migrated here in the US given the fact that Jane was a licensed, active, board certified Gynecologist in China. When their late father, Henry, was diagnosed with Colon Cancer in 2000, they migrated here in the United States to seek the best health care treatment and medical advancement with hopes of getting rid of the disease. They believed in Western medicine, Henry went through all the treatments readily available then ranging from radiation to chemo therapy to try to beat out Cancer. In the end, when the family has accepted that Henry's illness is already terminal, they opted to let him be comfortable at home under hospice care and spent quality time with him during the numbered days he has left. Summary/Conclusion
By doing an in depth family analysis and assessment, a nurse can take away important points such as incorporating the patient's and their respective family unit's values, beliefs, background and cultural traditions in the patient's plan of care to individualize their needs and meet the patient's desired outcome.
Resources
Creasia, J. , & Parker, B. (2007). Conceptual Foundations: the bridge to professional nursing practice (5th ed., pp. 49-80). Philadelphia, PA: Mosby Elsevier Friedman, M., Bowden, V. & Jones, E. (2003). Family nursing: Research, theory, and practice (5th ed.). Upper Saddle River, NJ: Prentice Hall Hughs, R. (2011). Overview and summary: patient-centered care: challenges and rewards. The Online Journal of Issues in Nursing, 16(2).
Retrieved from http://www.nursingworld.org/MainMenuCategories/ANAMarketplace/ANAPeriodicals/OJIN/TableofContents/Vol-16-2011/No2-May-2011/Overview-and-Summary-Patient-Centered-Care.html Masters, K. (2014). Role development in professional nursing practice. Burlington, MA: Jones & Bartlett Learning, LLC.