Family to Family Essay Sample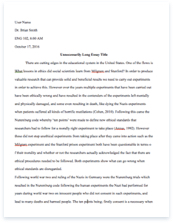 The whole doc is available only for registered users
OPEN DOC
Download Essay
Get Full Essay
Get access to this section to get all the help you need with your essay and educational goals.
Get Access
Family to Family Essay Sample
There are many who believe that you should train a child from birth to live a Christian life. It is thought that when you do this, these teachings stay with your children throughout their lives. In the book Family to Family Leaving a Lasting Legacy, Dr. Jerry Pipes and Victor Lee do an amazing job at providing parents the know how to make a lasting impression with their children. The topics addressed in the book encompass many of the spiritual issues that families face in today's society. Topics such as developing a family mission statement and family servant evangelism help to make this book a valuable weapon to have as we battle the forces of Satan. It is not unheard of for the family unit to be attacked by Satan. Weakening the family structure often tears at the threads of society. As society becomes more corrupt, Satan uses this as an opportunity to turn people from Christ. Within the reading there are many suggestions as to how to keep the family unit strong. Mentoring and empowering children are two effective ways to strengthen family.
"Mentoring your children does not mean appearing perfect before them. In fact, to give them the impression that you have no struggles with sin and no problems will push them away. Children may feel isolated, imperfect, and unable to approach you because they think you will not understand their imperfections.1 There is a strong message of empowerment that comes through within the text. "Do things with your children, not for them. Mentors help people accomplish their goals. Parents must avoid the trap of doing for the children all the time, instead of doing with the children and letting them learn. It may be easier to do something for them, but it will be empowering to do it with the child."2 In conclusion, I would say that this book is highly effective in equipping modern family leaders with the necessary information to pass on to their children and leave them with fond memories and stories that are guaranteed to make a lasting impression. The book talks about making someone else's needs a priority. "If a person is going to discover the needs of someone else, they must make that a priority3" This is a concept that my Christians have failed to grasp the fundamentals of.
My Father is a minister and his view was actually the exact opposite of this. He told my sister and me that he was not the type of father that was going to cut himself short in order to provide for someone else. He always liked to say that adults need to be able to handle things on their own without the help of anyone else, and he believed that was what being an adult all was about. I can remember being in college which was an hour and 15 minutes away from my home. I knew how to change tires, check oil, transmission fluid, and tire pressure, but I didn't know anything about breaks and things of that nature. I can recall that gradually my breaks on my car got worse and worse, they go to the point where they would take 20 seconds or more to stop once they were pressed so I had to start applying them early. In fear that I would be involved in a serious accident and get hurt, I called my father and told him that my breaks weren't stopping and that I needed him to come check them out. His response was one that was shocking, and it has stayed with me since I heard it.
He told me that I was grown, and that he was with his girlfriend. He stated that he was not going to be running down the road every time I had a problem and that I needed to deal with it on my own. Even though I was 20 years old and technically an adult, I was shocked that any parent would see their child's breaks not working on their car as a little problem. Even if he was lacking in that parental instinct and care, I imagined that him being a minister would definitely lead him to a different response. After reading the text I was left wondering why Christians feel like their praise and devotion has to be so systematic. It has gotten to the point where even outside of the church, people expect for devotion to be carried out in a certain manner almost as if there is some supreme standard that we all must follow during devotions.
Opening prayer, singing, and a sermon followed by a closing prayer is pretty much the format that I have observed during devotions all of my life. We are supposed to use Jesus as an example but we often lock ourselves into routines that even he didn't have. Jesus certainly was not bound by such a formula as he trained his disciples. He used dozens of object lessons and teaching tools to equip them. "When given the option, Jesus chose a good story over a course in systematic theology"4 It seems like current Christians become so wrapped up in format, that they barely give way for true devotions and praise. I have often felt like certain program and activities can only be initiated by larger churches in big communities because those are the only ones I have seen do certain things. The idea of a neighborhood block party seems like it could be a very effective way for members to go out into the community and invite various people to the church.
The goal of these type of parties don't have to necessarily be to preach a sermon to those in attendance; but rather create an atmosphere of fun and worship that everyone can take part in. I used to work tirelessly within the church, but over the years I have strayed from it. Recently I found a picture from when I played many roles in the church. The picture made me realize how much I did miss some of the work I used to do in the church. I have long thought that the youth department at my home church has started to die out. We no longer have various activities and programs like we used to when I worked so heavily in it. I plan to go to my churches youth coordinator and suggest having a black party where the community is welcome to. I will suggest having food and beverages, music, games, and a talent show with prizes given to the winners.
I think that this could be good for the community and could encourage the youth to once again become active in the church. As long as I have been going to church, I have never been on a mission trip. I feel like the fact that I live in a small rural area in Virginia plays a major role in this. I have never heard of any church in my area going on a mission anywhere. It doesn't seem to be something that comes up in our missionary meetings. I sometimes feel like churches with smaller congregations limit themselves to what they do because they feel like they can't be but of so much help. Truth is, it doesn't take a large congregation to go on a mission trip. There are even ways that churches can join with other churches and form a mission trip that way. It would be very interesting to be able to travel and see a part of the world that I never have while assisting others in some kind of way.
A mission trip could be a great way to bring church members together and it also gives a look at the lives of others. I have heard from others that have participated on mission trips how it makes you truly appreciative of all that you have. I have for a long time thought that a mission trip was out of the question but I now know that they are not. My church has a pretty good missionary program for its size. We recently issued boxes to 30 families for thanksgiving allowing them to have a complete Thanksgiving dinner at no cost to them. I believe that if we got together and actually planned a trip, it would be possible to go on one. I plan to talk to the president of the missionary department about going on a mission and seeing what he says. I'm sure that I can't present it in a way that sparks his interest. This will be a goal of mine in 2015 Over the years it seems that my family unit has become weaker.
We very rarely spend time with each other or do normal things that family do. I have never experienced going over to cousin's houses for dinner, or cookout, or anything of the sort. Although my family mostly all lives on the same road, we do not interact with each other much at all. My family comes from a strong religious background and they profess to be Christians and followers of the word. I have always thought that for a family who has a road named after them, we are extremely divided. Everyone does their own thing on their own property and that's how it is unless someone in the family dies. I have for long said that I was going to organize a family dinner at one of the community centers in my town but I never do it. It is time for us to come together and spend quality time with each other. "Healthy families spend quantity and quality time around God's purposes.
If we truly want our children to accept the gospel, then our commitment to Christ must spill over to those around us who do not know Christ. As families, we must make it a priority to share the good news"5. I know that there are some within my family who are in need of a revival in their Christian walk. Coming together in the name of fellowship could be a good way to break down the barriers that prevent us from functioning as a family. In 2015, I plan to actual put my thoughts in motion and plan a family dinner somewhere in the county. I am hoping that if I step out on faith and organize something with the right intentions, that it will be a success. It would be nice for my family to not only live in the same area, but to actually function as a healthy family who enjoys serving each other and service others. I don't recall anyone else in my family actually ever attempting to do anything like this for. Hopefully, it will be successful and spark some good conversations that will stick with my family members for years to come.
Bibliography
Pipes, Jerry, and Victor Lee. 1999. Family to Family Leaving A Lasting Legacy. Alpharetta, GA: North American Mission Board of the Southern Baptist Convention.