Fashion Designers Essay Sample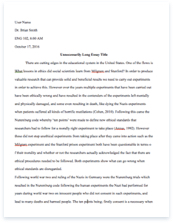 The whole doc is available only for registered users
OPEN DOC
Pages:
Word count: 4959
Category: fashion
Get Full Essay
Get access to this section to get all help you need with your essay and educational issues.
Get Access
Fashion Designers Essay Sample
Fashion Designer Gabrielle "Coco" Chanel (1883-1971) was born in Saumur, Southern France. She began by designing hats, first in Paris in 1908, and later in Deauville. Her fashion boutiques (one in Paris and one in Deauville) opened simultaneously in 1914. She opened an haute couture salon in Biarritz in 1916, and in 1920 moved to Paris in the present quarters on rue Cambon. Ready-to-wear fashions were not introduced until 1978, after Coco's death. Chanel is a member of Chambre Syndicale de la Haute Couture et du Pret-a-Porter.
Selected Awards
Neiman-Marcus Award (1957)
Economic Data
Ownership
The Chanel group is controlled by the Wertheimer family through various investment holdings (Litor Ltd., Pamerco).
Performance
Chanel keeps a very low profile on its economic figures, but sales in 1995 were estimated at over $1 billion, for 1995 sales are believed to have risen to nearly $2 billion. The new Chanel daughter "Eres" achieved in 1996 sales worth of 60 million Francs ($12 million) and boasts earnings of 7.2 million ($1.4 million). Lagerfeld boasts that when he took over design at Chanel, fashion sales made up only 6% of total sales. Today he estimates more than 50% of total sales stem from fashion. The firm has about 100 boutiques worldwide, more than 35 of which are in Japan. Controlled by chairman Alain Wertheimer's family, Chanel also owns Eres, a French beachwear and lingerie label.
Distribution
In 1992, Chanel possessed 64 fully owned boutiques. Eres has three fully-owned boutiques in Paris and sells selectively to 420 retailers worldwide (30% of them in France).
Production/ Licenses
Chanel avoids licensing products in order to keep control over the merchandise.
Christian Dior
Fashion Designer Christian Dior (1905-1957) was born in Normandy, France. At his parents' insistence, he studied political science. After military service and several years of indecision, he returned to Paris in 1935 and began his design career by selling sketches. His hat designs were initially more successful than his dress designs. But he concentrated on his dress designs and was hired by Robert Piguet in 1938. During the war, he served in the South of France, then returned again to Paris in 1941 and worked for Lucien Lelong, a much larger design house. In 1946, he was able to open his own house, backed by textile manufacturer Marcel Boussac.
Selected Lines
* Haute Couture, since 1947
* Haute Fourrier (furs)
* Christian Dior Boutique (deluxe)
* Christian Dior Boutique Fourrier (furs)
* Christian Dior Coordinee (diffusion), discontinued in 1994
Selected Awards
* Neiman-Marcus Award (1947)
* Parsons Medal for Distinguished Achievement (1956)
Ownership
Since 1990, the Christian Dior S.A. belongs to Europe's biggest luxury products manufacturer, Moet Hennessy Louis Vuitton (LVMH). The company is listed at the Paris stock exchange. The Christian Dior S.A. itself holds 42% of the LVMH assets and is the holding company for the fashion brands Christian Dior Couture, Kenzo, Givenchy, Christian Lacroix, and Louis
Vuitton. The group achieved in in 1996 sales worth of 32.35 billion Francs ($6.33 billion).
Performance
Direct sales of Dior clothes (including licences) climbed in 1994 to $193 million. In 1996, the Christian Dior Couture division achieved a turnover of 1.2 billion Francs ($235 million). In the first half of 1996, LVMH achived only 70 million Francs ($13.7 million) compared to 380 million Francs ($74.3 million) in the previous period.
Distribution
Currently, Dior operates 160 boutiques worldwide, 15 of them in Japan. Clothing is exclusively sold in the Dior stores. Other retailers only carry licensed Dior products like eye-wear, lingerie, ties, Bady Dior clothing, perfumes, and other accessories. Since LVMH acquired in 1997 the Duty Free Shoppers (DFS) group of stores, which are mostly located in Asia, the Dior distribution has been expanded to the 165 DFS-outlets.
Calvin Klein
Calvin Richard Klein (born November 19, 1942) is an American fashion designer who launched the company that would later become Calvin Klein Inc., in 1968. In addition to clothing, Klein has also given his name to a range of perfumes, watches, and jewelry
Inspirations
Inspired by the fresh and unpretentious style of New York's urban youth, Klein set out to launch his own clothing company in 1968. With financial backing from his childhood friend Barry Schwartz, he commissioned a local seamstress to make a handful of coats and dresses. A merchandise manager from Bonwit Teller visited Klein's dingy showroom and took notice of the collection.
Awards
In 1974, Klein designed the tight-fitting signature jeans that would go on to gross $200,000 in their first week of sales. In the same year, Klein became the first designer to receive outstanding design in men's and women's wear from the CFDA award show. In 1983 Klein was placed on the International Best Dressed List. Also in 1981, 1983, 1993, he received an award from Councils of Fashion Designs of America.
Brands
The most visible brand names in the Calvin Klein portfolio include: • Calvin Klein Collection (black label, top-end designer line) • ck Calvin Klein (grey label, recently repositioned as bridge collection line; licensed to Warnaco Group, Inc. through at least 2044) • Calvin Klein (white label, better sportswear line)
• Calvin Klein Sport (sports version of the white label line for Macy's) • Calvin Klein Jeans (denimwear line; licensed to Warnaco Group through at least 2044) • Calvin Klein Home (high end bedding, towel, bath rug and accessory collections) • The Khaki Collection (youthful medium to high end bedding, towel, bath rug and accessories) discontinued in 2008 • Calvin Klein Golf (launched in late 2007)
• Calvin Klein Underwear (underwear collections; licensed to Warnaco Group through at least 2044) • CK one Lifestyle brand (fragrance, underwear, jeans -launched 2011) • Calvin Klein Watches + Jewelry (watches launched in 1997, jewelry in 2004) For more details on Current brands and licenses, see Warnaco Group#Current Licenses Yves Saint Laurent
Fashion Designer Yves Saint Laurent was born 1936 in Oran, Algeria. After winning first prize in the International Wool Secretariat contest for his asymetrical cocktail dress in 1954, Saint Laurent went immediately to work for Christian Dior. Saint Laurent became Haute Couture designer when Dior died in 1957. He introduced the trapeze dress in his first collection for Dior in 1958. He was replaced by Mark Bohen in 1960, when he fulfilled his military obligations. Afterwards, he opened his own couture house, financed by Pierre Berge, in 1962. Selected Products
* YSL
* Rive Gauche (diffusion)
* YSL Variation (diffusion)
Selected Honors and Awards
Retrospective Exhibits
* Metropolitan Museum of Art, New York (1983), the first living designer so honored
* Hermitage, St. Petersburg, Russia
* Musee des Arts de la Mode, Louvre, Paris
* Victoria and Albert, London (1995)
Awards
* Neiman-Marcus Award (1958)
* Council of Fashion Designers of America (1981)
Ownership
Since 1989, Yves Saint Laurent Groupe has been listed on the Paris Stock Exchange. The Yves Saint Laurent SCA owned by the designer himself and by his partner Pierre Berge was sold in January 1993 to the French-government controlled Elf-Sanofi group (which belongs to the petrol and chemical giant Elf Acquitaine) for $650 million. Since in 1992, the net profits slumped by 44.2% the deal caught much attention in the French national assembly.
Performance
In 1995, total sales remained stable at around $837 million. In 1993, sales were at $665 million, compared to $568 million in 1992. 80% of those sales are said to be made through cosmetics and fragrances. Clothing sales worth of $107 million were achieved in 1995. In 1992/1993 those sales were at $96 million, compared to around $100 million in 1991.
Distribution
The number of stores is said to be around 200 throughout the world.
Giorgio Armani
Fashion Designer Giorgio Armani was born on July 11, 1934, in Piacenza, about 50 miles south of Milan, in the Emilia-Romagna region of Italy. He attended medical school for two years, dabbled in photography, fulfilled his military obligations in 1957, then worked in a prestigious department store, La Rinascente, as a window dresser. He joined Nino Cerruti as a designer from 1961 to 1970. Armani began a free-lance design business in 1970 with the encouragement of his close friend Sergio Galeotti, and established his own men's wear label in 1974. Armani has homes in Broni, Forte dei Marmi, and Pantelleria (Italy), and in St. Tropez (French Riviera).
Selected Lines
* Armani Alta Moda (haute couture)
* Borgonuovo 21
* Giorgio Armani
* Le Collezioni (diffusion), since 1979
* Mani (diffusion)
* Emporio Armani (diffusion, younger customer, worldwide), since 1984
* A/X Armani Exchange (basics, United States only)
* Giorgio Armani U.S.A. (lower priced)
* Armani Jeans
* Armani Neve (winter sportswear), since 1996
* Armani Golf (sportswear), since 1996
* Classico, since 1996
Selected Awards and Recognitions
* Neiman-Marcus Award (1979)
* CFDA International Award (1983)
* The semi-annual Italian men's fashion trade show Pitti Uomo in Florence celebrated in Summer 1996 its 50th fair with a magnificent fashion show called "G.A.Story" portaying the life and work of Giorgio Armani. The show concept was developed by well-known opera-director Robert Wilson.
Distribution
The biggest export market for Armani is the United States, where Armani labels are sold at 12,000 points of sale. In 1995, Armani had 36 outlets carrying the exclusive Giorgio Armani and Borgonuovo-21 lines. Emporio Armani outlets numbered 119 in 1995, with 54 in Italy and 22 in Japan. This figure rose to 121 stores in 1997 and is planned to be increased by 8 in the near future. A/X Armani Exchange used to be sold only in the United States. In 1994, the A/X-stores were taken over by Club 21 USA, Inc., but continuesly struggled to compete with lower-priced competitors like Banana Republic. Today, Armani intends to open up even more A/X-outlets, also introducing them to customers in Asia for the first time. Vivienne Westwood
Considered The Designers Designer Fashion designer Vivienne Westwood was born in Tintwistle, Derby, C England, UK. She became well known in the 1970s when, with Malcolm McLaren the rock music entrepreneur, she opened a shop in London that became the focus of the punk rock movement. She gained international recognition in the early 1980s with her Pirate and New Romantics look. Vivienne Westwood has played a vital role in the emergence of Punk Rock in the 1970s and has gone on to become one of the most original and influential designers of our time.
Her designs combine a fearless unconformity with a sense of tradition. She is renowned for her gentle parody of Establishment styles, her use of very British fabrics such as Harris tweed and tartan, her re-use of historic garments such as the corset and crinoline. Yet, her approach has always been practical, driven by a curiosity about how things work, a process she describes as 'learning through action'.
1941 Vivienne Isabel Swire born on April 8th in Glossop, Derbyshire.
1957 Moves with her family to London, aged 17, and attended Harrow Art School for one term.
1962 Marries Derek Westwood. Aged 21, becomes a primary-school teacher in Willesden, North London.
1963 Her first son, Benjamin Arthur Westwood, is born.
1965 Marriage to Westwood ends. She meets 18 year old Malcolm Edwards (aka McLaren). 1967 With McLaren, a second son is born, Joseph Ferdinand Corre 1971 McLaren and Westwood's first shop opens at 430 King's Road, London, called 'Let It Rock'. 1972 The shop is redesigned and renamed by McLaren 'Too Fast To Live, Too Young To Die'. 1974 Shop name is changed to 'SEX'.
1975 Westwood and McLaren are fined for 'exposing to public view an indecent exhibition'. 1976 430 King's Road is renamed 'Seditionaries – Clothes for Heroes'. 1979 'World's End' opens at 430 King's Road.
1981 March: McLaren and Westwood's first catwalk show, the Pirate collection (A/W 1981-2), shown at Olympia followed by Savage (S/S 1982). 1982 Buffalo (A/W 1982-3) and Punkature (S/S 1983) shown in Paris. Westwood and McLaren open a second London shop called 'Nostalgia of Mud'. 1984 'Nostalgia of Mud' closes. Westwood moves to Italy.
Zang Toi
[pic][pic][pic]
The following biography contains information on Fashion Designer Zang Toi. BIOGRAPHY Fashion Designer Zang Toi was the patriarch of modern fashion before it was present. The 38 year-old designer is a color ardentist; a designer whose command of vivid hues is natural and easy, sophisticated and sensual. He has helped to usher in the forward era of contemporary late 90's design with his trademark colors and his timeless styling. His creations pamper today's woman with an uncompromising, style, glamour and romance. Toi left his native Malaysia at the age of eighteen, and via Toronto, landed in New York a year later. There he attended Parsons School of Design and apprenticed with Mary Jane Marcasiano and Ronaldus Shamask. In 1989, with a modest collection of bright sarongs, strong suits and regal dresses, he opened his own atelier.
Instantly, the personable, affable and remarkable Toi made a name for himself among fashion's elite. In 1991 Toi won the Mouton-Cadet Young Designers Award, beating out names such as Pamela Dennis, Gemma Khang and Christian Francis Roth. His most recent award of distinction was presented by Mark Green, the Public Advocate for New York City, for Toi's artistic contributions and achievements. In March of 1997, presented by the Sultan of Malaysia, Zang received his Knighthood. In the years since, Toi has cultivated his business into an international success story. He is a favorite of style arbiters including Sharon Stone, Ivana Trump, Hazelle Goodman, Kelly Preston, Kirstie Alley, Jennifer Tilly and Meg Ryan. Be it the House of Toi signature collection or the "Z" collection, his moderately priced bridge line, Toi's creations are original, feminine and simply exquisite. Zang Toi is available in globally fine stores including the Couture Department at Nordstrom, fine specialty boutiques and Zang Toi Boutiques in Malaysia. Awards Received: 1990 Mouton Cadet Young Designer Award Brand names/Divisions: Zang Toi Product lines: Zang Toi Couture Collection; Lower Priced "2" collec
Miuccia Prada
Fashion Designer Prada was founded in 1913 in Milan, Italy as a manufacturer of leather bags. What is known today as Prada is mostly the work of the founder's grand-daughter Miuccia Prada (our picture). Miuccia Prada was born in 1949. After university, she entered the family business 1978 and soon revolutionized the appearence of its products. Her interest in unusual fabrics led to the distinctive trademark of Prada products: the surprising combination of materials. There are usually two discoveries to be made when dealing with Prada products: First, the surprise to see the use of a specific material in an unusual context and in consequence, the astonishment how good it fits the purpose. In 1989, she introduced women's wear with instant success, men's wear followed equally sucessful in 1995. Prada is said to be the most prominent example of a new form of inward-directed luxury. While in the eighties luxury was explicitly displayed, today an understated luxury is sought, only recognizable by insiders.
Thus, Prada clothes avoid very loud clouring and easily appealing appearences. They are described as cool, comfortable, pure, graceful, and minimalistic. Selected Products * Prada Donna * Prada Uomo * Miu Miu * Granello Economic Data Performance In 1994, total sales of Prada products were reported to be 270 billion Lira ($167 million). In 1996 total sales were 456 billion Lira ($296 million). This figure is expected to rise by 50% to 732 billion Lira in 1997 ($475 million). Europe accounts for 55% of total sales. The biggest export market is Japan accounting for 17% of total sales; other Asian markets achieved 12%. The U.S. has contributed 16% to total sales. The sharpest rise in sales for 1997 is expected in the Asian markets, with a decreasing European share. Most of the revenue is schived with the Prada Donna line (78%), followed by the Prada Uomo line (15%). Miu Miu and Granello are expected to contribute significantly more in the future. In 1996, Prada had sales worth of 1150 billion Lira in retailing ($746 million). This figure is believed to rise by 60% in 1997.
Douglas Hannant
BIOGRAPHY Redefining luxury for the modern American woman is the aim of Fashion Designer Douglas Hannant, the New York based designer who has been compared to a "young Halston" and praised by critics as "the new master of American couture." With his choice of luxurious fabrics, great attention to detail and impeccable finishing, Hannant underscores his designs with a simple, yet central idea: contrast unexpected choices and combinations to create sportswear-inspired designs with "dressed-up" sensibilities. Sculptural yet unstructured, Hannant's ready-to-wear collection blends day and evening with confidence and focus, "chic does not mean fussy or contrived.
I like to see women wearing pants at night or an exquisitely beaded tank top during the day. I consider my designs more dressed down eveningwear than dressed up sportswear," says Hannant. "There is no distinction between the two in my collections it's all about striking the right balance." After receiving a fine arts degree from Missouri State University, Hannant relocated to New York in 1986 to study at FIT. After graduation he spent several years as a Display Director at Barney's and Bloomingdale's. It was while working at these stores that Hannant noticed a gap in the luxury market. "There was a need for good taste, modern design, and something special in luxury clothing to go against the uniform style of the 90's." Hannant launched his first collection in the fall of 1996. It was immediately picked up by Neiman Marcus, Bergdorf Goodman, Saks Fifth Avenue, Nordstrom's and Bloomingdale's.
Gianni Versace
Fashion Designer Gianni Versace was born in 1946 in Reggio Calabria, Italy, he became victim of a cold-blooded murder on the 16th July, 1997. In the early days, his mother supported the family with her small tailor-shop. There, Versace learned everything about making clothes and soon he designed apparel himself, which was sold in his mother's shop. Then, Versace acquired additional skills working in fabric procurement positions. He got his first chance to show his skills when designing a collection for Fiori Fiorentini, a Lucca, Italy based company in 1972.
In the following, Versace designed for the Italian fashion labels De Parisi, Genny (for whom he would later be working again), Callaghan, Alma, and then for Complice in 1974. The work for Complice, which he fully conceived himself marked the first occasion where his own name was included in the brand name. In 1997, Versace was shot to death in front of his mansion in Miami, Florida. Versace's killer is allegedly a serial killer, who committed suicide in Miami short after Versace's murder. In September 1997, Gianni Versace's brother Santo Versace was announced the new CEO of the Versace holding. Gianni's sister Donatella Versace is the new head of design. Donatella was already in a creative position, designing for the Versus label. Sole heiress of Gianni Versace is Donatella's eleven year old daughter Allegra. Her son Daniel inherits Gianni's collection of paintings. Part of Gianni Versace's heritage are his lucious mansions at Lake Como, Italy, in Milan, Italy, in New York City, and the mansion in Miami were Versace was killed.
Selected Lines
* Gianni Versace Couture
* Instante
* Versus
* Versace Classic V2
* GVII – a men's wear collection for the US market
Selected Awards and Recognitions
* In 1989, Versace was honored by an exibition called "L'abito per pensare" (Clothes for thinking), which showed in Milan, Paris, London, and New York.
Claude Montana
Fashion Designer Claude Montana was born in 1949 in Paris to a German mother and Catalanian (Spanish) father. At an early age, he traveled to London (1971) and began his career by designing papier-m‰che jewelry encrusted with rhinestones. He soon returned to Paris, where he designed biker's leathers for the MacDouglas leather company (1972). In 1973, he designed a ready-to-wear leather collection in collaboration with Michelle Costas.
Montana's own ready-to-wear company was founded in 1979, and two years he later presented his first collection, Hommes Montana. He opened his first boutique in Paris in 1983, and another in 1986. The Montana Fragrances Company was created in 1984.
Montana married long-time friend Wallis Franken in 1993.
He is a member of the Chambre Syndicale du Pret-a-Porter, the French trade association for the fashion industry.
Selected Products
* Hommes Montana, since 1981
* State of Claude Montana (diffusion sportswear), since 1992
Selected Awards
* Golden Thimble Award (1991), for Lanvin Winter '91 haute couture collection * Golden Thimble Award (1992), for Lanvin Summer '92 haute couture collection * Prix Medicis (1989), for Parfum d'Homme
* Fragrance Foundation Award (1990), for Parfum d'Elle
Economic Data
Economic data on Claude Montana is scarce.
Ready-to-wear clothing is produced in license by the Italian clothing manufacturer Gruppo G.F.T., Turin. His licenses include knitwear, furs, leatherwear, shoes, ties and scarves, belts, and eyewear.
Oscar de la Renta
[pic][pic]
BIOGRAPHY Oscar de la Renta left his native Dominican Republic at 18 years of age to study painting at the Academy of San Fernando in Madrid. While living in Spain, he became interested in the world of design and began sketching for leading Spanish fashion houses, which soon led to an apprenticeship with Spain's most renowned couturier, Cristobal Balenciaga. Later, Oscar de la Renta left Spain to join Antonio Castillo as a couture assistant at the house of Lanvin in Paris. In 1963, Oscar de la Renta came to New York to design the couture collection for Elizabeth Arden. In 1965, Mr. de la Renta began his signature ready-to-wear label. The Oscar de la Renta label is comprised of the Signature ready-to-wear collection and Pink Label. To complement these designs, the Fall 2001 runway show marked the debut of Oscar de la Renta Accessories; bags, belts, jewelry, scarves and shoes.
The world of Oscar de la Renta also includes a high end sportswear collection (OSCAR by Oscar de la Renta), cosmetic cases, eyewear, furs, jewelry, lingerie, scarves, sleepwear, and swimwear. For men, Mr. de la Renta licenses products, including hosiery, sportcoats, suits, and trousers. In South and Central America and Mexico there is a Sportswear line for men and boys and OSCAR JEANS, for men and women. Mr. de la Renta has also ventured into the home with both furniture and home fragrance collections, jewelry, eyewear, lingerie, luggage, swimwear, fragrance, and furs. Other collections made by the company are sold under the OSCAR by Oscar de la Renta and Pink Label brands (the latter licensed to Kellwood).
2002 marks the debut of Intrusion, the latest Oscar de la Renta fragrance for women. Oscar de la Renta launched his first perfume, Oscar, in 1977. Today, Oscar is a bestseller in over 70 countries and winner of the 1991 Fragrance Foundation Perennial Success Award. In 1980, he created a fragrance for men, Pour Lui. In 1995, Oscar de la Renta was the recipient of the Living Legend Award from the American Society of Perfumes. In the fall of 1999, Oscar de la Renta introduced Oscar for Men. Oscar de la Renta sells its products in upscale department stores and specialty stores worldwide. Apparel is produced in the US. Dominican Republic-born designer and owner Oscar de la Renta and partner Ben Shaw (now deceased) founded the company in 1966.
Narciso Rodriguez Fashion Designer
BIOGRAPHY
Born in New Jersey of cuban-american parents, fashion designer narciso rodriguez reeived his formal education at the famous Parson's School of Design in New York. Following freelance work in New York's garment industry, he joined Anne Klein under Donna Karan, and later Calvin Klein designing women's ready-to-wear. In 1995, Rodriguez became design director of TSE where he presented ready-t-owear collections for Men and women in New York simultaneously. Rodriguez was appointed design director of cerruti in Paris. It was at errutu that Narciso received worldwide attention when he designed the bias cut sheath wedding dress that his friend Carolyn Bessette would wear when she married John Kennedy Jr. In October 1997, the first women's ready-to-wear collection under the Narciso Rodriguez label, in partnership with italian manufacturer Aeffe, was presented in Milan for the Spring/Summer 1998 season.
Following the collection, Rodriguez was awarded "best new designer" at the vogue VH1 fashion awards in New York city and the "Perry Ellis Award" for best new designer by the Council of Fashion Designers of America. Loewe, the Spanish luxury house established in Madrid i 1846 and owned by LVMH since January 1997, appointed rodriguez as Design Director of the Women's ready-to-wear collection. The first runway presentation for Loewe was held in March 1997 during the Fall/Winter 1998 season. For his Fall/Winter 2001 ready-to-wear collection, Narciso Rodriguez decided to return to New York. Narciso is the first designer in history to receive the womenswear designer of the year award by the Council of Fashion Designers of America consecutively in 2002 and 2003. He has continued to show his collections in New York, having joined a new generation of designers known for exquisite tailoring and fine design and craftmanship. Today, Narciso Rodriguez presents his first fragrance. Architectural, pure, sculptural, precise, sensual, sleek, modern, classic, practical, feminine, elegant. His style is American with a European influence and latin at hear.
Pierre Balmain
The following biography contains information on Fashion Designer Pierre Balmain. BIOGRAPHY Fashion Designer PIERRE BALMAIN, date of creation: 1945 Pierre Balmain was born in St Jean de Maurienne, Savoie in 1914. He owed his early training to the two greatest designers of the time – Molyneux and Lucien Lelong – opening his own Haute Couture house immediately following the war, in the autumn of 1945, on the Rue Francois 1er in Paris. Clients quickly flocked to Balmain, and were thrilled to discover the new image he had created for women. The Balmain woman had shed the last vestiges of wartime hardship with abundant insouciance and charm, and heralded a return to opulence in richly embroidered gowns and ensembles. The 1960s were years of renewal for Pierre Balmain, who used fabrics scupturally for the creation of uncluttered designs accenting pure structure and contrasts of cut and style. This was also a richly productive period in the field of costuming for stage and screen.
In addition, Balmain designed personal wardrobes for numerous international stars, including Brigitte Bardot, Marlene Dietrich, and Katherine Hepburn – to name just a few. This period also marked Balmain's first meeting with Her Majesty Queen Sirikit of Thailand, who chose him to be her personal couturier. With the disappearance of Pierre Balmain in 1982, the torch was passed to Erik Mortensen – his personal assistant since 1951 and his closest colaborator – who maintained the House's traditions while developing and updating styles and designs in the spirit of its founder. In recognition of this achievement, Mortensen won tne France Haute Couture Golden Thimble Awards for his Automn-Winter 1983/1984 collection.
Erik Mortensen then went onto his second French Haute Couture Golden Thimble Award, presented at the Palais Galliera on 31 July 1987, for his Autumn-Winter 1987/1988 collection. When Erik Mortensen left the House of Balmain in July 1990, he was replaced by youthful Herve-Pierre, who served as designer from 1990 through 1993 for both the Haute Couture and ready-to-wear collections. In january 1993, internationally renowned American designer Oscar de la Renta signed his first Haute Couture collection for Pierre Balmain and has now rejuvinated the line while respecting the colours, the fluidity and elegance of the "Jolie Madame" esprit. Haute Couture Women's Ready-to-Wear Men's Fashion Perfumes (Ivoire, Jolie Madame, Miss Balmain, Vent Vert, Monsieur Balmain, Ebene) Accessories
Tom Ford Fashion Designer
BIOGRAPHY
Ford was born in Austin, Texas, but spent most of his childhood in Santa Fe, N.M. Ford moved to New York when he was a teenager and enrolled at New York University, initially attending classes in art history. He later redirected his studies to concentrate on architecture at Parsons School of Design in New York and Paris, concluding his training at Parsons in New York. In 1990, Ford moved to Milan to join Gucci as the company's women's wear designer. In 1992, he became design director and in 1994 he was appointed creative director of Gucci. He was responsible for the design of all product lines from clothing to perfumes, and for the group's corporate image, advertising campaigns and store design. In January 2000, following the acquisition of Yves Saint Laurent and YSL Beaute by the Gucci Group, Ford assumed the position of creative director of Yves Saint Laurent Rive Gauche and YSL Beaute. In addition to his existing duties at Gucci, Ford worked with all creative teams at YSL to define the overall image and positioning of the YSL brand, including all product categories and communication activities.
Ford's success in the fashion industry has been recognized by a number of awards, including four from the prestigious Council of Fashion Designers of America (1996, 2001 and 2002 2004); five VH-1/Vogue Fashion Awards (1995, 1996, 1999, 2002 and 2004); two awards from the Fashion Editor's Club of Japan (2000); Two Ace Awards from the US Accessory Council (2001) (2006); the Style Icon Award in the 1999 Elle Style Awards (UK); the British GQ International Man of the Year Award (2000); the Superstar Award at the Fashion Group International's Night of Stars (USA, 2000); Best Fashion Designer, TIME Magazine (2001); and GQ Designer of the Year (2001). In October 2003, Ford was awarded the first annual Fashion Design Achievement Award at the Cooper Hewitt Design Museum's National Design Awards. In March 2004, Tom Ford was honored for his contributions to the worlds of fashion and film with the Rodeo Walk of Style award. In 2005 he received the Andre Leon Talley Lifetime Achievement Award from the Savannah College of Art and Design.