Fetal Alcohol Syndrome Essay Sample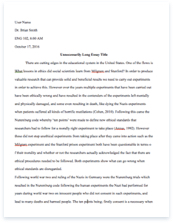 The whole doc is available only for registered users
OPEN DOC
Download Essay
A limited time offer!
Get a custom sample essay written according to your requirements urgent 3h delivery guaranteed
Order Now
Fetal Alcohol Syndrome Essay Sample
Introduction and definition
Fetal Alcohol Syndrome (FAS) is defined as a condition in a child that results from excessive consumptions of alcohol during a mothe's pregnancy. FAS is one of many disorders that are included in Fetal Alcohol Spectrum Disorders (FASDs). Fetal Alcohol Spectrum Disorder covers a wide range of other disorders including, partial fetal alcohol syndrome, alcohol-related birth defects, alcohol-related neurodevelopment disorder and neurobehavioral disorder associated with prenatal exposure to alcohol (Healthline Media, 2018). Prenatal indicators for potential alcohol use would note smaller than expected growth in length, weight, and head measurements. Slower than expected head growth is a reflection of subnormal brain growth. Once born, the above-noted facial changes will lead the pediatrician to consideration of the diagnosis of FAS (Mersch, 2018). Although researchers and doctors know when to look for these signs of FAS, nothing can be done to reverse the damage caused by the condition.
Characteristics
Those who are diagnosed with Fetal Alcohol Syndrome(FAS) experience growth, mental and physical problems. Children with the condition have a growth delay where they are not meeting the length, weight and head size as an expected child at birth would have. Other characteristics of FAS include heart defects, deformities of joints, limbs, and fingers as well as there being occurring issues such as vision and hearing problems (Schoenstadt, 2017). Only babies who were exposed to alcohol during a specific period of pregnancy will have the facial features of FAS which include a flat midface, thin upper lip, a short nose and a low nasal bridge. Of these facial features, they can occur based on genetics but if multiple features are present, they will determine the diagnoses of Fetal Alcohol Syndrome (Kellerman, 2003). With these characteristics stated, it is important to understand why and how the existence of Fetal Alcohol Syndrome(FAS) has come about.
Effects on Family and Development
Situations in which a child is diagnosed with Fetal Alcohol Syndrome can be extremely difficult for the parents, especially with the fact that some characteristics can be based on genetics. More commonly, FAS occurs due to the prenatal actions of a child's mother, in which then the responsibility is put on the mother. According to the article " Characteristics and Symptoms of Fetal Alcohol Syndrome," Teresa Kellerman discusses the developmental delays with those that have Fetal Alcohol Syndrome(FAS). Kellerman states that of those that have full FAS, they have mental retardation, whereas the majority of children who are diagnosed with FSAD are bright and seemingly normal (Kellerman, 2003).
With children diagnosed with Fetal Alcohol Syndrome, they also develop delays in language. Some of these delays include language acquisition, expressive language, and receptive language. According to the article "Language Delays in Children with Fetal Alcohol Syndrome," Elizabeth Stannard Gromisch discusses that if a child experiences delay in expressive language, that they have issues communicating what they are thinking whereas if a child has problems with receptive language, there is difficulty with understanding. Issues with receptive language development due to fetal alcohol syndrome, there can be issues where a child\'s memory and comprehension is affected (Gromisch,2012). For families to comprehend the developmental delays of Fetal Alcohol Syndrome(FAS), they must first be educated on the causes.
Causes and Prevalence
Mothers are to blame for a child being diagnosed with Fetal Alcohol Syndrome(FAS). In the U.S alone, out of 67 women, one would deliver a child that has FAS (Popova, Lange, Probst, Gmel, 2017). Each year more than 119,000 children are born with FAS each year (Popova, Lange, Probst, Gmel, 2017). When a woman that is pregnant consumes alcohol, it is passed on to the baby through the umbilical cord as well as the placenta. Most women are unaware that drinking alcohol can be an issue even without the knowledge of being pregnant (Galin,2017). Having knowledge of the causes of Fetal Alcohol Syndrome becomes important when dealing with the condition in the classroom.
Educational and Medical Intervention
When dealing with Fetal Alcohol Syndrome, there needs to be an awareness that there is not a cure for the condition. Although the physical and mental effects of FAS persist for a lifetime, medical and educational treatment should occur. According to the Mayo Clinic, access to Early Intervention for children with FSA can help with the mobility, communication and social skills (Mayo Clinic, 2018).  According to Gromisch, "The Mayo Clinic notes that children with fetal alcohol syndrome can display symptoms like attention deficit hyperactivity disorder (ADHD), such as a short attention span, poor impulse control and hyperactivity"(Gromisch, 2015). For children who experience these symptoms are prescribed medication. Due to the behavioral and learning problems associated with FAS, special services in school can be used to help with the issues (Gromisch, 2015).
For a child with FAS to benefit in school, according to Gromisch, ""The Substance Abuse and Mental Health Services Administration suggests the "eight magic keys," which help when working with students with fetal alcohol syndrome. These strategies include using concrete terms, being consistent with language and environment, using repetition to help with short-term memory problems, establishing a routine, preventing overstimulation by using simplicity, being specific, and using structure and supervision"(Gromisch, 2015). Although these are only a few medical and educational interventions, teachers and parents can use these when involved with a child that has FAS.