Filipinos and Koreans in the Aspect of Using English as Their Language Essay Sample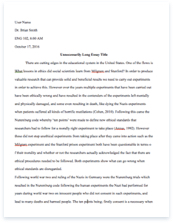 The whole doc is available only for registered users
OPEN DOC
Download Essay
A limited time offer!
Get a custom sample essay written according to your requirements urgent 3h delivery guaranteed
Order Now
Filipinos and Koreans in the Aspect of Using English as Their Language Essay Sample
Communication Problems between Filipinos and Koreans in the aspect of using English as their language. Communication is not a one-way street. To have others open up to you, you must be open yourself. Bear in your mind when you begin to talk too much try to pause and get yourself back on track because it can affect the flow of communication. Most of the problems in communication are barriers in language. Sometimes there's a language that we aren't always aware of. Misunderstandings, resulting from poor communication can easily cause a conflict or make it worse. Further, once a conflict has started, communication problems often develop because people in conflict do not communicate with each other as frequently.
Everybody should know that it is one of most important and crucial skills to have for personal success, fun and any other part of life. English language is not only for communication but also it can help our daily lives. It will be useful when you want to communicate with some one that doesn't speak the same language with you and if you are going to move to a different country. For example a Korean wants to communicate with Filipinos this English language can help a lot for their communication. Each of them can understand both sides. By this problem in language, we can learn what our actual strengths and weaknesses we had. It can identify what words or phrases are not familiar with. As you can see if English language doesn't exist problem to communication would worst as well as would be worsen.
A. Background
In our life we need to communicate through this we can share different beliefs or point of view. It is essential in all spheres of life and a key
instrument to create relations. This is done by speech, visuals, signals, and writing. In communication language is important. Without language it would be unable to deliver or express our thoughts and ideas, and would not be able to learn. Using one language in communicating may help us a lot. If people use different language it might lost the flow of communication in other hand, if people use only language then they can clearly understand each other misinterpretation may be avoided. As of now even in earlier period English language is a universal means for communication and expressing one's feelings anytime and anywhere. It is easy to learn, easy to understand, and all the benefits can be given to you using English language. B. Objective of the Study
To determine what is the main problem of the communication of Koreans to Filipinos and how to solve or overcome this problem are the objectives of the study. One way of overcoming this barrier to language what is the main problem is to using words that most people can understand, re-phrasing what you have discussed to see that the message has been understood and especially is using English language.
C. Scope and Limitation
The research paper is done in Lyceum of the Philippines – Cavite Campus with ten Korean student respondents with different courses and years. The importance of this study will help Filipinos and Koreans to understand each other without a hindrance. A good communication can be the way to start a harmonious relationship. D. Significance of the Study
The study is all about how Koreans communicate to Filipinos in the aspect of using English, what the causes of their problems in communicating, and how they overcome this. With the help of this research Filipinos will gain knowledge on how to communicate and socialize with Koreans in a way where both of them will understand each other. This will also help the Teachers or Professors to think of another way of teaching Korean students.
Body
This part shows the result of the survey done in the Lyceum of the Philippines University- Cavite campus among Korean students.
Out of ten respondents, six of them find it hard to communicate with Filipinos in the reasons of language and four them don't find it hard. The Filipinos and Koreans have their own language to communicate like in the Philippines, Tagalog or Filipino language is main language and in the Korea, Korean language is main language they have using. In this situation there's a possibilities that they can't communicate clearly because how they can continue the flow of communication if there's a barrier to their communication. All of the respondents said that language is the one that makes them hard to communicate with the Filipinos. Out of ten respondents, four of them are using dictionary in communicating and six of them don't use dictionary. Even they know how to speak English they still need a dictionary for them to understand uncertain/unknown words. Two out of ten respondents is not satisfied on what they have learned in the Philippines maybe it's because of the atmosphere.
Out of ten respondents, two of them choose Philippines to study English in a reason that they find Filipinos very kind, three of them said that it is more comfortable here in the Philippines and three of them choose Philippines because it is near to Korea and two of them said that Philippines is a high quality in terms of teaching English. Studying in Lyceum of the Philippines University – Cavite Campus 60% of the Koreans said that it offers a good teaching of English and 40% of them said that they were not satisfied because after two to three years of studying in Lyceum of the Philippines – Cavite Campus they still find it hard to communicate in English.
It only shows that they don't get the learning they need to learn, and also the teaching skills and techniques of some professor do not capture their attention in class that makes it difficult for them to understand the lessons. Nine out of ten respondents said that English help them a lot and one of them don't. Out of ten respondents, two of them said that they can apply English in all aspects of their life, three of them said that they can apply it in communicating and five of them said that they can apply it in applying in job. Some companies in their country seek for a man who knows how to speak fluently in English because it can take a big shot to the company. The researchers gather the information by doing a survey with 8 questions each questionnaire among ten Korean students in Lyceum of the Philippines University – Cavite Campus. Even Filipinos need English language for them to have a better job and some companies in the Philippines are owned by foreigners.
Review of Related Literature
Main article: Philippines–South Korea relations
South Korea is one of the Philippines' largest trading partners. The two nations were especially close as the Armed Forces of the Philippines, under the United Nations command of Douglas MacArthur, were pledged to fight for South Korea and its allies in the Korean War. On 2011, South Korean President Lee Myung-bak visited the Philippines during the Korea Philippine Business forum together with Philippine President Benigno Aquino III.
About
Mission
The FILCOM-JEJU, a non-profit social and educational organization of existing Filipino groups within Jeju Island established to bring out the concrete needs of Filipino immigrants through the framework of fundamental actions in fostering sustainable social development and welfare of members by:
1. Understanding and learning Korean ways of life to promote social coexistence. 2. Developing awareness in Korean laws and migration policy to conform legal transactions, thus eliminate ignorance. 3. Promoting and educating Filipino-Korean children of their racial background. 4. Nurturing our human value in Korean society.
5. Enrich and nurture Filipino culture and ethnicity while integrating the Korea culture and practices 6. Engaging solidarity with other immigrants of different ethnic groups. 7. Building networks with NGOs and other social institutions catering quality adaptation of foreign migrants in Korean society.
Company Overview
Filipino Community in Jeju or best known as FilCom is a non-profit social organizations of Filipino immigrants
Description
The community of Filipino immigrants in Special Self-Governing Province of Jeju is dedicated to build harmonious relationship with people from the majority of Korean society for social coexistence and unity. In this aspiration, FilCom-Jeju believed that LIFE FREE FROM ETHNIC DISCRIMINATION; CLEAR IDENTITY OF THE NEXT GENERATIONS; and THE ERADICATION OF VIOLENCE AGAINST WOMEN are pivotal factors to consider in solving the current problems experienced by Filipino immigrants, and other foreign migrants in South Korea. General Information
FILCOM-JEJU is a social and educational structure with the aim of helping Filipino immigrants to live with harmony in Korean society without disregarding Filipino identity.
FILCOM-JEJU is a significant venue for Filipino immigrants having its compassion to educate members for personal and social development. It is a product of collective effort committed and dedicated to promote 'acceptance and recognition' of Filipino ethnicity in Jeju Island, and to South Korea at large. It work with other Filipino organizations as partners who valued Respect; Equality; Education; Camaraderie; Collaboration; Accountability; Excellence, and Competence as the foundation to achieving sustainable welfare of members. It builds network relationship with other NGOs and civic organizations supporting the vision and mission of FILCOM-JEJU. It answers the call of Jeju government to participate activities purposive to enhancing sustainable welfare of foreign migrants.
FILCOM-JEJU believed that its vision is fundamental to attain better living condition of Filipino immigrants guided by this organizational philosophy:
We, the members of FILCOM-JEJU believed that the baseline of successful migration in Korea is through coexistence.
We advocate Filipino ethnicity to coexist to the mainstream social structure of Korea, as we believed our capabilities through knowledge and skills will counterpart to the development of Korean society free from social inequality due to racial discrimination.
We advocate coexistence through integrating to the social, political, and economic activities with respect and acceptance of differences in race as the core for unity and peace, thus promote protection of the International Human Rights and encourage the eradication of Violence Against Women.
We believed that the basic step to work out with our VISION is to build social awareness of Korean people about Filipino cultural norms and practices as the remedy of prejudice or misconstrues of our identity while we are also learning Korean practices as we recognized its importance, for we considered ourselves as legitimate members of Korean society.
We discouraged prejudgments against Korean culture. Instead, we encouraged to understand Korean culture into deeper sense as a tool of bridging the cultural gap to establish mutual respect of ethnic differences.
We are aware of our significant contribution in solving the national problems such as Aging Society and Manpower Shortages, therefore we considered ourselves as valuable individuals in Korean society entitled to obtain just treatment in the mainstream structure. Main article: North Korea–Philippines relations
Despite the fact that the Philippines sided with North Korea's belligerent, South Korea in the Korean War, The two countries finally established diplomatic relations in 2000 after more than 20 years of negotiations, although trade between the two countries is almost non-existent, as they both still have a trade embargo. In 2007, the agreement was boosted further and was signed by Philippine Foreign Secretary Alberto Romulo and North Korean Foreign Minister Pak Ui Chun during the Association of South-east Asian Nations (ASEAN) meeting in Manila. Philippines has a representation in Pyongyang, thru embassy in Beijing; and North Korea has a representation thru its embassy in Bangkok.
Graphs
Graph 1. Do you find it hard to communicate with Filipinos?
* 60% of the Korean respondents find it hard to communicate with Filipinos and 49% don't.
Graph 2. What makes it hard for you to communicate with Filipinos?
* 100% of the Korean respondents have chosen the Language(Tagalog and English) that makes them hard to Communicate with Filipinos. Graph 3. Are you using dictionary in communicating?
* 40% of the Korean respondents use Dictionary in communicating while 60% of them don't. Graph 4. Are you satisfied of what you learned in the Phiippines?
* 80% of the Korean respondents were satisfied on what they learned in the Philippines while 20% of them were not satisfied. Graph 5. Are you learning English Language well in LPU?
* 60% of the respondents said yes and 40% said no.
Graph 6. Does English help you a lot?
* 90% of the respondents said yes and 10% said no.
Conclusion
In general, barrier in language is the main problem in communication and English is a universal language and one of the easiest languages to learn. Everyone should know how important English language is. It can be the way of being successful in life. Without basic knowledge of this language it is therefore hard to survive in this time where a successful business comes from dealing with the whole world. As of we can no longer live alone in our country. If you want to learn the world you need to learn English.
Many Koreans are going to Philippines to learn, that is why Filipinos should develop their skills in communicating and socializing. They believe that Filipinos can give them the knowledge they need for their future.
References
Review of related literature
Philippines–South Korea relations
http://www.tumblr.com/tagged/korean-filipino-relationship
http://en.wikipedia.org/wiki/Foreign_relations_of_the_Philippines Filipino Community in Jeju or best known as FilCom is a non-profit social organizations of Filipino immigrants https://www.facebook.com/pages/Filipino-Community-Jeju-FilCom-Jeju/183483055090053?sk=info