Finances in Healthcare Essay Sample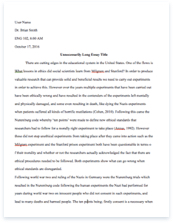 The whole doc is available only for registered users
OPEN DOC
Download Essay
A limited time offer!
Get a custom sample essay written according to your requirements urgent 3h delivery guaranteed
Order Now
Finances in Healthcare Essay Sample
Examine the financial characteristics of health care delivery along with managing costs, revenues, and human resources. I have chosen to research my final power point on the financial aspect of healthcare because this is the part of healthcare that drives me to desire change with the industry. There are so many things to understand when healthcare is being provided. The patient may never truly understand the complexity of the finances that are invested in the basic visit they have with the physician. Healthcare is very complex then adding finances to such a complex industry makes it even more complex. The core mission for every healthcare organization is the patient; however there is so much that goes on behind organization to ensure things are run smoothly for the patients. I will research how the organization is to provide services to all patients equally although they may not have the same financial status, how management creates and stays in budget, revenue, how human resources assists in the fiancés of the organization, and insurance. I will also explore how health care is financed from the patients as well as the hospitals and medical centers. The ways costs are controlled in order to bring revenue, as well as benefits offered. National Health Spending
Over the last 40 years healthcare spending has grown at an extremely fast rate. In 2008 healthcare spending slowed to about 4%, the slowest over the last 48 years. Although spending had seemed to slow down, the United States still spent $2.3 trillion in 2008. In 2012 it was predicted to reach $2.9 trillion and account for 17.2% of gross domestic product (GDP) or $9,035 per capita. Expenditure type
* Hospital care
* Physician and clinical care
* Other professional, dental, and personal care services
* Prescription drugs
* Nursing Home and home health care
* Program administrative
* Structures and equipment
* Public health services
* Other medical products
* Research
Paying For Healthcare
* Out of pocket expenses
Payments by individuals, who buy insurance policies, pay for services themselves, pay for part of those services through co-payments and or deductible.
* Private insurance
Payments by individuals and/or employers which cover health plans; indemnity plans, preferred provider plans (PPO), point of service plans (POS, health maintenance plans (HMO's) and high deductible plans (HDHP's)
Forms of payment
* Fee for Service- blue shield blue cross developed this plan. Most common the patient pays a deductible or co-pay. * Prepayment- insures patients pay fixed amount for services rendered. Basic or routine care is usually fully covered with small co-payments.
Cost Sharing
* Copayments
* Deductibles
* Coinsurance
Policy Limitations
* Maximum-out-of-pocket-expenditure
* Lifetime limit
Types of benefits
Comprehensive policies; basic, major medical, or hospital policies; catastrophic coverage policies, disease specific policies, Medi-Gap policies
Insurance is a huge part of the health care however it is not the only part of funding that goes into health care. I have a lot more to explore and add to my final power point presentation.
Annotated Bibliography
Dranove, D. (1998). Economies of scale in non-revenue producing cost centers: Implications for hospital mergers. Journal of Health Economics, 17(1), 69-83. Retrieved from http://search.proquest.com/docview/205800624?accountid=32521
This article compares the magnitude of economies and 14 non-scale producing cost centers in hospital.
Betancourt, E. J. (1978). Charges vs cost-how deductions from revenue affect profit. Hospital Financial Management, 32(3), 36-36. Retrieved from http://search.proquest.com/docview/196380356?accountid=32521
I really enjoyed this article, as it went into effective financial planning. The 2 major categories of cost are total charges (the patient's bill) and the cost of providing services. These 2 costs can be defined mathematically in the following indices: average revenue per patient day and the cost per patient day.
Evans, M. (2010, Nov 17). Patients without insurance treated at free surgery day. Daily Breeze. Retrieved from http://search.proquest.com/docview/807461298?accountid=32521
This article talks about Kaiser Hospital performing 18 surgeries on patients
without insurance. This was part of an annual free surgery day to give back to the community.
Schmidt, R., & Altus, G. (2010). Reshaping the healthcare delivery network. Healthcare Financial Management, 64(1), 100-4. Retrieved from http://search.proquest.com/docview/196362226?accountid=32521
This article was great! Explores the fight hospitals are having for survival due to the poor economy.
Sharon B. Buchbinder. Introduction to Health Care Managment 2nd edition 2012 In the text I will be able to explore insurance, management and hospital revenue.