Financial Accounting Reflection Paper Essay Sample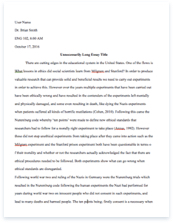 The whole doc is available only for registered users
OPEN DOC
Download Essay
A limited time offer!
Get a custom sample essay written according to your requirements urgent 3h delivery guaranteed
Order Now
Financial Accounting Reflection Paper Essay Sample
Financial accounting is an important factor in any business; large or small. If you don't know your numbers, you don't know the financial health of your business. Over my twenty-three year career as a banker, I've always been the end user of financial information. Analyzing the statements for specific information is common on my part, and I find myself comfortable interpreting what the statements are saying. My accounting experience does include intermediate, and managerial accounting, but those lessons were soon forgotten because I do not prepare financial statements. Therefore, I find the most difficult learning task is keeping the journals and ledgers that feed into the final product. Accounting to me is challenge as a whole; it is a good subject to learn because accounting knowledge is always in demand. So far, I am on a good path learning the basics of accounting. I've learned how accounting affects business and how it allows organizations to identify cash inflows and outflows. Without accounting there is no way to accurately predict cash flows, or future operations. One of the most important I learned is to remember in account is the accounting equation. "The accounting equation is the basis upon which the double entry accounting system is constructed.
The accounting equation is: Assets = Liabilities + Shareholders' Equity The assets in the accounting equation are the resources that a company has available for its use, such as cash, accounts receivable, fixed assets, and inventory." (Merritt, C) I can appreciate the importance of a financial statement knowing that it is a valuable tool for businesses, as it provides the financial information that investors and creditors use to determine a company's financial performance. I also learned that financial statements vary, and focus on different areas of an organization financial performances. I look forward to learning more in this class, and I hope to absorb as much knowledge as possible. I am comfortable with a cash financial statement verses using an accrual statement because both my personal and business related accounts are calculated using cash. I do not accrue expenses using credit; all payments are made in cash at the time services are rendered. I agree that using the accrual accounting method would show a more clear, and potentially more detailed statement, because it would show the actual period of accrual using the revenue and expense recognition method.
I struggle with the accrual accounting only because I have never used this method on either a personal or business related level. In fact, all of my personal and business related transactions are handled in cash and recorded that way as well. No expenses are incurred unless I have the cash to back it. I also struggled with some terminology in chapter 4 and learning new functions while using excel. I can only apply the cash accounting procedures to my current job where I own a cleaning business with 3 full-time employees. I started my business with less than 1,000 cash on-hand, no banking accounts (personal or business), no credit cards, or an excel spreadsheet to manipulate numbers. I have been in business for over 2 years, and have obtained over 45 residential clients. I gross 66,000 annually minus 36,000 (12,000 each employees) in payroll, and 2,500 in supplies, I personally net 30,000 annually. No expenses are incurred through credit.
Cash is made daily, employees are paid cash daily, and file with IRS accordingly. All supplies are purchased monthly via cash already on hand with only the initial one thousand dollars I started my business with. I chose the cash method of accounting because of life situations. I understand that if I ever utilize checking accounts, credit cards, payroll checks, etc., accrual based accounting most likely would give me a better, more precise, reflection of business related sources and uses of cash. I am comfortable with the accrual, cash and tax basis of accounting. I am also able to comprehend why accrual based procedures are superior to cash basis, due to it being a more precise depiction of a corporation's revenue, liabilities, assets, and expenses. When a company is utilizing the cash basis procedure the company's financial records will demonstrate the income and costs depending on the time the purchases are encoded instead on the time the revenues are acquired. Topics struggled with:
I agree that small-scale companies should utilize the cash basis procedure but when encoding the data for tax purposes, the data in that instance must be changed in consideration to abide with the tax laws and standards. A person will assume that it would be easier to utilize the accrual procedure that follows anything such that the data is constantly accessible at tax periods. I can apply the topics in a previous employment of mine when I work in the accounts payable department of a corporation. Every month, we always had a month end closing. My department was required to get hold with an excel workbook for the manual accrual for specific purchases they have receipts for in the client, but are not yet finished. We encode these according to the complementing transactions and if the assistance has been recognized on the PO. If we have a receipt and the PO does not demonstrate that receipt, we accrue.
References
Merritt, C. "What is the role of the accounting equation" retrieved from http://yourbusiness.azcentral.com/role-accounting-equation-analysis-business-transactions-12632.html