First Aid Skills Important For Survial Essay Sample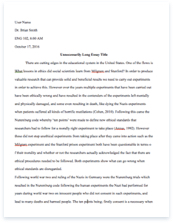 The whole doc is available only for registered users
OPEN DOC
Pages:
Word count: 743
Category: survival
Download Essay
A limited time offer!
Get a custom sample essay written according to your requirements urgent 3h delivery guaranteed
Order Now
First Aid Skills Important For Survial Essay Sample
Introduction
Survival skills are virtually important in our everyday life.  Survival skills help a person to survive when faced by a dangerous situation. Survival skills are meant to provide the basic human necessities like shelter, water and food.  They help one to go through constraining conditions and overcome dangerous situations.   Instructors have emphasized on the Rule of Three which basically address issues pertaining to survival in extreme temperature, water and food. However few have considered the situations that one is faced with in their every day life. Whether in secluded places or in our daily work we are always faced with accidents which happen to us or to others around us. There are very few people who have first aid skills to assist in such situations. Therefore this paper stress that first aid skills are important in the basic survival and everyone would benefit   from mastering the skills.
First aid skills in our daily life
In normal life, one may fulfill the Rule of Three but still there will be more hurdles in ones survival. One may find shelter but what about if it collapses while one is sleeping? One may find food, but what about if it turns out to be poisonous and detrimental to one health? The same case may apply to water.  This means that the Rule of the Three can ensure one to have the basic necessities for survival but it may not guarantee full survival.
In life, one is faced by different kinds of dangers.  One may sustain a knife cut while preparing food or just get a burn while preparing fire. One may eat food which may turn out to be poisonous and before one gets medical assistance, this may have had detrimental effects in the body. The same may happen to those around us as well. Many a times we have witnessed road accidents or any type of accident when an individual sustains body injuries which may eventually lead to loss of life. In most cases many people will keep a distance while they wait for medical professional or first aid assistance from The Red Cross or St. Johns Ambulance. Before such assistance come to our way, we may have lost a number of lives or the condition of the individuals may have deteriorated.
For a long time, there have been little emphases made on the importance of having first aid skills. Many people think that this is the work of the military, police, first aides, and medical professionals. But just think of a case where fire has broke out in the working place and hundreds have sustained injuries and burns amid the commotion. How sure is somebody that they are going to survive and get the attention of the first aid assistance while there are hundreds others on the line? How do they feel when they see their friends with a broken limb crying in pain while they have no any skill that they can assist with?
This means the basic first aid skills are very important in our daily life while it is only few people who have the skills.  In most cases those who have these skills cannot be everywhere every time which means there are thousands of people who are likely to lose their life because there is no one around to offer assistance at the time. If everyone was well equipped with first aid skills, perhaps they could have saved thousands of life and even their own life.
There are uncountable benefits that everyone would get by mastering basic first aid skill. None one is immune to accident whether they are in their homes or we are in their offices.  Having first aid would help us to deal with those accidents which eventually cost us our health.  The more people continue to ignore the need to have first aid skills, the more life they are going to risk their health and the more life they will continue to lose from accidents.
Conclusions
First aid skills are necessary not only where there are accidents but also in our daily lives. There are thousands of lives which are lost just because there is no one who is well equipped with first aid skills to assist accident victims.  It is important that everyone masters the basic first aid skills as this would assist them to survive in some extreme situations in their life.