Focusing On The Customer by Providing Good Customer Service is Essention to Retailing Essay Sample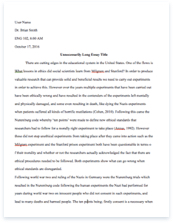 The whole doc is available only for registered users
OPEN DOC
Pages:
Word count: 696
Category: customer
Download Essay
Get Full Essay
Get access to this section to get all the help you need with your essay and educational goals.
Get Access
Focusing On The Customer by Providing Good Customer Service is Essention to Retailing Essay Sample
In this assignment I will be explaining how Carphone Warehouse meets their customer needs and expectations via effiecent customer service.
Introduction
Carphone warehouse aims
At The Carphone Warehouse everything they do is based 'five fundamental rules'. The rules are applied not just in stores, but in call centre's and support functions too so they ensure that they provide the best possible customer experience.
There five fundamental rules are:
1. If Carphone ware house don't look after the customer then they believe that someone else will.
2. Nothing is gained by winning an argument but losing a customer.
3. They always deliver what they promise.
4. Always treat customers as they would like to be treated.
5. The reputation of the whole company is in the hands of each individual.
Carphone warehouse's customer needs
All customer expect to be delivered a good valued service when coming into the shop. They should feel valued and employers should give them the first priority. The product they purchase should be in good quality and details of the product should be what they said. An example, if they claim that a phone is a touch phone then the phone should be a touch phone not a cyber phone.
Carphone warehouse will need to see what the customer wants and needs are, so therefore they will track on what customer are buying and what phone they have by checking online. They also place surveys on their website for customer to place their opinions. A focus group can be made when different managers in different departments meet up to talk about customer issues such as what they want and need. From customers coming into the shop complaining about the phone saying those speakers not working so they can improve on the products.
Before sales services
Before the Carphone warehouse make a sale, they will need to maintain a good relationship with the customer by offering promotional offers such as free top up with purchase of a phone. Customers will be attracted to the business if there are products on display so customers can see them before buying. This is done by asking helping when they enter the shop, by asking them if they need help and if customer agrees then they should show them a specific phone and define the cheaper offers. If customer asks about a certain phone then they should have the right knowledge and information about that product but they should not mislead them to wrong information. When the customer knows which phone to buy the employers shows the phone so the customers can have a great look and see if they still want to go further to buy the phone.
During sale service
Whilst purchasing sale person can offer accessories and they can find out if they want the phone on pay as you go or on contract. If they are on pay as you go then sales person will ask customer if they want to top-up or if they on contract then they will ask what type of tariffs they want and or how much they are looking to pay monthly. The sales person is helpful that they register customers phone and maybe ask if they want free internet based tariff too. The most important thing is that insurance will be given only if they agree.
After sales services
Not all sales are successful which mean that when problem do occur the business needs to turn the problem by solving it as soon as possible. If the phone not good then they can get a refund, exchange for another phone or provide more information on the website and the store itself. If customer has bought a phone on contract and their contract is nearly finished then they can get an upgrade on a new phone and if not then can ask for a top-up. When a purchase is made the sales person can call after the sale to ask if everything is okay and ask for insurance or more additional sales if they didn't ask during the sales.