Foundation Degree in Management with Business Studies Essay Sample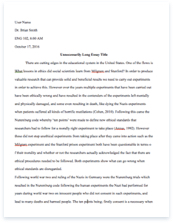 The whole doc is available only for registered users
OPEN DOC
Download Essay
A limited time offer!
Get a custom sample essay written according to your requirements urgent 3h delivery guaranteed
Order Now
Foundation Degree in Management with Business Studies Essay Sample
This essay will demonstrate an understanding of key theories that underpin marketing. The assignment will use a chosen organisation to evaluate contextual issues that could influence the choice of the organisations marketing mix. Theories will be applied to practice to demonstrate an understanding of the overall marketing mix with reference to decision making tools and other concepts studied. According to the Chartered Institute of Marketing (CIM, n.d.) 'Marketing is the management process responsible for identifying, anticipating and satisfying customer requirements profitably' (www.cim.co.uk, n.d.). The organisation chosen for this assignment is Lush Ltd.
Marketing is vital for Lush Ltd to succeed in gaining continued customer support and attract new customers for sustained business sales and to encourage trade development and growth. Any organisation has the ability to market their products or services, although, marketing correctly is key in order to produce desired results. Poor marketing can lead to loss of profits for the organisation, which, if not amended, could lead to bankruptcy. Effective marketing is when an organisation, regardless of size, connects with its existing customers and its potential customers by identifying their needs and wants and offering a product or service that meets their requirement. The price should also remain competitive within any market (www.cim.co.uk, n.d.).
Within the field of marketing, there are specific systems and tools available to organisations that may aid the marketing team to forecast what the correct products or services might be and how to market these to the correct consumers. For Lush Ltd., starting with a marketing strategy is imperative (www.Strategypeak, n.d.). Once a marketing strategy is firmly in place, marketing activities can evolve around the strategy (plan). For Lush a marketing strategy could begin with a Marketing audit and marketing mix. To gain an advantage and better understand a company a marketing audit is carried out. Overall the audit seeks to, as Jobber et al (2005, p.914) determines: 'Improve the company's marketing performance'. A further description by Jobber (2005, p.914) gives more detail as to how this advantage can be achieved:
'A comprehensive, systematic, independent and periodic examination of a company's environment, objectives, strategies and activities to determine problem area and opportunities.'
Part of the marketing underpinning includes conducting a SWOT and PESTEL analysis (See appendix1) as well as a situational analysis. SWOT and PESTLE are conducted to define both the internal and external influences that could affect an organisation. The Company's strengths, weaknesses, opportunities and threats and political, economical, social, technological, environmental and legal factors should be analysed and used by Lush. By looking at the marketing underpinning that surround the organisation as well as current culture of the organisations consumers, Lush would gain an insight into what the correct product or service that requires specific marketing would be. Organisations like Lush utilise market research to gain understanding into the wants and the needs of their customers (www.DirectObjectiveConsulting, n.d.) Performing a stakeholder analysis will gather information needed for the organisation to market in the correct way so their consumer's feel that their wants and needs have been fulfilled which in turn would lead to higher customer satisfaction (www.DirectObjectiveConsulting, n.d.).
Certain aspects of a product or service such as the cost, reliability, usability and performance should be considered when obtaining information from a stakeholder analysis and these aspects will differ depending on the market the product or service is intended for. Types of information Lush Ltd could gather are known as quantitative and qualitative research (www.Business.qld.gov.au, n.d.). Quantitative research is constructed by gathering information based on numbers and producing various statistics. Questionnaires are one method to obtain this data, surveys, financial trends and sales figures are others. These statistics can help to understand an organisations customer demographics and a beneficial overview of the current market. Qualitative research, using primary research, requires more time to cultivate as it focuses on customers and potential customers views, feelings and attitudes towards a company's product or service, with ways of attaining this information including focus groups and conversations with clients.
All forms of internal and external research could aid Lush to discover the correct customer for their product or service and allow correct segmentation of their market. The market segmentation, targeting and positioning (STP) (See appendix2) process is an essential concept in understanding marketing and the strategies of organisations. Once the correct segmentation of customers has been defined, which can include factors such as demographic, geographic and the personal lifestyle choices of the proposed clientele, organisations such as Lush Ltd must target the correct group of potential customers that best fits their product or service. Once this step has been completed, positioning can begin to be analysed. Upon completing a marketing audit, situational analysis and market research Lush could use a positioning tool known as the marketing mix (cim.co.uk, n.d.). According to the chartered institute of marketing, the marketing mix is: 'The combination of activities under a company's control that can be manipulated to achieve marketing objectives.'
The marketing mix, introduced by E. J. McCarthy in 1960, is a concept that supports the idea of having specific targets in place for specific avenues where marketing has to be considered. It allows an organisation to connect with its customers and to identify products, services or brands to offer to the correct market at the correct time. For a product based business like Lush Ltd, the organisation has four main areas to consider, known as the 4P's. All areas of the mix are interdependent; altering one element may affect another, which in turn may result in the need to realign in order to balance the mix. The marketing mix focuses on obtaining the correct balance for correct marketing of a certain product. The product that an organisation is marketing must be relevant in the design and the quality for the customers that Lush is targeting. An organisation must take into consideration the changes within the market and the wants and needs of their existing customers and potential new clients.
If a product is seasonal, an organisation can consider refining this specific product in order to expand the time frame when it can be purchased. An example of this is a company selling a hot breakfast cereal that is primarily bought by customers in the colder months could introduce a similar breakfast cereal that is consumed cold. The price charged must be competitive enough to engage the interest of the customers. Setting the correct pricing structure determines the quantity of product sold and how much profit is made. The organisation must take into account not just the cost of the product but any marketing costs for the product and to ensure that a profit is still made. If demand for a product is decreasing, lowering the price can regain custom.  In this instance, an organisation must be careful as a dramatic price drop can affectively increase sales, but this may not increase overall revenue. Benchmarking competitors pricing is a beneficial way to gain insight to what customers are willing to pay for similar products or services, however, an organisation should differentiate their product or service to make it more unique and attract custom.
Promotion of the product is also a vital step, utilising the best communication method at the correct time for the current market that the product fits. Without promotion an organisations product or service will go unnoticed by the general buying public. Promotion is about utilising cost-effective techniques in order to build awareness of what a company is offering to its customers. Advertising is a vast market with some of the options being, newspapers, online, TV adverts, radio and leaflets delivered to households. Marketing for a product or service should focus on the benefits of purchasing from that specific organisation and pointing out the unique factors. When marketing a product, the place the product will be marketed is important. Discovering the paramount distribution methods is crucial. Taking the ease of buying for customers into consideration is fundamental, as an organisation must realise the most accurate avenues to distribute, which include online sales, retailing, mail-order and wholesaling. If an organisation offers a service rather than a physical product, a further 3P's are added into the marketing mix, people, process and physical evidence.
A service led business is offered by people for people and if the customer service offered is poor, the staff are rude or have an untidy appearance, then the service that the organisation is offering can be ruined. Recruitment, selection and training all play a vital role when it comes to how the customers relate to the employees of an organisation as selecting the correct people for the correct job roles is necessary. If an individual is easy going and has strong ethical morals, they may not be suitable candidates for a stressful role in sales. However, an individual who thrives on deadlines, targets and pressure would suit a demanding sales job and be an asset to the organisation in question. The process concentrates on providing the customers with a consistent high level of service at all times. Set routines encourage staff to maintain a high level of customer service. Physical evidence can relate to how a customer see's their surroundings, including the venue that they visit and the uniform of the employees.
Other forms of physical evidence could comprise of items for the customer to take away such as membership cards or discount coupons. The organisation Lush Ltd is an environmentally and animal friendly company specialising in pampering and beauty products including bath bombs, soaps, natural hair colourings and face creams (ushsg.com, n.d.). To devise an effective marketing mix for a new range of products Lush should consider a variety of aspects. Scrutinising a SWOT and PESTLE analysis will lead to insight as to how the company can improve in general to increase customer satisfaction while analysing the current market and culture surrounding these specific products and could further aid in benchmarking similar products produced by competitors. Once a strategy for the new product or products is in place, Lush Ltd could use questionnaires on current customers to discover which products they prefer to buy whilst in store and why, possibly offering some incentive.
Lush could also look at current trends and popular products sold by competitors and devise a plan to surpass these prevalent products. When considering devising a marketing mix for Lush Ltd they may consider taking a popular existing product and improving it in order to keep and enhance current customer interests. A new product all together may be profitable instead. As Lush stores usually have city centre locations with vivid shop front displays then this is a great and cost effective way to market new products. Handing out samples from the front of the store could be another choice of marketing new products as could mail shooting existing clients, possibly with special customer discounts. Considering these aspects is vital if Lush Ltd is to create an effective marketing mix for any new or upgraded product. Additional forms of marketing that Lush could utilise are: primary and secondary research, the Ansoff Matrix, the Boston Matrix and the Product Life Cycle (See appendices 3, 4, 5, 6)
In conclusion, this essay has revealed and analysed methods of research that an organisation could use in order to produce an effective marketing mix for an improved or new product or service. This essay has also identified the avenues that Lush Ltd could undertake to produce an effective marketing mix for a new or improved product in order to satisfy current customers' requirements and to gain new custom.
References
CIM.co.uk. (n.d.) Marketing Mix [Internet] Available from http://www.cim.co.uk/marketingplanningtool/tech/tech4.asp [Accessed: 5th October 2014].
CIM.co.uk. (n.d.) Marketing Planning Tool [Internet] Available from http://www.cim.co.uk/marketingplanningtool/tech/tech6.asp [Accessed: 4th October 2014].
Direct Objective Consulting. (n.d.) Stakeholder Analysis: Gathering Client Market Requirements [Internet] Available from http://directobjective.ca/agence-b2b-marketing-agency-entreprise/client-market-requirements [Accessed: 23rd October 2014].
Lush. (n.d.) HISTORY OF LUSH [Internet] Available from https://www.lushsg.com/shop/info/4/about [Accessed: 27th October 2014].
Mullins, L. (n.d.) Management and organisational behaviour: PESTLE analysis. 9th ed. Harlow, Prentice Hall Financial Times, pp. 90 – 91
Oxford Learning Lab. (n.d.) Product's Life Cycle [Internet] Available from http://www.oxlearn.com/arg_Marketing-Resources-Product's-Life-Cycle_11_30 [Accessed: 6th October 2014].
Oxford Learning Lab. (n.d.) The Ansoff Matrix [Internet] Available from http://www.oxlearn.com/arg_Marketing-Resources-The-Ansoff-Matrix_11_34 [Accessed: 6th October 2014].
Oxford Learning Lab. (n.d.) The Boston Matrix [Internet] Available from http://www.oxlearn.com/arg_Marketing-Resources-The-Boston-Matrix_11_35 [Accessed: 6th October 2014].
SSG.com. (n.d.) The Full STP Process [Internet] Available from http://www.segmentationstudyguide.com/stp-process/full-stp-process [Accessed: 18th November 2014].
Strategy peak. (n.d.) 7 Key Marketing Principles [Internet] Available from http://strategypeak.com/7-key-marketing-principles [Accessed: 3rd October 2014].
Queensland Government. (n.d.) Market research methods [Internet] Available from http://www.business.qld.gov.au/business/starting/market-customer-research/market-research-basics/market-research-methods [Accessed: 23rd October 2014].
Bibliography
Ansoffmatrix.com. (n.d.) The Ansoff Matrix [Internet] Available from http://www.ansoffmatrix.com [Accessed: 6th October 2014].
Brassington, F. & Pettit, S. (2009) Principles of marketing. Financial Times Prentice Hall.
Journal of Marketing Management. (2006) The Marketing Mix Revisited: Towards the 21st Century Marketing. Volume 22, Issue 3-4, pp 407-438
Kotler and Armstrong. (2014) Principles of marketing. 15 ed. Harlow, Pearson education limited. P.129
Kotler, P. (1994) Marketing management. 8th ed. New Jersey. Prentice-Hall Inc. p.99
Oxford Learning Lab. (n.d.) Marketing Environment [Internet] Available from http://www.oxlearn.com/arg_Marketing-Resources-Marketing-Environment_11_28 [Accessed: 6th October 2014].
Appendix
1) SWOT & PESTLE Analysis.
http://www.conceptdraw.com/examples/personal-swot-analysis-template http://pestleanalysis.com/how-to-create-pestle-analysis-template
2) Segmentation, Targeting and Positioning example
http://dontpanic-marci.blogspot.co.uk/2011/04/segmentation-positioning.html
3) Primary and Secondary Research
Another underpinning of marketing for Lush would be to conduct primary and secondary research. Research aids Lush to understand what its customer's needs and wants are and to devise marketing opportunities (Direct Objective Consulting, n.d.). Secondary research examines information that has already been gathered by a third party, for example, information discovered on the internet, from existing market research or from government bodies and libraries. Primary research concentrates on research undertaken for your exact purpose rather than published knowledge and can include survey's, focus groups or interviews and general observations. Primary research is generally more time consuming and costly than secondary research but the results are usually far more specific to an organisations requirement.
4) The Ansoff Matrix
A very well-known marketing tool, first published in 1957 in Harvard Business Review, the Ansoff Product/Market Growth Matrix is used by marketers to create market growth strategies for their products. These strategies can apply both for new or existing products, and in new or existing markets, which results in four combinations.
http://www.oxlearn.com/arg_Marketing-Resources-The-Ansoff-Matrix_11_34
5) The Boston Matrix
http://www.oxlearn.com/arg_Marketing-Resources-The-Boston-Matrix_11_35
6) The Product Life Cycle
http://www.oxlearn.com/arg_Marketing-Resources-Product's-Life-