Freezing Point Essay Sample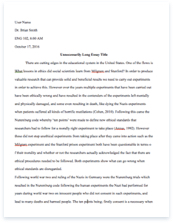 The whole doc is available only for registered users
OPEN DOC
Download Essay
A limited time offer!
Get a custom sample essay written according to your requirements urgent 3h delivery guaranteed
Order Now
Freezing Point Essay Sample
1. Part A.3. Some of the cyclohexane solvent vaporized during the temperature versus time measurement. Will this loss of cyclohexane result in its freezing point being recorded as too high, too low, or unaffected? Explain.
-The freezing point will be higher because the loss of solvent means that the molarity of solute is too high. The melting point will be lower than expected.
5. Part B.2. The solute dissociates slightly in the solvent. How will the slight dissociation affect the reported molar mass of the solute- too high, too low, or unaffected? Explain.
-The solute dissociating slightly will cause you to calculate a molar mass that is too small if you neglect the dissociation by assuming i=1 instead of the correct value of i, which is >1.
6. Part B.3. The temperature versus time data plot shows no change in your temperature at the freezing point for a pure solvent; however, the temperature at the freezing point for a solution steadily decreases until the solution has completely solidified. Account for this decreasing temperature.
– The freezing point of the solution is always lower than the freezing point of the pure solvent because when a non-volatile solute is dissolved in a solvent, the vapor pressure of the solvent is lowered. A depression of the solvent freezing point occurs.
7. Part C.1. Interpretation of the data plots consistently shows that the freezing points of three solutions are too high.