From Enlightment to Romanticism Essay Sample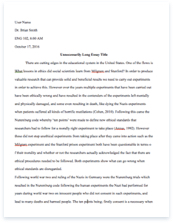 The whole doc is available only for registered users
OPEN DOC
Download Essay
A limited time offer!
Get a custom sample essay written according to your requirements urgent 3h delivery guaranteed
Order Now
From Enlightment to Romanticism Essay Sample
A comparison between the two periods.
The literary periods are like each other's opposites. While in the enlightenment focus was on what was real and social justice, romanticism was more about feelings and often unrequited love. The 1700-s enlightenment writers spoke first and foremost about reason and wanted more than anything to teach and lecture their readers, they turned against the social injustice they saw and fought for tolerance and acceptance. While the thinkers in the enlightenment could fight against the church, superstition, prejudice and injustice they had still not come to the point of giving any attention to the vulnerable situation of the women. They still saw women as lower creatures that were there to serve men, take care of the house and children. Some writers even went as far as to say they despised intelligent women and that girls in fact did not like to read or write. "Women's upbringing should be related to man. To please us, be useful to us, make us love and watch them, to raise us when we are little, to take care of us when we are adults; to advise us, comfort us and make our lives more pleasant, this have always been the duty of women and what they should be taught as children." -JEAN-JACQUES ROUSSEAU (1712-1778)
Quote from "Émile"
During the Romantic period, that started in the beginning of the 1800-s, this way of thinking changed and women in poetry and novels became mystic creatures and riddles, something men did not understand and gave them feelings that was foreign and hurt them in ways they could never live without again. Something men could never have, not entirely. "Oh, how it feels like fire though my veins, if my hand touches hers, if our feet touch under the table! I am shying, as if I burned myself, and a mystic force pulls me back again – all of my senses sway." Unknown author (Romantic period)
"Svenska timmar – litteraturen" page 189
In this period women also got to step out and test the waters as writers. I think the most famous Romantic writes would be MARY SHELLEY who was only 19 years old when she wrote the book "Frankenstein". We all know about Romance, walks under the moonlight, open fireplace, champagne, most of us have the same idea of romance because of movies, commercials and newspapers. But the texts about romance in the 1800-s was not the same as those of today. In that period a romantic text was often dark and hopeless. Many writes spoke about a longing. A longing to go back to childhood, a longing to change something that went wrong or a longing to be someplace else. But the texts would not be anything without a little bit of hopefulness of the change that is possible.
It was important for the writers to connect with their readers on an emotional level, as opposed to the enlightenment period where the texts were there as a learning tool. In the enlightenment the writers often described themselves as learned men, a person who could see beyond the lies of others and teach the truth. They looked down on people with different beliefs, thinking that they did not have the intelligence to question the higher authorities. "In due time, this writing will naturally mean a revolution in the minds of men and I hope that it will not benefit tyrants, oppressors, fanatics and hypocrites." -DENIS DIDEROT (1713-1784) (describing the beginning of his most important project; the French encyclopedia) "Svenska timmar – litteraturen" page 167
In the romantic period, however, the writes mostly described themselves as lesser men. They thought of themselves as hollow and thought that they were always being mocked for their emotional state. They often searched out the dark places in society and within themselves. "But never my yearning to the goal reach Pale, sighing, mocked Lonely I will walk."
-ERIK JOHAN STAGNELIUS (1793-1823) (describing himself)
"Svenska timmar – litteraturen" page 208
Many literary works in the enlightenment period was written in a very straightforward way. The writers often wasted no time in talking about love or friendship and instead wrote about more pressing matters in the political world. One of the writers that made a lot of novels that angered a lot of people was JONATHAN SWIFT. Jonathan wrote a text in a newspaper called "A modest proposal" where he presented a very radical solution for the problem of starvation that roamed the Irish island in 1729. Poor people's children should be used in a better way instead of being a burden to their poor parents, and stated that at least 100 000 Irish children should be slaughtered so that they then could be "offered for sale to prominent and wealthy folk throughout the kingdom. The mother should be forced to letting them suckle properly during the last month, so that they are fat and tender before being taken. One child is enough for two courses if one is having guests. If the family is eating alone the front or the back of the child should be enough. Spice with salt or pepper and it will be a good meal when cooked, especially during the winter period." -JONATHAN SWIFT (1667-1745) Satire.
"Svenska timmar – litteraturen" page 162
This small text, called a satire (ironic text), was a means to make people take the severe famine seriously. Jonathan wanted to shock and appall the readers. Through his satires he managed to influence politics many times and with his books he made his readers question the reasons behind wars and disputes across different nations. In his most famous novels "Gullivers travels" he criticizes the reasons behind the constant conflicts between the Protestants and the Catholics by having the liliput people not agreeing over how to open an egg properly and therefore is in the middle of a war. While the enlightment's texts was a means to anger, protest, educate and provoke in other ways, the romantic texts were much more about finding yourself and exploring the dark caverns in the human mind. A good example of this is "the sorrows of young Werther" by JOHANN WOLFGANG VON GOETHE. The novel is about a young man who moves to a strange town, not knowing anyone, when at a party he falls in love with a young girl named Lotte. "… and in that moment the moon, the sun and the stars could come and go as they please, I know not of night or day, the whole world disappears. Never have I been this happy, never have my love to nature, all from then tiniest stone to the tiniest grass, been fuller, more intimate." -Quote from "The sorrows of young Werther"
The book is written in first person and through reading his journey through letters to his friends we, as readers, get to see how the happiness of love turns into despair as it is revealed that Lotte is already engaged. The emotions run wild in the book and in the end, Lotte cant stand the increasingly heated courtship of young Werther. Lotte have had enough after Werther kisses her without her permission and walks out on him saying that that is the last time he will see her. The book ends with Werther committing suicide because of a broken heart, asking in his last letter to be buried in the red bow Lotte gave to him when they first met. After the book was released the young men started dressing as the young Werther and a wave of suicides over broken hearts amongst young men struck the nation. As a result the book was considered dangerous and was banned in Denmark.
So where the Enlightenment had political agendas, the Romanticism had none. Where the Romanticism had unhappy and dark love, the Enlightenment had none. It is strange how Enlightenment and Romanticism became so different when they came so close to each other. Many have theories but none have the facts on what made the periods so different. Maybe it was because they were tired of only thinking about the logical. Maybe they wanted to feel more and think less. No one knows, and maybe no one will.