Functionalities of a leader Essay Sample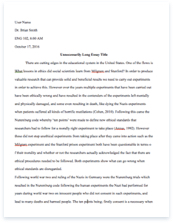 The whole doc is available only for registered users
OPEN DOC
Download Essay
A limited time offer!
Get a custom sample essay written according to your requirements urgent 3h delivery guaranteed
Order Now
Functionalities of a leader Essay Sample
Man's diversity and aggregated perception through cultural experiences and formal trainings have resulted in varying definitions of leadership. While many associate leadership out rightly to a position, other schools of thought have successfully established that it is rather an attitudinal expression of characters irrespective of the position an individual occupies in an organized environment. Invariably, the functionalities of a leader have helped established that certain qualities are always expected of, and exhibited by any individual considered a leader.
This has made it comfortable to arrive at a definition that highlights exhibited qualities as an appropriate and encompassing definition of leadership. Hence, leadership can be simply defined as the act of influencing and directing activities of others towards achievement of definite goals. Leadership involves steering the actions of a group of people towards achieving productivity, efficiency of performance and ultimately success in within a defined environment such as a home, an organisation or the larger community. Leaders are tasked with the creation and sustenance of a high performing team as obtainable in a corporate organisation.
Just as it is a norm for individuals to approach issues differently, leadership essentially becomes a reflection of the knowledge, will, and attitude of the leader. These qualities are fundamental to the operational methods of a leader. Moreover, since leadership may be achieved through attainment; such as a gradual promotion through the ranks of an organisation (e. g. Head of a Military Camp), or by conferment (e. g. Kingship), these circumstances in concurrence with the innate qualities and exhibited characters of leaders have a direct effect on the followers.
The leader's ability to influence and guide relationships in an organisation either motivates or demotivates the group he is leading. Consequently, leadership milks off the capabilities of an individual to foster good relationship through adequate interpersonal and communication skills, thereby culminating in different leadership theories and styles observable in organized environments today. According to authors and many conducted researches, the main leadership theories have been banded into two which are the Great man Theory and the Trait Theory.
The Great Man Theory opines that leaders are born to lead, while the trait theory is of the thought that leaders are made of their characters. Through either theory, various leadership styles and models have been identified, examples include Authentic Leadership, Autocratic Leadership, Laissez-Faire Leadership, Bureaucratic Leadership, Charismatic Leadership, Participative Leadership, Directive Leadership, Supportive Leadership, Achievement Oriented Leadership, Transformational Leadership, Situational Leadership, Coercive Leadership, Coaching and Transactional Leadership.
Each of these leadership are derived from leader-follower interaction. For the purpose of this essay, leadership will be discussed in the context of Daniel Goleman's six leadership style models which include Visionary, Coaching, Commanding, Affiliative and Democratic leadership styles. A number of factors come to play either independently or collectively in determining the choice of leadership styles or behaviours to engage in workplace situations.
Primarily, organisations are guided by statutory policies that drive their daily operations, this in conjunction with influences such as circumstances, available resources, prevailing culture, belief system, personality, time (project phase), and team composition diversity impact on the adopted leadership style by a leaders in any given organisation at particular time. A particular case in point where I applied Commanding/Autocratic leadership style was an instance when I was functioning as a Field Sales Manager of a Mobile Money organization in Nigeria.
During this period, I was leading a five man team of subordinates who were charged with daily customer relation duties from 8am to 5pm daily. Over the operational periods, three of them developed a habit of closing at about 4:30pm; thriving on the excuse that only a handful of customers trickle in for transactions between 4:30pm and the official closing time, 5:30pm. On noticing the act was becoming a trend rather than a one-off event, I admonished the three of them to change for better.
However, I realized there was no change in their behaviour after three key patrons did not meet the agents on ground when they came for late transactions. At this point I had to address the issue authoritatively with a subtle threat that the next time they leave our customers stranded they (the five of them) will all lose their employment. The move was regarded as an unexpected and harsh measure from me to them based on our normal rapport, subsequently however, there was a sharp turnaround in their attitude to work and they closed at the appropriate time.
The singular thought of losing their means of livelihood and the attendant issues that may result from such conditioned their psyche to be up and doing. I also believed that my disposition to them afterwards created more aura of seriousness at our workplace, hence their efficiency. Even though, the immediate positive change in attitude was progressive for the business, some of reports started seeping in about poor customer service from the other two that were not directly involved in the truancy towards closing hours of work.
Understanding that this may have stemmed as an indirect rebellion to the strict directive of not closing early, I had to invite them individually for heart-to heart discussions. From these I realized that the threat to their employment created fear in them. The morbid feeling that they could lose their job anytime demotivated therefore, they exert their frustrations at customers who they feel may cost them their jobs. It was at that time I realized I could have treated the case individually rather collectively using an autocratic style of leadership.