Future Of The Juvenile Justice System Proposal Essay Sample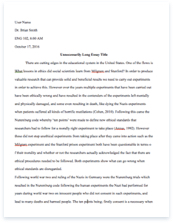 The whole doc is available only for registered users
OPEN DOC
Download Essay
A limited time offer!
Get a custom sample essay written according to your requirements urgent 3h delivery guaranteed
Order Now
Future Of The Juvenile Justice System Proposal Essay Sample
Even though the number of juveniles have increased and seen as no hope is available, changes are needed to improve the juvenile justice system with the help from the community, family, law enforcement support system in order to reduce the recidivism. Community Involvement
Community Involvement is considered as a group of people living in the same place or having a particular characteristics in common such as our young juveniles. Community Involvement plays a tremendous role with our juvenile youth by helping them to stay on the right path. There are a lot of community programs that will help our juvenile youth to stay focused and there are some after schools activities programs. Community Involvement have been reaching out to our at risk juveniles. Community Involvement offers some many things for juveniles. In the community there are programs such as big sister, big brother, boys and girls club. These programs offer juveniles a place to belong to instead being on the streets getting into trouble. Community Involvement is also when the community come together and teaches juveniles how to maintain their community by letting them clean graffiti off walls and help out the elders that cannot help themselves by giving young juveniles the opportunity to do their community hours in their neighborhood.
Community-based leaders such as law enforcement officers, prosecutors, social service providers, judges, crime victims and others is critical in the community to improve the juvenile system and reducing youth violence (OJJDP, 2013). With this community-based help support law enforcement with the implementing innovative juvenile crime prevention and intervention efforts as part of community oriented from law enforcement. This will successfully help the community safety and prevention plan that will provide, an understanding of our targeted community service and support juveniles from becoming the next generation of offenders. The community focused any position of law enforcement that is effectively connected to the juvenile justice system that will be important and, provide to the reduction of crime, restoration of order, and destruction of the community (OJJDP, 2013). Law Enforcement and Juvenile Justice
The relationship between law enforcement and juveniles is tense at best. In order to build better adults, we need to start with the relationships with children. The first recommendation is to have officers get out of the cars, walk the communities, and meet the kids. Officers attending youth sports, coaching, going into the schools, and communicating with kids in a positive manner will earn their respect early. Programs such as Badges for Baseball and Cal Ripken Sr, Foundation have proven very effective. "Kids learn the value of a healthy lifestyle, the importance of setting goals, and how to achieve these goals such as by staying in school, not joining gangs, and staying away from drugs. In addition, children and their families begin to see their local law enforcement as an agent for positive change and safety. Most importantly, law enforcement officers and young people begin to have fun together and develop a mutual respect for each other and their community" (Youth Programs, Updated 2014).
It is critical to remember many communities only see the negative side of Law Enforcement. In order to reverse this type of thinking, it is critical to start early and teach kids that officers are there to help the community, to be respected, and to be there in times of an emergency. The proposal is to create youth ranches in every state, fund programs such as Baseball for Badges or Cal Ripken Sr. Programs, and to reconnect with communities by reverting back to community policing where officers are part of a beat and know their neighbors. Issues concerning juvenile courts. Juvenile court proceedings differ greatly from criminal prosecution, and adult courts focus on the punishment of the offender, and in contrast juvenile courts focus on rehabilitation. Courts must develop methods to handle juvenile offenders such as mental issues, level of maturity, minority and gender disparities, whether a juvenile must transfer to adult court and among other issues. One of the most controversial and prevalent issues is minority disparities, but there are organization fighting to reduce it such as The Annie E. Casey Foundation and the Burns Institute.
Other organizations have been providing models for juvenile justice reform initiative that have been helping in changing disparities in the system ("Trends in State Courts 2014", 2014). There are other issues that affect juveniles in court, ineffective and private versus public counseling, discrimination, untrained and unskilled staff, and lack of resources for courts and rehabilitation programs. Mental health issues also affect court decisions, almost a seventy percent of juveniles in the system have some mental health disorder and sixty percent of those also have a substance abuse problem. Also thirty percent of juveniles with mental and substance abuse disorder are in need of immediate attention ("Trends in State Courts 2014", 2014). Future and justification for youth courts.
The juvenile system requires some changes and reforms, among those, are staff training, health professionals who have the skills to handle juveniles. Also research to support legislation, and hiring standards to ensure more qualified staff can be beneficial to ensure better juvenile assistance. The system needs to evaluate the youth mental state, and provide adequate help to ensure these approaches. Train staff to provide professional representation in courts, and providing courts and communities with the necessary resources to provide youth help when diverting to programs. Analyzing the data to reform the system with the inclusion of families and communities, and monitoring and evaluating the success of programs in the communities. One element that can help assists juveniles' courts is technology, and one key element is jury service.
The online jury selection allows citizens to answer the questionnaire for qualification online instead of paper forms, thus increasing the effectiveness of the system. According to "Trends in State Courts 2014" (2014), a big percentage of juveniles need assistance for mental issues and substance abuse, also the need to assist with minority disparities. The data shows that courts need to acquire resources for medical attention, and an increase in hiring standards and better pay for professionals in addition to community intervention. Also increasing the influence of national organizations that help decrease minority disparities is imperative to support proper judicial process, and community program intervention. Corrections
In 1997, CA's Juvenile Justice Project (JJP) was established. The goals for corrections for juveniles was to reduce youth detention and incarceration. The Juvenile system is seen as a punitive model which needed worked on (Correctional Association, 2010). The goal is to have a positive youth system that helps the youth to develop principles, receive support that will empower the youth. Developing a system that is transparent to the youths, the families and communities, as well as legislators' policy makers. Youths would have the tools and skills provided to them to succeed, and have the positive principles given to developing into assets, not a problem. Forming creative partnerships with the people in the community, family, and justice system in an effort to change the system (Correctional Association, 2010). A coordination with the Juvenile Justice System and the Safe Passages training organization to help juveniles develop skills and an understanding of the wrong they have committed, then to become part of a youth justice reform system developing more of an understanding, the juvenile could become a youth leader with the abilities to develop programs to help reform other youths.
Improvements need to be made concerning the availability to educational programs, to include an English language program, career and technical classes all available to the first-time offenders. Education for the families and the community should be widely advertised and encouraged. Having programs that educate the problems and tools given to help detour youths lawless actions, could eliminate the increase of juveniles in detention and incarceration. There are existing federal funds that should be utilized. Such as "Title I, Part D of the Elementary and Secondary Education Act (ESEA); DoEd's Race to the Top Program; Workforce Investment Act (WIA), and the Individuals with Disabilities education (IDEA)" (Correctional Association, 2010). With access to better education along with career/technical training would be the key for success, it could dramatically improve the self-worth, which could reduce the recidivism. These actions would lead to more educated more assured individuals that help make for a stronger family and community asset. Justification for the funding based on Causation Theories
The juvenile justice system uses causation theories when determining why juveniles commit crimes. The juvenile justice system also uses causation theories to determine a treatment, rehabilitation or punishment for a juvenile. There are many causation theories associated with juveniles. One causation theory associated with juveniles is the social learning theory. The social learning theory suggests juveniles commit by learning to engage in crime by associating with others. The juvenile may engage in peer groups or family members that commit crimes. Another causation theory is the social disorganization theory. This theory suggests juveniles commit crimes because it's within their culture. Juveniles in disadvantaged neighborhoods may be a part of a culture that approves of delinquent behaviors. The theory suggests that the place matters when it comes to committing a crime. Rational choice theory is another theory.
Rational choice theory suggests it is the juveniles themselves instead of the environment. The juvenile is motivated to commit a crime by themselves and their personal gain. The labeling theory is another theory used. The labeling theory suggests when juveniles are given a negative label like "criminal" or "delinquent"; the juvenile then attempts to live up to that label. (Sociological Theories, 2014). Some juvenile practices, treatment, and prevention programs that are funded are based on causation theories. The theories are used to understand why juveniles commit crimes and also to get the proper treatment for juveniles. Some of the juvenile justice programs are based on the causation theories. For example, a juvenile may commit a crime based on social control theory; the juvenile may then be sent to a treatment facility that focused on social control theory by helping the juveniles control their behavior. Another example is gang prevention programs. Many gang prevention programs are funded and based on the social learning theory.
There is funding provided for these causation theory based program, evaluations given to determine which causation theory applies to certain juveniles, and the research for causation theories. There are many recommendations that can be made regarding private sectors. One recommendation that can be made is private sectors assuring they have good quality facilities and staffing. Many private sectors are becoming more cost effective, but the quality of the program can use some work, this includes both staffing and the facility itself. If private facilities are becoming more cost-effective, the facility and staffing should be of high quality. Another recommendation would be for private sectors to have some type of standards or guidelines to follow within their facility.
There should be regular inspections of the facilities to ensure the facilities are providing good quality facilities and continuing to be effective for juveniles. Another recommendation would be for communities to be involved when facilities are being put and contracted in the communities. It is imperative for members of the community to know what type of facilities is within the community. It is also imperative for their opinions to be heard because they are part of the community. There should be some safeguards established against private sectors lowering the cost their cost and then raising it extremely high throughout their contract years. If the private sectors have to raise their cost, it should not be approved until the government agrees the raised cost will be effective within the facility.
Even though many believe, juveniles commit crimes because it's within their culture, with the help from the community, family members, and law enforcement a reduction can happen. With train staff to provide professional representation in courts, and providing courts and communities with the necessary resources to provide youth help when diverting to programs. Youths would have the tools and skills provided to them to succeed, and have the positive principles given to them to developing into assets, not the problem.
References
Correctional Association. (2010). About the Juvenile Justice Project. Retrieved from http://www.correctionalassociation.org/pp/about-the-juvenile-justice-project NCSC. (2014). Trends in State Courts. Retrieved from http://www.ncsc.org/trends-in-state-courts National Sheriffs Association. (2014). Youth Programs. Retrieved from http://www.sheriffs.org/contnt/youth-programs OJJDP. (2013). Community Spotlight. Retrieved from http://www.ojjdp.gov Sociological Theories. (2014). Crime Causation. Retrieved from http://www.encyclopedia.com/doc/1G2-3403000066.html