Gemma Jones Essay Sample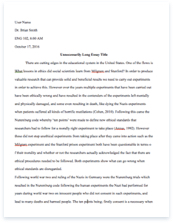 The whole doc is available only for registered users
OPEN DOC
Pages:
Word count: 932
Category: poetry
Get Full Essay
Get access to this section to get all help you need with your essay and educational issues.
Get Access
Gemma Jones Essay Sample
How do the poets convey racial discrimination in the poems 'The Negro' by Langston Hughes and 'Prayer of a Black Boy' by guy Tirolien?
I have read various poems which are all about racism but in different ways. In one of the poems a man needs to prove his existence just because a white man doesn't like the fact that he black 'document of my existence'. In another poem called 'Southern Cop' by Sterling Brown a white boy shot a black boy just because he was black and "because he ran". This shows that the boy was judged by his skin colour.
After reading through all of the poems I have decided to compare and contrast 'The Negro' by Langston Hughes called poem A with 'Prayer of a Black Boy' by Guy Tirolien called poem B.
Both poems use the first person 'I'. They are both personal accounts which makes the poems very moving and emotional 'They lynch me in Texas'. This is from poem A and shows that the suffering continues. Another big difference is that even though the first person is used in both poems, poem A is a factual account of black people's suffering and poem B is a fictional account of a fictional person. This makes a big difference as poem A is easier to believe and imagine. In poem B the narrator says the 'moon is whispering'. This shows it is a fantasy even though it is sometimes realistic. Above all, the narrator is weary of trying to love in the white mans' culture 'Lord, I am so tired'.
Poem A tells the reader that black people are second class. 'I brushed the boots of Washington' tells you he was a servant. Poem B suggests the same thing as poem A, that the Negro's worked too much 'Negroes have had too much work already'. In both poems blacks are not equal to whites.
Poem 8 has 6 stanzas, each beginning with a statement 'I am a Negro' 'I've been a slave' 'I've been a worker' etc. the statement is then being explained by a following three lines, recounting historical facts. 'Under my hand the pyramids arose'. The structure of poem A is repetitive and suggests that suffering is repeated and still going on. Even at the end of the poem he repeats that he is a Negro, which shows that no matter what, he will always be a Negro. Poem B has a different structure, six stanzas all of different lengths. The 'prayer' reflects the direction of the boys thoughts. 'Lord'. The structure of poem B also affects how we read it. Our pace is controlled and therefore the poem has a more random thoughtful atmosphere. Even though It has a different structure to poem A, both boys want the same thing, freedom from the white domination.
Both poems use imagery to create an image of suffering. Poem A gives a physical image of suffering ' cut off my hands', gives and image of exploitation 'under my hand the pyramids arose'(it was black people who worked on one of the eight wonders of the world) and also conveys images of culture ' I carried my sorrow songs'(implication is, the songs are full of sadness because many black people were forced to leave Africa having being sold as slaves. Poem B uses imagery to contrast present suffering with the past. ' the road to school is steep'. The road is used to symbolize suffering. ' Then lie down to sleep beneath a mango tree', this is a fantasy of his 'real' desires. The difference between the two poems is that poem A uses imagery to convey fact and poem B is using imagery to convey fantasies of a fictional character and his present day dilemma.
There is also irony in this poem. In poem B he wants to follow his 'father' this refers to the past in which the poet points an idyllic scene -but his 'father' also worked for the white mans 'siren'. The word 'father' stands for the black culture to which the boy longs to belong.
Both poets use language to convey suffering but they use it in different ways. Poem A uses proper nouns 'Washington', 'Africa',' Texas' to create a global feel. Which gives you the idea that suffering of Blacks is universal. Similes are used to convey race 'Black as the night is black' and sense of belonging 'Black as the depths of my Africa'. The poet also uses verbs 'told, carried, cut' to convey cruelty and suffering. In poem B the poet uses the metaphor 'school' to represent the white man's culture. The poet also uses adjectives to create a feeling of fantasy e.g. 'magic forests'. The poet uses language of desperation. He is praying 'please' this makes the poem a very sad one.
I think that both poems are trying to get across the point that black people have been and always will be suffering. I think poem B is the most effective because the way each stanza changes from fantasy to reality. Although poem A is also effective with it's repeated lines, poem B, I think engages the reader for the whole of the duration of the poem despite it's length. The narrator expresses a desire to 'stroll along the sugar stores' and in doing so he firmly rejects white men's 'schools'. The feeling of tension conveyed has the effect of showing how claustrophobic discrimination is for the young man who seems to pray regularly and desperately to god!