Gender differences in Self-perception Essay Sample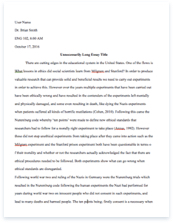 The whole doc is available only for registered users
OPEN DOC
Pages:
Word count: 733
Category: gender
Download Essay
A limited time offer!
Get a custom sample essay written according to your requirements urgent 3h delivery guaranteed
Order Now
Gender differences in Self-perception Essay Sample
This is to certify, that the project submitted by me is an outcome of my independent and original work. I have duly acknowledged all the sources from which the ideas and extracts have been taken. The project is free from any plagiarism and has not been submitted elsewhere for publication. Acknowledgement I would like to express my deepest appreciation to all those who provided me the possibility to complete the project on the title "Gender differences in Self Perception". A special gratitude I give to my faculty guide Dr. Anu Teotia whose contribution in stimulating suggestions and encouragement helped me to coordinate my project especially in writing this report.
Furthermore, I would also like to acknowledge with much appreciation the crucial role of the staff of Amity Institute of Psychology and Allied Sciences, who gave the permission to use all required equipment and the necessary materials to complete this project. A special thanks goes to my parents and friends who helped me a lot in finalizing this project within the limited time frame. Last but not least, I would like to thank the participants in my project, who have willingly shared their precious time. I am grateful for their constant support and help.
Objective
The objective of the research done was to calculate the Differences in Self Perception of males and females of 18-25 years old. The research was to be done with the help of a standardized tool. Description of the Tool E. l. Shostrom in 1962 developed Personal Orientation Inventory, which has 150 items and 10 sub-scales. Two of these sub-scales i.e. Self-regard and Self-acceptance with 40 items when combined measure Self-perception.
The scales measuring self-regard and self-acceptance are drawn from the POI, when both these scales are paired they measure self-perception. Self-regard Scale Self-regard measures affirmation of self because of worth or strength. It consists of 16 items. On each scale item two alternatives are given, out of which one has to be checked by the respondent. Self-acceptance Scale Self-acceptance scale measures affirmation or acceptance of self, in spite of weakness or deficiencies. It consists of 26 items. On scale items the respondent has to check one of the two alternatives provided to him. A high score on self acceptance scale measure acceptance of one's weakness. It is more difficult to achieve self acceptance than self regard.
Self-perception Paired interpretation of scales self-regard and self-acceptance may be considered to reflect the general area of self-perception. Items in the Personal Orientation Inventory are stated both positively and negatively. Thus, the particular continuum o endpoles of the dichotomy in question are made explicitly clear. Authors of most inventories have assumed that the reader knows the opposite of the statement in question, and that it is implicity in question. The same word often several correlative terms, according to different relations in which it is considered.
VALIDITY
A number of concurrent validity studies were carried out with POI and personality test. In a study of doctors, nurses, nursing orderlies and sweepers of a general hospital Agrawal (1978) found that Sr., Sa and Sp scores matched with Personality Differential scores used to measure self concept. Doctor has lowest distance with nurse (1.72) followed by nursing orderly (2.50) and highest (4.02) with sweeper on self-concept. Similar results are obtained on POI also. Shostrom (1966) reports several other studies where POI has been used along with other instruments.
RELIABILITY
The total score on 40 items will be the Raw Scores for the Self Perception Measuring Scale. 1 score for each correct answer is given and no score is given for incorrect answer. Procedure After reading of some articles, the topic of research was decided, later the topic was discussed and questionnaire was found. Sample was selected and was asked to fill the questionnaire according to the instructions provided by the researcher. After data collection, scoring was done in a calculative manner. Later the results were provided by the researcher.
RESULT AND DISCUSSION
Graphical representation of raw scores of Male participants Graphical representation of raw scores of Female participants The test involved twenty subject – ten males and ten females respectively. According to the results there is not much of a difference between the Self perception of males and females of the age group of 18-25 years. From the graphs, we interpret that the self- perception of the sample comes out to be average. The difference between Self -perception of males and females is only 0.5, which cannot be considered as a significant difference and Hence, it is stated above that there is not much difference.