General Appliance Corporation Essay Sample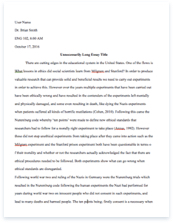 The whole doc is available only for registered users
OPEN DOC
Download Essay
A limited time offer!
Get a custom sample essay written according to your requirements urgent 3h delivery guaranteed
Order Now
General Appliance Corporation Essay Sample
Each division and staff office is headed by a V.P.
Staff personnel have no line authority in a division 75% of the manufacturing sales is made to the product divisions,
Parts made by the manufacturing division is designed by the product division.
Transfer Prices
The divisions are expected to deal with one another as though they were independent companies.
Parts transferred in pre-negotiated prices
If the divisions could not agree on a price they could submit the dispute to the finance staff for arbitration.
Source Determination
The product division doesnǯt have the power to decide whether to buy parts from within the company or from outside without the permission of the manufacturing division.
The purchasing staff; taking the manufacturers side in almost every case
Price settlement compared to outside prices
In case of new parts the divisions authorities are switched.
Stove Top Problem
Unit sold from the chrome products division to the electric stove division
Quality decrement in late 80s
The presidents re-action
New added operations and new price per unit
Objections and negotiations between the divisions
Finance and engineering staff reviews
Thermostatic Control Problem
The electric motor division
The laundry equipment division
The refrigeration division
Monson controls corporation
1985-1987 several appliance companies including the G.A.C. built or expanded their own facilities
Surplus of production capacity in independent companies
Declining price level
Disagreement on 1988 prices within G.A.P Ȃ submission to finance staff
Thermostatic Control Problem II
Electric motor divisionǯs statement
Laundry equipment divisionǯs statement
Refrigeration divisionǯs statement
Finance and purchasing staff review
Transmission Problem
The Laundry Equipment division
The Gear and Transmission division
The Thorndike Machining Corporation
The contract (1977-1987)
Thorndikeǯs special offer
Gear and Transmission divisionǯs act
Disagreement
Laundry Equipment divisionǯs statement
Gear and transmission divisionǯs statement
Finance staff review