Get the style Essay Sample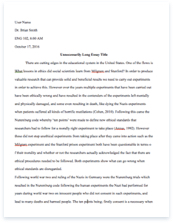 The whole doc is available only for registered users
OPEN DOC
Get Full Essay
Get access to this section to get all help you need with your essay and educational issues.
Get Access
Get the style Essay Sample
The first style we are going to present is the "vintage look", for the ones who love old-school style. On the top you should wear a seventies-esque bow blouse, with a denim jacket with details such as buttons and ruffles; these will give you Victorian sensibility! For the bottom you should wear a pleated chiffon skirt (this goes back to the Jazz age), you could wear some t-strap pumps, to add a bit of forties glamour. Of course don't forget the accessories, these are a must with every style, it's not a bad idea to try out some antique-style jewelry (you can be inspired with some of your grandma's jewels), or beaded bracelets or brooches.
Our next style is the "girly-cute style", perfect for girls who do not like to be sexy and over exposed. On the top you should wear a boxy polo t-shirt, with a hand-knitted sweater (try it on pastel colors it will look very cute!). On the bottom you should wear a flip out skirt (knee length is the best for every type of body). Pretty details such as bows and pastel prints will give you some mini charm. You should add also some classic extras such as pearl necklaces and earrings, or sparkly studs. These will add even more glam, but still keeping up your conservative style.
The next and last style we will look into is the "wild daring style". For these short, skinny, stylish clothes, micro-minis, and black leather are more than accepted! On the top you should wear a small tank or a shiny top (depends if it is night or day, or on the occasion), on top of it a black leather jacket or a fur shrug will look great! On the bottom you have got two choices (depending on your body sizes and how much you dare to show!), as a first choice you have got a pair of skinny jeans with knee-high boots over them, with a small purse matching them. The second choice is a dark denim micro-mini skirt, with bright stilettos (better at night time, they will look extremely glamorous!), or with a pair of Texan boots (only for trendy girls!).But remember, as the name says, it is a wild style, so remember not to over exaggerate it.
Style or no style you have got to remember some basic fashion rules no matter what you do (if you for some reason forget them, just remember you are committing FASHION SUICIDE!).Denim on top and denim on the bottom, mmm… NEVERR! Our second rule starts with the following black and brown (beige or very light brown are not so criminal with black) have never been friends, so don't even try to wear both colors at the same time. Our third rule encourages you to not over exaggerate your style (ex. If you like to wear vintage clothes, try to mix them with some modern accessories, or you will look like you have been brought from a time machine!).Also remember that you should never
Match your make-up or your hair color with your outfit. (Ex. If you are blonde, yellow clothes are not the best for you, unless you want to look like a baby duck!). And for the last most important tip remember that too demure or too over exposed are equally bad, so keep a balance on your outfit. And of course always add a personal touch that will make your style even more stylish!
Before you go and check what's up in your wardrobe, InStyle magazine hope you had enjoyed this guide, and that it can help you for the future when you have to use these tips, so as not to commit fashion suicide, and become the future Beauty Queen!