Giving Up is Not the Answer Essay Sample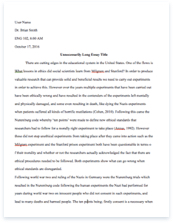 The whole doc is available only for registered users
OPEN DOC
Pages:
Word count: 370
Category: life
Get Full Essay
Get access to this section to get all help you need with your essay and educational issues.
Get Access
Giving Up is Not the Answer Essay Sample
Do you believe that anyone can achieve in anything? Do you believe in yourself? Most people in this world don't have enough confidence to following through with their dreams and always have a reason to quit. People have to get up and find a way to achieve their dreams because you never know how far it will take you. For instance the first time I went to dance class. I was six years old. I thought to myself this is going to be fun. As weeks went by the excitement in me faded as the class progressed and got harder and harder. I felt like no achievements were going to come out of this. My feet were filled with blisters and big red bumps! Also I felt like there were more talented people in the class.
Still I continued with it. Finally in 2008 I had my first duet appearance with my partner Alex. We both did a fantastic job and came in second. I was glad that I didn't quit and went for my goal. Most recently I set a goal to make the lacrosse team. After going to a few conditioning sessions, I felt like I wanted to give up. I knew I had an excessive amount of work to do before tryouts approached. I was tired, sweaty, and my feet were in agonizing pain. I obviously didn't like the feeling of the horrendous aching in my body.
I honestly felt like I was going to die because of all the running we did, but the other girl's confidence me to not want to quit. They were like "You got this Nelly!" and "We believe in you." With all of the encouragement given to me, I became a better athlete. So why is my belief so important to me you may ask? Well it made me the person I am today. It encouraged me that never give up on something you love and have fun doing. I know that there are those people who have given up on their dreams a long time ago, but don't be that person. You never know if your dreams can change the world unless you go for it.