GlaxoSmithK in China Essay Sample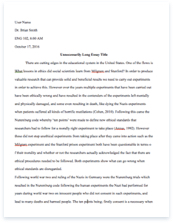 The whole doc is available only for registered users
OPEN DOC
Download Essay
A limited time offer!
Get a custom sample essay written according to your requirements urgent 3h delivery guaranteed
Order Now
GlaxoSmithK in China Essay Sample
Joseph Nathan was a businessman in New Zeeland who conducted business on mainly imports and exports. In 1904, Joseph attained the rights to produce dried up milk which was later sold as baby food called Glaxo. GlaxoSmithKline got its name in the early 1990's after Glaxo a pharmaceutical firm created in New Zeeland merged with SmithKline, which was also a Pharmaceutical, firm in the United Kingdom. Several years after the merger, GlaxoSmithKline (GSK) became one of the largest drug manufacturers around, with an estimate of $22.5 billion in global sales and had over one hundred thousand employees worldwide (Quelch & Rodriguez, 2013). With GSK being one of the largest manufacturers of pharmaceuticals, they have different sites around the world. One of their sites is in China after China joint the World trade organization (WTO). The Chinese people did not like to use western medicine because they felt like it came with too much side effects. Prior to China joining the WTO, the pharmaceutical industry was at an all time high with less foreign interaction but China's pharmaceutical division wanted to grow outside of China which is one of the reasons China joined the World Trade Organization.
Although GSK had laid some sort of groundwork in China, which was mainly through acquisition of other firms, they wanted to be more of a factor in the pharmaceutical sector in china. The problem with GlaxoSmithKline is that they have to find a way to get the Chinese citizens to accept the different pharmaceuticals they manufacture. Due to the fact that the Chinese citizens prefer herbal and traditional treatments rather than western Pharmaceuticals, GSK allegedly were bribing Doctors, hospitals administrators and government officials to change the outlook on western medicine and to increase the sales of GSK in China.
Investigators searched the GSK headquarters in Shanghai, China in the summer of 2013 due to alleged accusation of bribery and unethical business misconduct. Four of GlaxoSmithKline's employees were arrested and detained while further investigation into the matter was conducted for bribing physician, government officials and hospital administrators in order to increase sales for GSK (Quelch & Rodriguez, 2013). GSK has a third part code of conduct which all of its employees know. This code of conduct outlines the rules and regulations they should abide by when doing business. Some of these rules are to comply with all applicable laws when doing business, being aware of cultural differences and challenges and to maintain business integrity and reputation (gsk.com, 2012). The four GSK employees who have been charged with economic crimes did not follow this code of conduct but instead acted on their own merit. These employees allegedly use travel agencies to cover up the bribe. These travel agencies laundered the money to the different physicians and officials along with sexual favors as directed by the GSK employees.
There are several factors that lead to the bribery scandal in China. Externally China joined the World trade organization. This lead to them trading and sharing information with numerous companies, which made them vulnerable. The country had to open their market to other competitive companies in the same market so that they can be in good standing with WTO. Internally, there was a health reform crisis at hand. Most of the citizens did not have proper healthcare and if they did, they had to work for the state. The Physicians were also being paid three to four times below what the normal salary is for their occupation. They are not allowed to get a secondary job to make sure their families are taken care of (Quelch & Rodriguez, 2013).
This led to Physicians looking for other ways to make money without the government knowing and was off the books. Also since the government regulated the hospitals, it interferes with how much the physicians are getting paid. Both Internal and external factors were vital in the bribery case in China. Making one factor more important than the other would cause an unbalance. Foreign companies were not being accepted in china so in order for them to be, they had to find a way to show do business due to the large population in China. Bribery was a way to make their products know but the Chinese people and what better way than having the doctors who prescribe treatments to patients. This will make for an easier transition because the patients are confortable with their doctors and trust the advice from their doctor.
Soon After the four employees where arrested, the world was waiting from a response from GSK but it took them over 2 weeks before getting a response. The company addressed the allegation by not using the travel agencies identified in the allegation and they are also reviewing all historic transactions as it pertains to the use of travel agencies (Quelch & Rodriguez, 2013). This is a good decision by GSK to stop working with the travel agency and audit their records for bribes with the travel agencies. This shows that they are willing to cut all ties with anything that will ruin the companies' reputation. The decision to take action better demonstrate GSK stance on fixing an issue immediately.
Also GSK plan to work with the Chinese government to make the drugs more affordable and fix the lack of trust between the government and GSK moving forward. Working with the government puts GSK in good standing even through all the negative publicity they have gotten from the bribery scandal. If I were Mark Reilly, I would have first made a press release immediately after the bribery scandal broke. This is a way to show that we in no way condone any such actions taking by the four employees. Also would have talk to an auditing team to perform monthly audits on all our transactions for the region I am control off. This can help in us keeping track of any ethical misconduct happening and shows hoe hard we are will to work to elevate the issue at hand.
Bribing happens in all aspects of business that go unnoticed but it does not make it right. This leads to certain companies getting a competitive advantage over the companies who are doing the right thing. GSK was treated fairly in this bribery case in China. The individuals who omitted the crime where arrested and are going to ay for what they did. The company knew the cultural difference and policies in place. Although the GSK itself as a whole was not the sole perpetrator of the crime, the individuals who committed the crime where high level executive of the company. In this case the company is the one to suffer any backlash for all outlets.
The reason being all in all, GSK is at fault because who they hire is a representation of the company as a whole. The amount of money that was spent of bribing the physicians and officials was such a large amount of money that someone in the company should have noticed and try to fix the issue before it turned into a scandal. GSK should have more accountability for their employees, especially their upper management employees because they are the one who have exemplifies the companies goals and enforce the policies.
There are two acts that were created solely for what GSK got in trouble for. Those two acts are the Bribery Act 2010 and the Foreign Corrupt Practices Act. The Bribery Act 2010 simply was created by the United Kingdom to not only to outlaw bribes given and taken but also to punish companies who fail to stop the bribes or attempted bribes from happening. The Foreign corrupt practice act was enacted by the United States of America to have businesses walk away from bribing foreign officials. These two acts where clearly put into place so that bribing can be frowned upon and proper business protocols are followed.
A way that we can avoids similar situations like this is by having rules and policy into place for each individual who works for the company on the actions that will be taken if they are cause breaking company rules. This is not a form of a scare tactic but it is a way for each individual to be accountable for his or her action. As stated in the U.S. Foreign Corruption Practices Act or the U.K. Bribery Act, companies should have safe measure to avoid breaking this law and further penalties from the governing bodies. It is very hard sometimes to stop an act of bribery and it might even take a long time frame before it gets noticed.
My Recommendation to would be first for the companies to have training sessions will all their employees breaking down the different international rules set by the different governing bodies. This way each employee will have an understanding of what the rules are and what the consequences are if the rules are broken. Also after the training session is over, each employee will have to sign consent from as it pertains to the rules and regulations of bribery and other acts placed on international business. Another recommendation will be for the companies to work hand in hand with the international counties they are doing business with Government. This should be able to build trust amongst the foreign officials and the people of the country. There should be transparency amongst any parties involved. This will help clear up any doubts and strong opinions the local citizens may have about the company or their practices. An extensive quarterly audit should be done to all entities of GSK and the findings should be made public. All these recommendations if followed will better alleviate this issue in the future and set a strong foundation moving forward.
References
(2012, March). The extraterritorial reach of the fcpa and the uk bribery act: implications for International business. Arnold & Porter Advisory. Retrieved from (http://www.arnoldporter.com/resources/documents/Advisory%20Extraterritorial_Reach_FCPA_and_UK_Bribery%20Act_Implications_International_Business.pdf).
(2012, September). GSK Third Party Code of Conduct. Retrieved from http://www.gsk.com/media/279797/gsk-third-party-code-of-conduct.pdf
Quelch, J. & Rodriguez, L. (2013). GlaxoSmithKlein in China (Product No. 9514049 ). Retrieved from http://hbsp.harvard.edu.