Global Assignments & Human Resources Essay Sample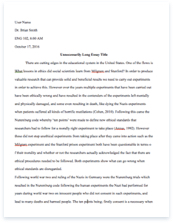 The whole doc is available only for registered users
OPEN DOC
Download Essay
Get Full Essay
Get access to this section to get all the help you need with your essay and educational goals.
Get Access
Global Assignments & Human Resources Essay Sample
Global assignments are one of the most popular trends with multinational companies that want to capitalize on their resources in innovative and productive ways. In a research conducted by Mercer Human Resource Consulting, about 44 percent of all multi nationals report an increase in global assignments and number of employees sent abroad as expatriates to work on assignments outside host countries to company headquarters (Amble, 2006). This paper examines global assignments from HR point of view, looking at key behavioral characteristics and personality traits that managers should consider before selecting employees for such assignments.
Selecting Employees for Global Assignments
The importance of proper employee selection cannot be overstated from a global assignments point of view as the human factor is the most important element. As employees enter new work environment, possibly diverse culture from the native country, different legal infrastructure, lifestyle changes etc; they're faced with a number of challenges. The main reason global assignments fail is the inability of expatriates to settle down and adjust in the new environment. Usually companies fail to consider introducing proper policy reforms to facilitate this process of settling down and absorbing the culture shock which is highly relevant and critical for the employee working on the international environment.
Managers need to carefully analyze and study the relevant skill set in the potential employees they select to be sent for global assignments. Most experts agree on employee suitability can be determined by many characteristics like adaptability to change and a new environment, working with many diverse group of people, being okay with things done the way they're not accustomed to, learning a new language, being open to different cultural and workplace norms etc (Howard Tu, 1994). Usually employees that exhibit poorly in such considerations either wrap up assignments earlier that required more time, i.e. face defeat or perform poorly, or have already begun settling to the new, unexplored nature of their world. Managers need to manage this aspect well; otherwise it could cost a company much in terms of tangible money and intangible expenses in terms of lost repute, unfavorable employee experience/ relation with the company etc.
Managers need to plan and anticipate what things would come their way once they are en route to their foreign workplace. This helps keep shock from overwhelming their performance capabilities and reduces stress. Most managers lack in this aspect, which is rather surprising, owing to the fact that planning is one of the major managerial functions and is as relevant (maybe more) in global assignments as it is for any business tasks done in home country.
Spouse or family support is also one of the basic factors for assignment success. Most companies have no guided policies or reforms to support spouses or facilitate their adjustment in the whole global assignment business. Issues regarding children, spouse and other dependents on the employee need to be addressed well before sending the employee for global assignments. A failure to do so exhibits employee's sense of dedication and willingness to commit all energy into the assignment. (Kozloff, 2000)
Technical skills take a high level of priority too, in the making of a successful global assignment. Expatriate managers/ employees working on global assignments need to work and decide independently in the foreign place. It's best to avoid confusion and waste of time and resources that managers have appropriate technical skills at whatever level they're relevant.
References
Amble, B. (2006, May 24). International assignments on the rise. Retrieved may 18th, 2009, from Management Issues: http://www.management-issues.com/2006/8/24/research/international-assignments-on-the-rise.asp
Howard Tu, a. S. (1994, may). Preparing yourself for an international assignment. Retrieved may 18, 2009, from bnet articles: http://findarticles.com/p/articles/mi_m1038/is_n1_v37/ai_14922926/
Kozloff, B. (2000). Selecting People for International Assignments. Retrieved may 18, 2009, from Global HR News: http://www.globalhrnews.com/story.asp?sid=599