Global Problems & Anthropology Essay Sample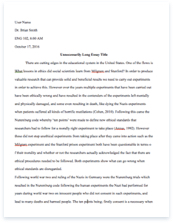 The whole doc is available only for registered users
OPEN DOC
Download Essay
A limited time offer!
Get a custom sample essay written according to your requirements urgent 3h delivery guaranteed
Order Now
Global Problems & Anthropology Essay Sample
Introduction
            Since few decades, a rapid increment is observed in problems and conflicts in different parts of the globe. Progress and advancement in different fields has resulted in a number of confrontations and conflict globally. Since few years, people in developing, as well as, developed countries of the world are confronting problems, and it is high time that such problems should be resolved in an effective manner. In this regard, a number of global organizations are endeavoring to acquire solutions to such problems; however, they have confronted criticism in terms of their efforts as well. One of the reasons of such criticism is lack of understanding of people, culture, society, and their needs in such global organizations. (Bodley, 1997) In specific, this paper will endeavor to discuss the role of global organizations in their efforts to acquire solutions, particularly, in anthropological context.
            Notion of globalization has affected almost every part of the world, and nowadays, a conflict or issue in Asia results in an impact in North America, and thus, issues that were once local have now become global issues. In this regard, global agencies should play a crucial role in resolving problems on a global platform. United Nations is one of the global agencies that are working for resolving global problems; however, its efforts have not resulted in an extraordinary outcome. (Rischard, 2008) Although global problems require solutions on global level; however, it is important that such agencies should attempt to understand people, their norms and values, culture, etc before trying to solve their issues. (Rischard, 2008) At this place, anthropology plays an imperative role in providing an understanding of people, which is essential for solutions.
            In this regard, it will not be incorrect to say that such agencies should attempt to solve global problems; however, they should solve them in local context, rather than according to global context. For instance, efforts on an issue of an ethnic minority, if solved without proper understanding of their values and culture will result in creation of more issues. Anthropological studies have indicated that human beings are different and act according to their environment, culture, values, etc, and thus, issue of global solutions should be discussed comprehensively in anthropological context, which will facilitate global agencies to solve such issues and conflicts in an effective and acceptable manner.
References
            Bodley, John H. (1997). Cultural Anthropology. Mayfield Publications.
            Rischard, J. F. (2008). High Noon: Twenty Global Problems. University of Michigan Press.