Globalized era in United States Essay Sample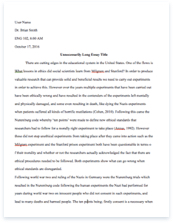 The whole doc is available only for registered users
OPEN DOC
Download Essay
Get Full Essay
Get access to this section to get all the help you need with your essay and educational goals.
Get Access
Globalized era in United States Essay Sample
Choose a Voice21st century is a globalized era. Especially in United States, there are different products from different countries and different races of people with different voices from all over the world. In this way, people are supposed to have much more opportunities to hear and accept other "voices" than before. In Speaking in Tongues written by Zadie Smith, she talks about her own experience of pursuing double-voice in order to be lettered, but she loses her own voice at the end. After that, she depicts Obama, who also comes from Dream City as she does that Obama uses different voices when he faces different people.
It makes his works a lot easier. Even Blackmore says, "Many people believe that human consciousness is unique and is responsible for making us human. Yet scientists cannot even define the term `consciousness'. Everyone knows what their own consciousness is like but they cannot share that knowledge with anyone else. " (p33)The self as single, coherent entity that we tend to regard might not even exist. However, in human deep mind, they do not really accept this point. People still regard Obama and those who speak multiple voices as double dealers.
They always want to feel the attachment from those people who have the same voice and identity as they do. That is why most of people nowadays still believe that "Voices are meant to be unchanging and singular" (Pg. 248). In their opinions, people all have their own voices that can define who they are and where they come from. Although there are some people who really have "multiple voices" when they were born, the majority in the society is "single voice". In this way, the people speaking the same voice are considered as the same group, which seems a  common sense.
To declare their so-called identity, people in one voice tend to exclude people in other voices. Each voice gives people a specific identity and everyone makes their decisions to make clear their stance. In this way, only keeping one voice is more likely approved and it helps most of people to avoid many troubles. Admittedly, we cannot say that the person has to be someone because it fit his identity or voice, everyone has his or her own choice to decide what kind of people they want to be.
However, changing the inherent voice and identity to another voice or keeping two voices will still be judged by the mainstream society. In the beginning of the Strange Creature, Blackmore mentions, "One of the problems of being a human is that it is rather hard to look at humans with an unprejudiced eye. " Truly, even though Blackmore declares that the "consciousness" in human mind is probably not even existing, and the so-called "self" is also an allusion, people still cannot judge something in an absolutely objective way. Prejudice will never disappear.
On the other hand, Zadie Smith also talks about it is hard to change the prejudice from other people, "You have no choice but to cross borders and speak in tongues. That's how you get from your mother to your father, from talking to one set of folks who think you're not black enough to another who figure you insufficiently white. " (p256)Voice is a kind of inborn feature. No one can choose their background and original voice. Some of the characteristic and identity of one person is doomed before his birth. Voice is that kind of identity, which is already stereotyped by public.
Moreover, in author's country, "Voice adaptation is still the original British sin. " (Pg. 248) It is an obvious stereotype that already root in our human deep mind. Keeping two or more voices is regarded as a betrayal behavior to their country and to those people who speak exactly in the same voice. In all, changing own voice and keeping double voices will be  judged by publics as dishonesty and unreliability. One of the reasons that people do not like multiple voices is its "flexibility". Multiple voices do make things flexible; it takes time to practice and shift between different voices appropriately.
It is not a simple work for most of people, because different voices suit different situation. If you spend long time in the new situation where you learned new voice, you will forget your original voice due to lack of practice as Zadie does. However, it is the flexibility makes those  multiple voice speaker seem unreliable. As Obama, "When he talks to us, he sure sounds like us—but behind our backs he says we're clinging to our religion, to our guns. " (P253)People afraid of Obama's doubling ways that he says one thing but means another.
It makes some people doubt the authenticity and reliability of his words. Furthermore, in Strange Creatures Blackmore claims that people learns everything from imitation. Voices are actually many of memes that also want to spread out, while some of memes propagate from different voices. And Blackmore does mention that religions are high survival memes. Religions as Christianity, Islam, Buddhism and so on have already propagated to different countries that speaking different languages, which proves even people speaking in different voices could have same identities.
However, Blackmore also mentions " With the decline in religious belief fewer and fewer people intellectually accept that view, yet most of us continue to think of ourselves as a little conscious "me" inside our brain; a "me" who sees the world, makes the decisions, directs the actions and has responsibility for them. " (p37)By losing the important meme that can make voices harmony, some of people start to have a single "self" in their brain to exclusive other voices. There is no more connection linked different voices people to parasites infecting a host, treated them as physically realized living structure.
That phenomenon is especially severe to those unreligious people who only hear one voice in their life. Without faith, they would hardly accept different voices due to following their illusional soul and spirit. Most of people tend to only have one voice, one identity. They think the best way to keep themselves real is to choose their own voice and keep it. In Zadie's article, after she talks about the tragic story of Pygmalion, she says, "How persistent this horror of the middling spot is, this dread of the interim place! "(pg. 149) Being a double-voiced person is tragic and bounded to be cast aside.
Most of the voices are clear and distinguished. They are totally different with others. There are amount of speakers of each existing voices and those people normally have different appearance and thoughts. To declare their own voice, they probably will not likely compromise to the others. In this way, mainstream voices will never admit those who have multiple voices or mixed voices. Single voice helps people explicit their thoughts and get rid of the troubles. That is why the Pygmalion girl said, "I can't. I could have done it once; but now I can't go back to it.
Last night, when I was wondering about, a girl spoke to me; and I tried to get back into the old way with her; but it was no use. "(pg. 149) Although the girl was trying to change her own voice in order to be a lady in a flower shop, once she failed on the half way, she hopes that she can get back. As she cannot change herself exactly to that voice she expects, she will never have the identity she is looking for and she will also lose her original identity. In Strange Creatures, Blackmore also pointed out, "One of the problems of being a human is that it is rather hard to look at humans with an unprejudiced eye.
" It does not mean that prejudice is necessary for human, but we cannot deny that prejudice is a common thing everywhere, even if we know it is not fair to others. Everyone unconsciously stereotypes other people by their voices or identities. Thus, being a double dealer will be easy to lead many unnecessary misunderstanding. It is better to keep one voice to evite those troubles. All things considered, people do choose to have one voice although they are also influenced by many memes and voices. And single voice does help people avoid lots of troubles.