Government and Art Essay Sample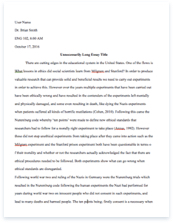 Pages: 6
Word count: 1,408
Rewriting Possibility: 99%

(excellent)

Category: arts
Get Full Essay
Get access to this section to get all help you need with your essay and educational issues.
Get Access
Introduction of TOPIC
Introduction
Nawel (2008) defines culture as a set of thought, values beliefs, and spiritual language that is shared by one group of people as opposed to any other group. Nawel (2008) also argues that culture is a way of life that characterizes one group from another, it is an identity. There is need for the government to protect and promote the culture of its citizens as this is one way of letting them know their past so that they are able to appreciate where they are coming from. In this way a society will be able to think, interact and perceive itself and other society.
The government should support culture and arts by forging unity among its citizens because this is one way of allowing different kinds of perspectives. Each perspective becomes a filter. A combination of different perspective enables formation of a good and vibrant culture which is known as a hybrid culture. This forms a basis for prosperity in any given country which values cohesive development.
Preservation of culture by the government enable the citizens know their past and how their forefathers lived. In this way, a way of life is passed from one generation to another. It enables them be able to describe themselves. It is usually said that no one can know where he is going unless he knows where he is coming from.
The country's constitution should encourage the citizen to value and preserve the rich heritage of the composite culture. A rich culture has a vast continuum that evolves incessantly. Therefore conservation and preservation of a rich cultural heritage and promotion of different forms of art and culture, both tangible and intangible which includes archeological sites and monuments, anthropology and ethnology, tribal art and folk is a very healthy practice which every citizen should embrace overwhelmingly. Other practices which assume considerable importance are literature and handicrafts, performing music, dance and drama and visual art painting. Cultural activities also address issues that relate to national identity.
Sectors such as education, tourism, textile, external relation need to receive maximum support from the government because they play a significant role in promoting culture and art  in any given society or country as a whole.
The tourism sector can only flourish and provide the country with considerable amount of income if the sector is fully taken care of through full support of the government. This can be through the use of modern technology According to the Federal Institute of Museum and Library Service (2002), 87 percent of museums use at least some information technology. Many institutions turn to solutions for instance those offered by HP to support the study, preservation and documentation of almost all artistic mediums, including paintings, textiles, photographs, porcelain and pottery and sculptures. The government therefore needs to improve the level of technology to facilitate the growth and development of the sector so that considerable achievements can be realized.
Education is yet ano
ther sector that requires the government's attention as far as culture and arts is concerned. When
it comes to young minds, art and culture enriches them, expands their thinking capacity, and prepares them for life in a useful and unexpected ways. Children who participate to a certain level in music and arts programs usually do better in other subjects than children who do not. Troubled students who engaged in arts and music programs have better attendance and increased level of cooperation with teachers and other fellow students.
For all their benefits and considering such economic times, arts and music programs seem to be at risk all across the U.S. It is a high time that we tackled the reality: The government can play a leading role in keeping arts alive in schools around the country through financial support.
The government also needs to support those institutions that showcase and preserve history and culture. Organizations that support arts and culture help to preserve the past, share with us the present and imagine the future. These organizations need the government's intervention, whether the support is in the form of a donation, assured security, or just speaking out on the causes that matter most in the sector. Any form of contribution the government brings about makes difference.
Arts and Culture Economic Impact Study report, presented to legislators in 2006, shows that in the state of Minnesota, the arts and culture are an important industry which makes over $838 million worth of economic impact and above all, provides over 22,000 for the states' jobs. In challenging economic times being experienced, it is only important for the government to render full support of the sector to improve the lives of the citizens.
Culture and arts promote the employment opportunities for the locals. The rich cultural heritage places attract different tourists from all over the world who bring forth foreign exchange earning. The earning can be used to develop other sectors of the economy so as to improve the standard of living and lower the cost of living.  In addition to foreign exchange, the locals are also employed in the sectors hence improving their way of life. This leads to a collective development in the whole country. Those in involved in the arts sector also end up selling their goods to earn good living. This therefore requires that the government find ways of promoting the sector as it has proved to be beneficial as a whole. Any form of support is very necessary and therefore should be appreciated
The need for the government to create policies that will highlight the importance of arts is very crucial. There in a great importance to emphasize the intrinsic benefits rewarded by the exposure arts. When individual get these artistic experiences, what follows is that the quality of life improves. As a result, benefits accrue to the citizens at large
According the federal Government (2008), to promote culture means to preserve and conserve national heritage. Because of that, the Commissioner for Culture and the Media supports many cultural facilities which are of great national importance. His support also embraces museums specifically in the history of the German citizens. The government of German also supports the film industry that promotes culture in addition to promoting projects which enable art and culture to emerge.
The German's scenario is worth emulating. That should be the guiding fomular that should lead towards a greater prosperity in the field of art and culture in the country. The only way that the present generation can create a link between the present generation and the generation to come is through preserving the rich cultural heritage and promoting arts. The government, therefore, needs to forge a way forward that can bring about radical changes in the area so that a positive impact is felt across the region. Other countries which have prospered in the sector should be emulated by inquiring on the best practices to be adopted. What is good is always worth the sacrifice therefore it would be important if considerable efforts are initiated. The results will eventually be achieved. Culture and arts should not be done away with but should be embraced.
References
Baldwin-Wallace College (2005): Arts and the Community: What are the Benefits? Retrieved    November 3, 2008 from
<http://realneo.us/events/arts-and-the-community-what-are-the-benefits-nov-2005>
Federal Government (2008): Why does the government of German promote culture? Retrieved   November 3, 2008 from
<http://www.bundesregierung.de/nn_6562/Content/EN/Artikel/2008/08/2008-08>
Federal Institute of Museum and Library Service (2002): New Release: HP Help   preserve Art and Cultural Heritage. Retrieved November 3, 2008 from                  <http://www.hp.com/hpinfo/newsroom/press/2003/030728b.html>
Nawel (2008): Culture. Retrieved November 3, 2008 from
< http://defineculture.com/>