Graduate Study Challenges and Strategies Essay Sample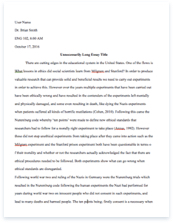 The whole doc is available only for registered users
OPEN DOC
Download Essay
A limited time offer!
Get a custom sample essay written according to your requirements urgent 3h delivery guaranteed
Order Now
Graduate Study Challenges and Strategies Essay Sample
The decision to attend graduate school is an important decision to make. Even though continuing one's education has many benefits, it also comes with many challenges. Knowing personal and professional goals and how to achieve the goals a less challenging decision. This paper will focus on three challenges and three strategies this writer is facing during her graduate studies.
Graduate Study Challenges Attending graduate school is a decision that has to be taken seriously. Knowing and understanding all the changes that come with going back to school and the effects it has on the one's life is extremely important. The first challenge I am facing while I am attending graduate school is my work, life and school balance. When returning to school, the student must be in control of all his or her priorities (Danesco, 2008). I realized when I decided to go to graduate school that it was going to tough balancing all my commitments and it was important to communicate with my loved ones what my decision was and the importance of getting their support.
The second challenge I am facing is the financial obligations that come along with attending graduate school. The funds needed to continue my education must be added to my month expenditures that I am responsible for. Having less time to earn extra money due to the added responsibility of attended school can be overwhelming. While friends and family continue to spend their money freely and on luxury items, while attending school I find it important to remember that at this time I am limited on what I am able to purchase outside of my necessary expenses which at times makes me second guess my decision. I find myself reviewing the decision I made to attend graduate school and the rewards I will benefit from once I complete my degree.
The third challenge I am faced with is time management. When you use time management, it does not mean you will be able to slow down or speed up the time (Williams, 2007). Managing my time in graduate school and my commitment to my family and my employer is vital to my success. With my time spent with family being very important, time management skills are necessary to be able to balance all my responsibilities. Keeping a calendar with my daily schedule and a notebook with important things to do is important to ensure all my commitments are met. It also helps alleviate stress that might come with being unorganized.
Graduate Study StrategiesThe first strategy I found to help with balancing my life responsibilities while going back to school is being organized with my daily activities. Organization is a critical skill in order to be successful. Communicating with my family on the decision to go to graduate school and the changes that I needed to make in order to have the time for my studies was imperative. Delegating tasks to them to alleviate tasks I normally handled gave me time to spend on school.
Researching the different ways to fund graduate studies one of the most important tasks. This strategy should be taken seriously. Finding all the funding that is available will help ease the financial burden of attending graduate school. Many companies have tuition reimbursement programs that assist their employees with their tuition if they are staying in their field or seeking a higher-paying position within the company (Schelin, 2008). Different scholarships, grants and students loan are available through many different lenders which, can help alleviate some of the financial pressure while attending graduate school. I found researching these different avenues helped me know what type of assistance was available to take advantage of and helped me understand the student loan process. This strategy made it easier to ease back into school by lifting some of the financial burden off my shoulders.
The last strategy I find to be beneficial is time management. Being as organized as possible is important in keeping your life responsibilities and graduate studies balanced. Creating a list of school responsibilities along with daily responsibilities makes attending graduate school easier. People sometimes take on more than they can handle. Being overwhelmed with responsibilities makes it impossible to succeed at your goal. I have created a weekly calendar of all my responsibilities and my course assignment due dates that keeps me organized and takes the added pressure off of me. The calendar has helped me plan time for studying, meet assignment due dates and schedule any extracurricular activities. This strategy has eliminated a great deal of anxieties I previously had. I have learned to say "no" when I am asked to do something and not feel guilty about it. Being realistic with the amount of time available each day is important and alleviates trying to fit 20 hours in an eight hour day.
ConclusionGraduate studies can be extremely challenging but is definitely rewarding. Embracing graduate school as a new adventure in life gets you prepared for a long successful journey. Knowing what the challenges that I am faced with and using effective strategies to help alleviate them makes completing my graduate studies an easier process. Once completed, the feeling of accomplishment will make me proud of the decision I made to further my education. Graduate studies are challenging however; once completed the feeling of accomplishment is fulfilling. I have come to realize that completing my graduate studies will be a rewarding lifelong achievement.
References
Danesco, B. (2008). How To Address the Challenges of Returning to Graduate School. Retrieved on January 24, 2009 from http://www.howtodothings.com/node/2371Schelin, S. (2008). How to Surmount the Challenges of Returning to Graduate School. Retrieved on January 24, 2009 from http://www.howtodothings.com/node/1134Williams, C. (2007). Tips On Managing Time For Graduate Students. Retrieved on January 24,2009 from http://www.timemanagementforstudents.net