Grandparents: United States and State Troopers Essay Sample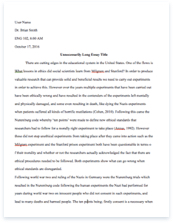 The whole doc is available only for registered users
OPEN DOC
Pages:
Word count: 755
Category: crime
Get Full Essay
Get access to this section to get all help you need with your essay and educational issues.
Get Access
Grandparents: United States and State Troopers Essay Sample
If it weren't for Officer Joe Waddell and Officer Mary Waddell, I wouldn't have the career goal I have set in mind today. In fact, I would have to say they influenced my interest in the criminal justice system altogether. Once I became interested in the criminal justice system, I began looking at all the different career options in the field. My grandparents from my father's side are Joe and Mary Waddell, and they were Florida State Troopers. My grandfather passed away a few years ago, although, my grandmother is still alive. I speak to her regularly over the phone about how my courses are going at Massasoit Community College. Even though I know she's happy for me, I feel as though her voice has a hint of sadness to it. As I listen to her, she starts to talk about grandpa; however, the subject always makes a bittersweet feeling in the pit of my stomach.
On a hot and muggy morning day, my brother and I decide to go outside of my grandfather's house into the backyard. Once we open the door, we see to our attention, a mass amount of deer just sitting around in the backyard. We decide not to move and sit down to watch. My father and grandfather came out quietly to see what we were looking at, but once they got out on the porch they're eyes widened. My grandfather's backyard had turned into a hangout spot for deer's to cool off on a muggy day. This particular day was a hot day, but a cool one as well, because we all sat under a horizon of trees that shaded us from missing this rare moment. A moment where there was complete silence, yet so many words were said. As I sat next to my grandfather I looked up at his classic metal tinted aviators. Usually he wore the mirrorshades that a lot of cops wear, but today he wore the ones with dark lenses on it instead of a reflective mirror. Whenever I saw my grandfather with the mirrorshades I could never tell his expression. I can tell people's expression not by their mouth or face, but by their eyes. Conscious of it or not, he always wore those shades and because of that I feel as though he was putting on a mask.
There were few times we actually bonded as a family, but at this moment he took off his shades and sat there calmly drinking his cup of Joe. I found it funny how he used that term for coffee, since his name was Joe. For the first time since I could remember him as a child, he seemed to not be so isolated anymore. It was also the same for my grandmother; they both seemed to be much happier now. I'm not sure what happened the days before that moment, but their stress seemed to fade as the muted land before them presented a moment that should be shown in a painting. The Florida State Troopers believe in Courtesy, Service, and Protection. My grandfather and grandmother were State Troopers in Florida for over twenty years. My grandfather, Officer Joe Waddell, was said to have set the record for giving out the most DUI's in the state of Florida. My grandmother, Officer Mary Waddell, was the first female Commander (Commander of State Troopers) in the state of Florida.
They were both born and raised in Florida, and fell in love when meeting each other training to become State Troopers. She isn't my blood grandmother though, because before they had met my grandfather was divorced to my Nana Lee which had birthed my father and Uncle Dale. Therefore, if it weren't for my grandparents I might have not become involved in criminal justice. All the stories they told me of bringing justice around Florida were circling in my mind. I looked up to them, in the way that my little cousin looks up to Spiderman. Although, I am planning to eventually become a crime scene photographer, I'd like the idea of becoming a state trooper in their honor. However, that was their dream, and I have my own. My own dream is to take pictures of crime scenes, present them in court, and hope that my small input on the case can somehow help in finding the truth. I only wish that I could have been able to tell both of my grandparents that dream, and not just one of them.