'Great Expectations" Analysis Essay Sample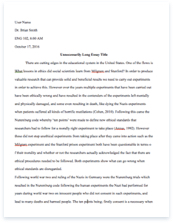 The whole doc is available only for registered users
OPEN DOC
Pages:
Word count: 1743
Category: novel
Get Full Essay
Get access to this section to get all help you need with your essay and educational issues.
Get Access
'Great Expectations" Analysis Essay Sample
In this essay I plan to show my understanding of two particular parts of the play 'Great expectations' Chapter 1: Opening graveyard scene and chapter 8: Miss Havisham and compare them to show how Dickens uses setting, characters and gothic elements to contribute to create an atmosphere and mood. I have chosen to compare chapter 1 and chapter 8 because I feel that they are the two most and powerful parts in the Novel.
In the first chapter of "Great Expectations" we are introduced to the character Pip. Throughout the story Dickens uses the first person point of view so that it is made clear to us that Pip is narrating. Dickens has done this for us to see things through Pip's perspective and so that we comprehend his feelings and emotions. Pip, now and adult is looking back through his childhood and telling us his life story. The sophisticated language used is not that of which we would associate with a child such as 'my infant tongue' and `explicit'. There is also a range of complex sentences used which also indicates to us that pip is now an adult. Throughout the play pip gives us the impression that the novel is retrospective e.g. `So I called myself Pip'
The beginning of the novel sets up the character Pip and makes us feel great sympathy for him as we are lead to a poor young boy sitting in the isolated village churchyard. Pip has lost his entire family and seems to spend much time thinking and talking to them which makes us feel even more sympathy for him. The setting and characters here help contribute to the mood being filled with sorrow and sadness for the young boy; it almost makes us feel like we would want to mother him. The setting also makes us feel a bit uneasy as to what will happen next, the readers will have mixed thoughts about the grave yard as it has associations with death.
Dickens uses long but brisk sentences to show Pips adventuress and quick mind of his ideas and thoughts. Dickens also uses colons and semi colons along with metaphors which will illustrate to us his imagination. Example "At such a time I found out for certain, that this bleak place overgrown with nettles was the churchyard; and that Philip Pirrip, late of this parish, and also Georgiana wife of the above, were dead and buried;…." There is also repetition of the words Dead and buried which start to remind the reader of all the bodies that would be there the setting he his in.
Dickens has managed to create an intense and gothic setting by using lost of description which helps creates a dark atmosphere. Dickens comments on the colours of the landscape in the graveyard using vivid and dark colours such as reds and blacks which we would associate with being quite gothic colours. There is also a mention of nettles and brambles which are sinister plants; this also indicates to the reader that the graveyard is unused and that people don't there as often giving the reader a sense of neglection.
Dickens also uses great imagery and metaphors to create an even more chilling atmosphere, 'The low leaden line beyond, was the river; and that the distant savage lair from which the wind was rushing, was the sea…' this puts an image in the readers mind that beast or monster of some kind that will appear from its lair. This creates a chilling feel for the reader as well as a depressing atmosphere. We now also begin to empathise with pips character as he begins to cry because he is all alone.
The scene soon changes as the character Magwitch appears. "A man started up from among the graves", this puts an image in the readers thought a something could have leapt out and seized pip. The convict uses physical and threatening force towards pip. "Keep still, you little devil, or I'll cut your throat!" this is then followed by pip being turned upside down which appears to scare pip. Magwitch also make up pretend character to scare pip to get what he wants out of him.
Magwitch needs to get the iron off his leg and so this is where pip comes into use for him, he is asked to get files and whittles. At this point pip seems a bit more relaxed and confident with Magwitch as he says to him "If you would kindly please to let me keep upright, sir, perhaps I shouldn't be sick, and perhaps I could attend more." Pip although he is with a convict still speak to him like a gentle man and remains as polite as he can as he does not want to up set Magwitch.
Dickens adds to the immense gothic atmosphere by describing the surroundings in which pip is situated. Dickens uses an extremely long sentence which almost reaches 4 lines, 'The marshes were just a long black…'Dickens has use along sentence to create the affect of depression and shows how dull the atmosphere is.
Before pip is told to go home and get the things Magwitch threatens that his heart and your liver shall be tore out, roasted and ate, but not by him but by the man who 'in comparison with which young man I am a Angel.' This man that is supposedly with him 'has a secret way peculiar to himself, of getting at a boy, and at his heart, and at his liver.' Which at this point pip decides it is in his best interests to do what ever Magwitch says and so he makes his way home.
In chapter 8, Dickens describes Pip's first visit to Miss Havishams house. In this chapter there are frightening and gothic elements to the scene. Miss Havisham has request has requested for pip to play out the house, which is an odd request. Pip was glad to head off to the house as he had spent all morning learning arithmetic with Mr Pumblechook.
Pip later arrives at Miss Havisham's house (Statis House) he describes the house as being run down which was of old brick and dismal. The house is like a symbol of Mrs Havisham's life decaying, old and dismal. Pip is greeted by a young beautiful girl named Estella who is sent to escort him to Miss Havisham. Estella chooses to be particularly mean, calling him "boy" emphasising the difference between them in class, although they are of the same age.
Pip is lead through the courtyard which he describes as" It was paved and clean, but grass was growing in every crevice." another sign that the house was run down and not looked after. After just walking in the house dickens is already adding to the fearful and gothic atmosphere "The cold wind seemed to blow colder there than outside the gate; and it made a shrill noise…" which makes the house seem strange and mysterious. Pips description of Miss Havisham's house portrays it to be slightly dark and sinister and starts to add to the gothic feel of the chapter.
Pip is lead up to the top of a stair case where he is left in the dark alone to venture into Mrs Havisham room which builds up tension and adds to the gothic and dark atmosphere. When pip finally meets Mrs Havisham he is extremely descriptive in the surroundings of the room and the decay he can see. Frightened Pip describes Mrs Havisham as "a skeleton in the ashes." and "a ghastly wax work." This description of Mrs Havisham creates an almost zombie image for the reader and the gothic mood and setting along with the description has helped create this image.
Mrs Havisham seemed to get enjoyment by making a mockery of Pip, firstly by making him spontaneously play, which he can not do and then he ask to play cards which he is then humiliated by Estella as she insults his class. Mrs Havisham then asks pip what he thinks of the beautiful Estella, Mrs Havisham then openly tells Estella what he had said; which was a cruel thing for her to do. These actions then relate back to her own life as she wants to break other men's hearts and seek revenge for what one man has done to her.
Dickens description of Mrs Havisham and the room adds to the scary and gothic feel to the atmosphere and makes the reader feel the cold and depression. Mrs Havisham hopes to use her adoptive daughter Estella as a weapon against men to get revenge and break there hearts like hers once was and she's succeeding with poor Pip. Mrs Havisham is a well remembered character in the novel and her life is defined by the one single tragic event in her life; her being jilted at the altar.
Miss Havisham's wedding dress is an ironic symbol of death and bitterness, her wedding dress and the food still in place out on the table symbolizes Miss Havisham's past. The stopped clocks around the house symbolize her determined attempt to try and freeze time and change anything from the way it was from when she was jilted at the alter on her wedding day.
The two chapters are both very gothic and extreme for the reader. Dickens has created the gothic atmospheres in the novel by the use of setting, character and detailed description. The gothic elements are use to create a chilling but exciting feel to the novel which keeps the readers interested.
Great expectation is a novel that uses great imagery and description to achieve immense feelings and atmosphere. Dickens creates memorable characters in the play all who are very different from one and other. Chapter 1 and 8 are both very different from each other but both of them have the gothic feel and element to them. The novel is about expectations, and shows how a young boy changes from being lower class to being rich and of upper class and is help to do this by an unexpected character.
I partly enjoyed reading the novel and film, I think that character Pip is an adventurous and proud character and at the end of the novel show great gratitude towards an unexpected character by risking his own life.