"Great Expectations" by Charles Dickens Essay Sample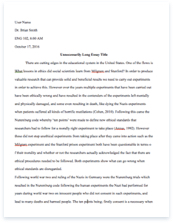 The whole doc is available only for registered users
OPEN DOC
Pages:
Word count: 1572
Category: dickens
Get Full Essay
Get access to this section to get all help you need with your essay and educational issues.
Get Access
"Great Expectations" by Charles Dickens Essay Sample
'Great expectations' is a classic novel written by Charles dickens in the early mid 18th century. The lifestyles of that era were different in comparison with the life style of most people nowadays. Most people in that era were very poor and worked hours and hours in torment just to earn enough money in order to live. Charles Dickens was already a national hero and this was dickens's second-to-last novel. The core purpose of this novel was to make more people aware of the poverty and injustice of the people of that time. 'Great expectations' was first published in 1860 as a series of weekly chapters in a newspaper. The next year all the chapters were combined to create a novel. Early critics tended to dislike his work as they thought that he exaggerated both the plot and the characters of his novels. However, these days Dickens is noted for his talent and is known through-out as a terrific writer.
'Great expectations' reflects many stages in Dickens's life such as when Pip was standing against injustice and was powerless, without hope for a better life. Dickens expresses his childhood memories very skillfully. He shows Pips life and how the character started his life as a neglected child who then grew up to be a useful worker, and even though he hadn't had a good education, he was still able to realize the harsh reality of life, which is that dreams are never what they first appear to be.
We see Pip develop through the book, he himself is honest and good-hearted. Nevertheless readers can also see his childish side as he makes several contradictions about truth and fantasy. The Victorian readers were more likely to enjoy more overdramatic scenes with a hopeful ending. He has many subtle, hidden messages in the novel, which later become a lot more obvious as you go through the book. One of the most noticeable of these messages is his attempts to make people notice how badly the working class people are treated. Dickens actually had two endings for this story; one of which was a more pleasing, heart-warming ending. It was this ending which was shown to the Victorian readers who expected the conclusion to be pleasant, as the other ending was far more depressing and therefore less likely to be popular with the readers of that time.
Dickens uses a wide array of settings and backgrounds to compliment the mood of the particular scene. 'Great Expectations' being a rather gloomier story, Dickens uses a lot of dark and lonely scenery to help explain what emotions the characters are going through. This technique is known as pathetic fallacy and is a key element to his writing style. The first example of pathetic fallacy is used at the beginning in the first scene. We find ourselves in England. A baron marshland wet and deserted. Here we see Pip standing before seven graves, which we discover to be his mother, father and five younger brothers. Suddenly this lonely boy finds himself in a life threatening situation as he is seized by a vulgar man who threatens to cut Pips head of if he doesn't stop crying. In this scene Pip shows his more childish side when he cries, "Oh! Don't cut my throat, sir, O Pray don't do it sir".
Pip is then forced to do as the convict asks. This is mainly due to Pips na�ve fear of Magwitch's fictional companion. This incident may cause the reader to feel some sympathy for Pip making them read on. Pip also shows a more mature side as he always stays polite no matter how much tension and anxiety he is under. An example of this is,
"No, sir! No!"
I believe this surprising politeness is because of his experience in living with his sister Mrs. Gargery. During his upbringing he has learnt how to keep people like her calm and show them politeness no matter how much aggression they show him.
Another major influence in the book is the previously mentioned Magwitch. He may not appear much in the story but he plays a key part in the novel. He is increasingly referred to as we go deeper in to the book. The initial meeting in the marsh country is developed through the book into a central relationship. The first sign of this is every time Pip refers to Magwitch he calls him "My convict". This may appear like a minor thing at first but becomes more understandable later on. Magwitch starts of as the malicious man who is very aggressive towards Pip. The characters opinion towards Magwitch then completely changes as pip discovers that Magwitch is actually Pip's secret benefactor. This sudden generosity from Magwitch surprises the reader because the image of Magwitch portrayed in the readers mind is the Magwitch we see at first in the marsh country. Magwitch has a very distinctive manner of speaking.
"Now lookee here! … Who d'ye live with"
This can suggest that Magwitch was not well educated and in comparison with Pips language it is far more aggressive and colloquial. This also implies that he may not be around from that region since his accent is different from Pips. Dickens may have tried to draw out some sympathy from the reader towards the convict as he describes him as having a hard life in a very descriptive paragraph.
"A fearful man, all in coarse grey, with a great iron on his leg. A man with no hat, and with broken shoes, and with an old rag tied round his head. A man who had been soaked in water, and smothered in mud, and lamed by stones, and cut by flints, and stung by nettles, and torn by briars; who limped, and shivered, and glared and growled"
Seeing Magwitch through the eyes of the immature Pip sometimes can exaggerate what the character Magwitch is and does.
I believe that Charles Dickens wrote this novel for many reasons, one being that he was able to express his feelings on topics such as human rights. First example of this is the way he shows Pip being abused, the message he is trying to send out there is about cruelty to children of his age and how badly they are treated. Once Pip grows up to be a successful business man, it is as though he is ashamed of his past and wants to forget about his roots.
The message there being how easily the rich are corrupted and how they would like to forget about the working class people, ultimately miss treating them. Pips breakthrough into the higher class shows how difficult it would have been for working class Victorian children to become successful, they had little to no chance of being something worth knowing. Characters such as Magwitch are used to illustrate how inadequately the poorer citizens can be treated. Magwitch's entrance into the novel as a shabby convict who then turns into a rich benefactor shows that perceptions made from first impressions can be deceptive. Even though Magwitch may have appeared to be a cold-hearted criminal at the beginning, in that same state he showed kindness by blaming himself for stealing "whittles" and the file, which was originally stolen by Pip to be given to Magwitch.
"It was some broken wittles – that's what it was – and a dram of liquor, and a pie."
He was also very polite to Pip after Pip had supplied him with the much needed things.
"Thankee, my boy. I do."
I believe this shows that there can be a bit of goodness and compassion inside of everyone, no matter how many bad things they may have done in the past.
Throughout this novel, we see Pip growing up and developing from a na�ve, immature boy into a gentleman because of three main milestones in his life. In the first stage of Pips life, he is too young to understand what it truly means to be a gentleman and how greatly it can affect the course of his life. He wants three wishes. He wants an education, wealth and to break he barrier of crossing from a working class to a higher class. However he does not want these things to improve his lifestyle, he desires these things just in order to impress Estella. She can be seen as the symbol of his first stage. In the next stage he matures a bit more and wants to become more than just a lowly blacksmith like Joe. He wants to be intelligent. At the end of this stage he shifts to London were he begins a new life with new problems. 'Great Expectations' has many appeals to the audience because of the style that it has been written in and the way Pip is introduced as this small, lonesome, child with not much hope for the future hope. He is depicted of having no chance to change his destiny.
In conclusion I believe that Dickens was successful in making this book truly epic as it shows, in enormous detail, the struggle of a small boy trying to break the social barrier that he is trapped within. This is indeed a classic novel and I am definite that it will still be remembered in times to come.