"Great Expectations", Charles Dickens 13th Novel Essay Sample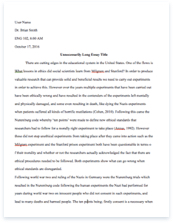 The whole doc is available only for registered users
OPEN DOC
Pages:
Word count: 1118
Category: dickens
Download Essay
A limited time offer!
Get a custom sample essay written according to your requirements urgent 3h delivery guaranteed
Order Now
"Great Expectations", Charles Dickens 13th Novel Essay Sample
Great Expectations was Charles Dickens 13th novel, which was first published in December 1860 in a weekly newspaper that he worked for. In that time television was not invented so dickens used full descriptions of the characters so the people reading could imagine the character in their head. Later it was put into a novel and is a quite famous book, which is readied all round the world.
The characters that I have chosen to write about are Pip, Miss Havisham and Joe. The reasons the chose of the characters are that each of them have their own personality, which tell you the difference of each of them.
The first character I am going to write about is Pip. Pip is a very rounded character as he is the major character. Throughout the book Pip changes a lot, the only thing that doesn't change in him this the love he carries for Estella and the biggest change is when Pip was told of his Great Expectations. The change in Pip against Joe is show clearly when Joe comes to visit him in London as he knows that if Joe comes he will embarrass him as he says " if I were to pay money to not see him than I would pay money". As Pip had thought Joe embarrasses him as he tries hard to impress Pip by dressing posh but ends up making a fool of himself.
When Pip was a young boy he was quite mature for his age but is like any little boy. When he has to steal food he feels really guilty about it which shows how nervous he was as a young boy when he is older Pip is bolder than he was when he was younger. You are not told Pip's physical appearance, it was up to you to decide how Pip would look. Pip's accent is quite common although it doesn't sound like it comes from a certain place. When Pip was younger he didn't really realize the different status that people have. Since he first meeting with Estella he tries to become a gentleman as she calls he common labour boy and as she is higher status he wants to be equal with her so he can marry her.
Pip's first key moment is when he saw Estella as the time he fell in love with her. His second key moment was when he was told of his Great Expectations. The last key moment is when he found out who his real benefactor as he had always thought it was Miss Havisham and that the reason was that he was be a gentleman so he could marry Estella.
The second character I am going to write about in the following is Miss Havisham. Miss Havisham is a rounded character as you gain knowledge of so much about her past life throughout the novel and she is the person who only changes a little. At the beginning she is stubborn who adopted Estella to take revenge on all men including Pip. Although towards the end she become conscious that what happened to her is now occurring to Pip that Estella has broken his heart which make Miss Havisham feel guilty of this act and blames herself. Miss Havisham's physical appearance is looking old, pale and more regularly wearing her old torn wedding dress. Her accent isn't that distinguishing. Her behaviour is the object that never changes in her, she would either be happy than suddenly get angry.
Miss Havisham's first key moment was when she asks Pip for forgiveness to all the bad mistakes she has done. Her last key moment is when she sets herself on fire.
The last character I am going to talk about is Joe. Joe is one of the individuals who never changes nor develops his position in status making him a rounded character as you see his true side in the novel. Joe's physical appearance is quite middle aged and wearing quite often worn clothing. Pip would description was
"Joe was a fair man, with curls of flaxen hair on each side of his smooth face, and with eyes of such a very undecided blue that they seemed to have somehow got mixed with their own whites. He was a mild, good-natured, sweet-tempered, easy-going, foolish, dear fellow – a sort of Hercules in strength, and also in weakness."
His accent is quite common although it doesn't sound like it comes from a certain place and Dickens's represents his accent phonetically. His behaviour never changes or his actions as he is someone who would do anything to help and never take the self-worth of another individual. He is a kind and exceedingly caring person towards anyone, especially Pip, as he would be proud to see Pip happy in a high status than Joe's own status. Joe is uneducated and perhaps a little slow but he understands the important things in life.
Joe's first key moment is when he finds out about Pip's Expectations and is one of those apart from biddy, who is extremely happy for Pip.
"Pip's a gentleman of fortun' then," said Joe, "and God bless him in it!"
Here you see that Joe knows that in the future that Pip would be very happy being a gentleman. But Pip wants Joe to be more intelligent as he confronts biddy we learn that biddy believes that
" Not all of one kind," resumed Biddy. "He may be too proud to let any one take him out of a place that he is competent to fill, and fills well and with respect. To tell you the truth, I think he is: though it sounds bold in me to say so, for you must know him far better than I do."
His last key moment is when he goes to London to meet Pip to tell him some news he had received.
"I write this by request of Mr. Gargery, for to let you know that he is going to London in company with Mr. Wopsle and would be glad if agreeable to be allowed to see you."
While visiting giving the news he also tells Pip what he feels about their relation according to status,
"You and me is not two figures to be together in London; nor yet anywheres else but what is private, and beknown, and understood.
This is were you mainly realise that Joe loves Pip no matter who he is and that if Joe was something that would come between Pip's life that he would avoid Pip for his good.