Great Ways to Communicate Essay Sample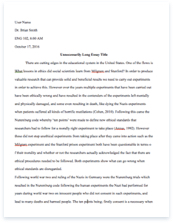 The whole doc is available only for registered users
OPEN DOC
Get Full Essay
Get access to this section to get all help you need with your essay and educational issues.
Get Access
Great Ways to Communicate Essay Sample
In the technological world we live in, staying connected to friends and family is easier than ever. Almost everyone owns a cell phone or PDA and seems to be connected to it like a Siamese twin joined at the hip. These technological devices allow us to be able to communicate quickly, easily, and constantly by using the language of texting. Because of this wonderful new language, today instead of writing, "that was really funny," we simply write "LOL" which stands for "laugh out loud" – same meaning but a shorter way to say it in writing. The use of these types of acronyms is second nature to anyone who uses these devices, and in today's society almost everyone does. Users of this new abridge dialogue would agree that there is simply no reason any longer to spell out all of their sentences to the person they are communicating with. Why would anyone want to take all that time when we are so busy today with school, work, errands, and life in general? In the past, the English language has evolved to include new styles of writing along with the addition of new words.
So, I would not be surprised to see acronyms like gr8 (great, y (why,) c (see), bbl (be back later), and b4 (before) be included as acceptable "words" in the English dictionary in the not too distant future. Since cell phones and texting are more popular now than ever, the texting language is at the forefront of how we talk to each other. Children are getting cell phones in elementary school and learning this language at the same time they are learning traditional English grammar. That means children will be opting to use the abbreviated text style of writing as they grow up because of their early exposure to it and its simplicity. This phenomenon will change how the English language is used when writing even the most formal documents because our language is going through a new phase of evolution.
Although texting is a phenomenon that is sweeping the world, there are still some groups who are not familiar with the lingo or refuse to succumb to its immense popularity. With older people, it's like teaching an old dog new tricks – literally! And to use another popular cliché, "you can lead a horse to water but you can't make it drink." You just can't change older people's ways of doing things. I would say that about 99% of senior citizens have no idea what their grandchildren are saying when they giggle, "LOL." These grandparents are probably asking themselves, "LOL? Are they talking about lollipops?" There are even some middle-aged people who do not understand the lingo, usually because they simply refuse to partake in its style. Some feel it is just a language for "the kids."
Some even feel strongly that it is corrupting our children and the English language. Just ask any English professor and you'll get an ear full. So, you may ask yourself, "if our society is divided between some people knowing and utilizing the abbreviated language and others not knowing or accepting it, how could any of these phrases become part of our English dictionary?" Obviously, this process will not be quick, but it will happen. If you think about it, when my generation and the younger generation grow older, we will all be in agreement that using the texting language will make things much easier. At that point, the texting language will become acceptable in everything we do; work and play. It will be the language we all grew up learning and knowing even better than the traditional English language. At that point, it will warrant being formally recognized and documented in the dictionary as acceptable, just like "Kleenex" is acceptable as a synonym for "facial tissue" in today's dictionary.
The only barrier between these words entering the dictionary lies with the people who are in control of the professional world. The fact of the matter is that business professionals feel these abbreviations are not acceptable to be put in important documents. The issue with this is more of a personal preference. This debate goes back to the fact that most adults think the lingo is silly and unprofessional, but that is just because they are ignorant to the meanings behind the abbreviations.
Because of this, the texting language is truly foreign to them. These people were in their 30's and 40's when cell phones were invented. They were even older when texting came into the picture. Therefore, the problem is within the generations of the people alive. Once our younger generations become the older generation, these words will become part of the English dictionary. It will be familiar to everyone at that point and second nature to write things like, "L8R" instead of "Later." The dictionary reflects the words society speaks and writes, and that's why it must include these types of text acronyms once universally recognized.
Eveyr language adapts and moves toward new words based on factors such as the economy, cultural environment, or even new objects or situations. Over the years, these factors have resulted in many new words being added to the dictionary like: frenemy (1977), memory foam (1987), webisode (1996), carbon footprint (1999), and staycation (2005). Another perfect example showing the English language is slowly changing the world would be that back in the 15th or 16th century, people would use the words, "art though" and "thou shall" when referring to another person. Today, this does nt resemble the way we speak or write.
As this language obviously became outdated, people adapted to a new style of communicating. Now we write and communicate with each other in the very way I am writing this essay. Today, the use of texting is moving in the direction of using short little blurbs that refer to an entire sentence or phrase because of the technology available to us. Instead of writing letters, sending cards, or even phoning people, we are texting or "IMing" using this shortened form of writing. Society is on the move, and technology is constantly being developed to make our lives easier. With the invasion of texting into our culture, a change is most certainly on the horizon for old man Webster.
The immersion of this form of writing into our English language is also evident beyond texting on cell phones. These "words" sometimes pop up on flyers passed around college campuses in messages like, "Meeting @ 8. Don't B L8." I have also noticed them on billboards while I am driving—which made me realize how close the words are to becoming part of everyone's normal language because they are so quickly recognizable. With a billboard, there are just seconds to read the message making it the perfect medium for messages like, "Gr8 Deals. Don't W8. Visit deals.com" Advertisers spend big money to put their messages on billboards. This demonstrates the faith society has in this language being quickly understood at a glance by all passersby. Clearly this phenomenon is starting to spread among different forms of communication.
If we continue on this path where technology is everything in this society, then many of these common phrases will become part of our dictionary. It's
also eminent that someone will develop an even simpler way to communicate through texting and instant messaging if you can imagine that. With all of the changes and new inventions in technology, anything is possible when it comes to how our society will communicate in the future. When it comes to communicating via technology, the new trends are always positive so, who knows, maybe in a few years someone will invent something that none of us expected and change everything up. In the meantime, the future generation of college students will e writing essays with a last sentence that reads, "Change is N R future, just U W8 N C," and their professors will know what it means.