Gregoria de Jesus – An Autobiography Essay Sample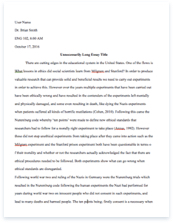 The whole doc is available only for registered users
OPEN DOC
Download Essay
Get Full Essay
Get access to this section to get all the help you need with your essay and educational goals.
Get Access
Gregoria de Jesus – An Autobiography Essay Sample
GREGORIA DE JESUS
An Autobiography
I am Gregoria de Jesus, native of the town of Kalookan in Rizal Province. I was born on Tuesday, May 9, 1875, at number 13, Baltazar Street, now Zamora, in the place where thousand of arms used in the Revolution were buried, and where the revolutionary leaders met to make the final arrangements for the outbreak before leaving for the field. My father was Nicolas de Jesus, also a native of this town, a master mason and carpenter by occupation, and a government official during the Spanish regime, having been second lieutenant, chief lieutenant andgobernadorcillo. My mother was Baltazara Alvarez Francisco, of the town of Noveleta in Kabite Province, a niece of General Mariano Alvarez of Magdiwang in Kabite, the first to raise the standard of revolt in that province. I attended the public schools and finished the first grades of instruction, equivalent to the intermediate grades of today.
I still remember that I was once a winner in an examination given by the Governor-General and the town curate, and was the recipient of a silver medal with blue ribbon, a prize bestowed in recognition of my little learning. Because we were three brothers who must go to Manila to continue our studies, I decided to stop studying and to join my sister in looking after our family interests to enable our two brothers to study in Manila. Often I had to go out in the country to supervise the planting and harvesting of our rice and to supervise our tenants and laborers, and also to pay the wages of my father's workers in Sunday mornings. Now and then, I did some sewing and weaving and always assisted my mother in her household chores.
GREGORIA DE JESUS
The Philippine Revolution was the work of both Filipino men and women. Women – such as, Melchora Aquino (Tandang Sora) who risked her life feeding and sheltering revolutionists, and Teresa Magbanua (Generala Isay) of Iloilo, Generala Agueda Kahabangan of Laguna and Batangas, Gregoria de Jesus of Kalookan, and Trinidad Tecson of Bulakan who fought on the battlefields as bravely as the men– greatly advanced the cause of the Revolution and were also revolutionary leaders who are deserving of public recognition. * * *
Gregoria de Jesus began her revolutionary work very young, at the age of 18. As the wife of Andres Bonifacio, the Katipunan leader, she suffered countless privations in the performance of the dangerous tasks which only women could do undetected by the police. The revolutionary generals spoke admiringly of her extraordinary courage and daring and of her alertness which saved her from capture. When the revolution was suppressed by the Americans, Gregoria de Jesus returned to peaceful life. She married another patriot, Julio Nakpil. She became a devoted wife and mother, but still loyal to the ideals of the revolution which she instilled in the minds of her children. In her last years, when her children were already grown up, she particularly enjoyed sojourning at the home of her only son Juan, of whom she was very fond. Her son was aware of her tender devotion to him and he reciprocated it. He was deeply grieved by her passing on 15 March 1943 during the dark days of the Japanese occupation.