Growth of Online Consumerism in UK Essay Sample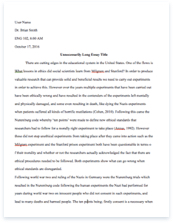 The whole doc is available only for registered users
OPEN DOC
Download Essay
A limited time offer!
Get a custom sample essay written according to your requirements urgent 3h delivery guaranteed
Order Now
Growth of Online Consumerism in UK Essay Sample
Understanding the customer behaviours should move along with customer expectations, customer requirements and their purchasing trend. Since there are several internal and external factors which impact the consumer buying decisions, the consumer buying process is multifaceted. These factors that influence the purchasing decision of an individual is manifested in the stages of consumer purchase behaviour as well as the type of buying behaviour the individuals possess. Because of the fact that a customer evaluates a product or service, it would be plausible to acknowledge the motivations that influence customers to the evaluation process.
Particularly, understanding the customer buying behaviours is one of the most challenging aspects in marketing as it understands why customers do what they do or don't. Acquiring this knowledge, however, is critical for marketers since understanding such sheds light on important things that buyers may consider as well as suggest important influences on consumer decision-making. The interests of the consumers are uphold in such a way that marketers will be able to design marketing campaigns aligned on consumer requirements. The factors that affect how the consumer makes decision is also complicated.
Since every individual is different, it would be detrimental to formulate rules that explain how buying decisions are made. Why the consumers buy is perhaps one of the questions that yield many answers. Nonetheless, there are internal and external influences that could be associated with consumer buying behaviours. Internal influences include perceptions, knowledge, attitude, personality, lifestyle, roles and motivation. External influences, on the other hand, are culture, group membership and purchase situation. How both of these influences apply to online shopping is not yet known. Specifically, which among these individual buying influencers are applied in purchasing apparel products online is also not known.
SIGNIFICANCE OF THE RESEARCH:-
This study will be a significant endeavour in gaining in-depth understanding of the behaviour and attitude of consumers when it comes to online shopping for apparel. This study will be helpful to online retailers as new recommendation of strategies could emerge from this research. This research will be also significant to online retailing research as it may unravel useful strategies for companies that belong in the online retailing and apparel industries. Moreover, this study will be an important contribution to a body of research online shopping and apparel e-tailing.
The study is also significant to students as it may serve as useful reference for future researchers and those who will seek information about consumer attitudes and behaviour and online shopping. Overall, it may help boosts the growth of online consumerism research. The key problem that the research will address is in what ways and to what extent do consumer buying behaviours influence online shopping for apparel.
A common knowledge is that more than 75% of United Kingdom residents had shopped online, and with clothing, accessories and shoes as one of the top three purchase categories. With this, the following research questions are formulated: 1) Among internal and external influencers, which among these influences consumer buying decisions of UK online shoppers most? 2) Why do these internal and external influences affect UK online shoppers?
REVIEW OF LITERATURE:-
This study encompasses issues on the consumer decision-making process with emphasis on the consumer buying behaviours. Consumer behaviours refer to the decision-making processes and actions involved in purchasing using a product. In order that online shopping companies could understand the consumer behaviour, there is the requirement to create the marketing mix which will give optimum utility to customers. Therefore analyzing the what, where, when and how consumers buy. (Haugtvedt, Machleit and Yalch 2005; Parcon 2007, pp. 89-90).
As Wong (2000) argued, customer's actions are based on the customer's reaction in using the product or service, which means that the product or service should leave a good perception to the customer to consider him or her satisfied. When it comes to understanding the consumer behaviour, according to Stanford (2002), expected vs. certain values of choices; comparison of actual outcomes to expected values; the behaviour of the
utility function; qualifications to the principle of diminishing marginal utility; and managerial implications of utility relationships are the basic concepts to consider. When it comes to fashion shopping, the customers' behaviors and attitudes are commonly influenced by economic, cultural and aesthetic dimensions. (Wong, A 2000, 'Integrating supplier satisfaction with customer satisfaction', Total Quality Management, 11(4-6), S826-9.) (Stanford, R A 2002, Managerial Economics (online) )
The types of consumer behaviour are determined by level of involvement in purchase decision and buyers' level of involvement based on motivation. The first determinant focuses on the importance and intensity of interest in a product on a given situation while the second determinant deals with the information about a certain product and brand. There are personal, social and economic risks and that the higher the risks, the higher the involvement for a consumer. Even so, consumer behaviour could be categorized as routine response or programmed behaviour, limited decision-making, extensive decision-making and impulse buying. Programmed behaviours are inclined for low involvement frequently to purchase low cost items. These automatic consumptions need no researching and rigorous decision-making. The second behaviour is the occasional purchasing of product which requires information about unfamiliar brand hence a significant amount of time in gathering information. In the third behaviour, high degree of economic, performance and psychological risks assessments is considered while for the last behaviour, it necessitates no conscious planning at all. While at it, it would be plausible to take note of the factors that affect the consumer buying process: personal, psychological and social. Personal are unique to an individual consumer including the demographic factors like gender, race and age. Personal factors greatly affect the decision-making especially because risks and utility are also very individualistic (Parcon, P 2007, Develop Your Decision Making Skills, Lotus Press.).
Consequently, the psychological factors include motives, perception, ability and knowledge, attitudes, personality and lifestyles. Motives are the energizing force onward satisfying a goal or a need. Perception refers to the process of selecting, organizing and interpreting information inputs in
order to produce meaning. Changes in consumer attitude are based on information and experience and the capacity to learn these, same with attitude which are also learn from interaction with other people. Knowledge, on the other hand, is the familiarity with the product and expertise. Internal traits and behaviours; consistency with self-concept affects consumerism as well as the consistent patterns of living of our lifestyles (Elliot, G R 1990, p.93-97,The Marketing Concept – Necessary, but Sufficient? An Environmental View, Graduate School of Australia, University of Melbourne, Australia.).
Consumer attitudes impact consumer behaviour more compared to other factors. Our attitude represents our likes and dislikes, thus preferences and decisions. As a lasting general evaluation of a thing, attitudes could serve a multiple purpose such as utilitarian, value-expression, ego-expression and knowledge. The variety of consumer attitudes suggest that there is a very different set of attitude concerning a product, the brand name and association, the retailer, the company and the channels of distribution as well as the means of communication. There are three elements which govern consumer attitude as: belief – the psychological association based on knowledge between the product and an attribute of such product; affect – as influenced by affective response or emotive association in products; and intention – the behavior component of consumer attitude based on the motives of the person (Baker M J 2002, p. 123 2002, The Marketing Handbook, Butterworth-Heinemann)
Social factors, finally, affect the consumer cognition via opinion leaders, roles and family influences, reference groups, social class and culture and sub-culture. Opinion leaders serve as the spokespeople wherein consumers draw from their familiarity with the person himself/herself. The roles of the people consider the expectations of you from your position within a given group. Family, where majority of behaviors are patterned, has its own life cycle which characterizes unique consumer demands. As such, consumer behaviour begins inside the family with a mixture of family and individual consumer decision-making. As an individual identifies with a group, s/he acquires many of the values, attitudes and
behaviors of the group members. Social class, which also operates in a larger cultural schema, distinguishes the preferences as well as the buying capacity of the people, affecting their decision-making and actual purchasing. Finally, culture or the set of values, ideas and attitudes dictates the level of conformity among its members. Given the fact that these are transmitted to posterity and other culture as well through acculturation, there is the emergence of changing trends and patterns of behavior regarding consumption and consumer behaviour (Parcon P 2007, pp. 94, Develop Your Decision Making Skills, Lotus Press.).
The consumer buying process is set in six stages: problem recognition, information search, alternatives evaluation, purchase decision, purchase and post-purchase evaluation. The first stage points to determining the difference between desired state and actual condition. Product information could stimulate this stage onward to gathering information. Searching happens internally and externally, the first through memory and the second through marketer dominated sources or comparison shopping aside from word of mouth. The success in this stage could lead to having an evoked set of alternatives whereby the consumer establishes criteria prior to weighing them. After the choice has been made, actual purchasing based on product availability will be considered. Whether the consumer makes the right decision or not in purchasing will be contemplated on the last stage (Rowley, J 2009, 'Online branding strategies of UK fashion retailers,' Internet Research, vol. 19, no. 3, pp. 348-369.).
Azuma and Fernie (2003) claim that fashion is perceived to be one of the most essential parts of civilization as it reflects the great culture of the past. Likewise, fashion exemplifies the changes within a given society over time. The authors also maintained that the materialization of global fashion transformed the way fashion was perceived in the modern world, changing the focus on standardization and low-cost advantage. Through fashion globalization also, the migration of fashion production offshore as well as the resultant dependence on non-traditional ethos of fashion designing imposed threat to domestic small fashion players. While also, the condition impedes them from 'creating intrinsic fashion on a small but sustainable
scale. As said by Yarwood (1992), fashion is a more accurate barometer because of its inherent universality attribute whereby fashion affects everyone. Fashion too characterizes the personal expressionism of life at a given time and place. (Azuma, N & Fernie, J 2003, 'Fashion in globalized world and the role of virtual networks in intrinsic fashion design,' Journal of Fashion Marketing and Management, vol. 4, no. 4, pp. 413-427.) (Yarwood, D 1992, Fashion in the Western World, B.T. Batsford, London)
For the purpose of satisfying the ever-changing demands of the consumer, the global fashion industry must find resources and avenues to continuously do such. Rowley (2009) affirm that a new industry must emerge, one which basically draws from the opportunities technologies could provide. Online fashion retailing, as Tseng and Piller (2003) figured, possesses special requirements compared to that of other online retailing sectors. Fashion visualization necessitates the existence of virtual catwalk, user interface and client/server architecture (p. 482). In order to respond to the dilemmas on online fashion retailing such as the lack of customer consulting and the accuracy of high three-dimensional display quality, online retailing for fashion products need to realized at a high level so as to achieve broad customer acceptance (Piller, F. M. (2003). The Customer Centric Enterprise: Advances in Mass Customization and Personalization. Springer. .) (Rowley, J 2009, 'Online branding strategies of UK fashion retailers,' Internet Research, vol. 19)