Gun Control: A Desperate Necessity in the U.S. Essay Sample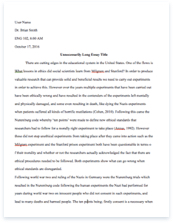 The whole doc is available only for registered users
OPEN DOC
Download Essay
Get Full Essay
Get access to this section to get all the help you need with your essay and educational goals.
Get Access
Gun Control: A Desperate Necessity in the U.S. Essay Sample
Introduction
            The issue of gun control had been one of the most widely talked about when it came to public policy. Opposing sides discussed the connection of gun control with the high rate of crime in the United States from different perspectives. Discussion about gun control included gun crime, suicide and gun accidents. Much of the debate revolved around the right of an individual to protect one's self from crime versus the impact of individual gun ownership with the increase of the crime rate. In reality, the numbers clearly indicated how there was a need for gun control. The degree for the control by public policy was debatable; nevertheless, the fact that gun control was a necessity should be a non-issue.
The Argument of Self-Defense
            The most common defense of those that opposed gun controls was the need of firearms for individual self-defense. Cases had been recorded wherein innocent lives were saved because of possession of handguns. Most of these cases served as a strong defense for allowing civilians to carry guns.
            The credo pro-gun supporters lived by was "It's better to have a gun and not need it than to need one and not have it" (Murray, 1999). This reflected how concerned citizens sought to arm themselves so as to protect themselves from armed criminals.
            There had been a number of significant instances wherein gunpoint confrontations wherein armed civilians were able to turn the tables on violent criminals because of the fact that they were armed. The lack of news coverage about these instances was attributed to their "un-news worthy" factor from foiled crimes (Murray, 1999).
            Statistics defended that guns were used for self-defense for 180 times a day or once every 13 seconds. This was a number presented by the National Rifle Association (NRA) that promoted sharing a handful of stories that featured the advantages of carrying or owning handguns in their magazine "The Armed Citizen."
            This magazine exhibited different cases wherein potential victims were able to stop crimes because they had their own guns. Most of them were evidently left defenseless if they did not have these guns. There were two grandmothers in Moses Lake, Oregon that had fought off an attack on their home by four men. There was also a deacon in Arizona who had wounded an armed robber in his church. A man who was wounded with the robber's knife had shot his home's robber in Maine. There was even a case in Arizona wherein a security guard had a concealed weapon permit shot criminals who gunned down a police officer (Murray, 1999).
            The main argument against gun control had always been providing for the freedom for the citizens of the country to protect their lives and property from violent crime perpetrated by criminals with illegal firearms. They moved that as citizens that legally owned handguns, they must not have to be deprived of the right to do so if they were qualified to be gun owners. However, much of this argument could still not dispel the fact that the presence of criminals with illegal firearms would present the need for gun control policies.
The Need for Gun Control
            In comparison with the United States of America, Canada had stricter gun control policies. However, Canada also had lesser victims from firearm violence compared to America (Sproule & Kennet, 1989). American murder rates were also higher as a result of handgun killings than in any other for of killing methods.
            Canada also experienced a decrease in their shooting homicide rate after the introduction of gun control in that country. The provisions for gun control had significant benefits for saving lives in Canada and must be seen as an important consideration for the problem of an escalating crime rate in the United States.
The popular slogan "people kill, guns don't" was something to be strongly appreciated in favor of gun control. When gun control would not affect the likelihood of killing or crime in the country, it was important to point out how the policy could only affect the means by which death was accomplished. Statistics had already pointed out how most murders and homicides that were led the crime rates in the country were from shooting (Sproule & Kennet, 1989).
In this year, there was a riveting case that resounded in the news about a six-year-old little boy who was killed in a Memphis apartment after he was shot in the face  (Simpsons, 2008). There were three adults in another room and a seven year old child in the same room when this tragedy happened Details were not yet confirmed whether the gunshot was self-inflicted or not.
While this was something that was disturbing, it would even be more disturbing to hear about children shooting other children or children shooting their parents. An eight-year-old boy had used a 22. -Caliber rifle to kill his father a Timothy Romans. The boy's father was an avid father who had taught his son to use firearms because he did not want him to be afraid to handle it (CNN.com, 2008). The boy would face up to two counts of premeditated murder. Authorities were still looking at the details of this case as to what brought the boy to commit this crime.
In another case, a six-year-old girl was shot and killed in a classroom by a classmate, a six-year-old boy (Walsh, 2000).  The boy was in possession of a .32 caliber handgun that was stolen in December. The boy had shot the girl in the neck and after which ran to the lavatory to hide the gun in the trashcan (Walsh, 2000). While the boy was too young to be held criminally responsible for his crime, he would have to suffer from the fact that he had taken a life at such a young age for all of his life. There were other school incidents that involved guns that came into the possession of the students "May 20, 1999, a 15-year-old boy opened fire at a high school in Conyers, Ga., wounding six students; on November 19, a 13-year-old girl was fatally shot in the head in a school in Deming, New Mexico, allegedly killed by a 12-year-old boy; on December 6, a 13-year-old student fired at least 15 rounds at a middle school in Fort Gibson, Oklahoma, wounding four classmates" (Walsh, 2000).
One of the most heartbreaking incidents of school shootings happened on April 20, 1999 when two students drove to the Columbine High School campus in Littleton Colorado. In 16 minutes, these gunmen fired a hundred rounds that took the lives of 13 people and wounded 21 more before shooting themselves (Brezina & Wright, 2000).
The tragedy at Columbine had highlighted significant lessons in for the problem of gun violence in the country.  While guns were not necessary to commit crimes of violence, whether within school grounds, homes or on the streets, the importance of firearms in fights and robberies was that it had the power to intensify the level of violence as well as increase the possibility of death (Cook & Ludwig, 2000).
Guns were seen to increase the scope and lethality of such crimes. The fact that guns needed to be kept away from violent encounters hold a valuable argument why gun control was necessary in the country. The goal was different from reducing the rate of violence. It was about producing gun-oriented policies that would be able to save lives even if assaults and robbery rates were maintained at their current levels (Cook & Ludwig, 2000). It was about decreasing the potential severity and mortality rates of such crimes.
The problem with school shootings and violence committed by children was about the easy access. The question that would always be posed was how these kids were able to get their hands on these firearms? The undeniable truth, despite the denial of pro-gun advocates, was these guns were easily obtained. There was an estimate of 200 million firearms that were in circulation in the United States and 40 percent of the household in the country had ownership of at least one gun (Brezina & Wright, 2000).
Criminologists Joseph Shelley and James Wright were able to interview about 800 incarcerated juvenile offenders in order measure their accessibility to firearms. Even when they were minors, there were 70 per cent of them who revealed that there was no trouble for them to obtain one (Brezina & Wright, 2000). How come despite the fact that the United States had one of the loosest gun control policies in the world, pro-gun advocates were still blaming the gun control for the increase of crimes in the country? Evidently, even children did not have a hard time obtaining guns.
Most of these respondents from the same study were able to obtain guns from their family, friends and street sources.  Cases of School shootings showed how most of the criminals had obtained their guns from their own households, from their parents or grandparents (Brezina & Wright, 2000).
            More than gun-inflicted suicides and gun accidents, violent crime had made guns a big social problem. This was what triggered the drive for gun controls (Jacobs, 2002). Accidents could easily be resolved. Any other form that would be equally effective could commit suicides. However, violent crimes from shooting was something that could be prevented and should be prevented if only gun control policies were not constantly contested and were accepted by the citizens of the country.
Conclusion
            In 1992, there was an average of 36 people each day that were murdered by handguns, there were 32 women who were raped at gunpoint and 931 victims of armed robberies as well as 1557 people who were victims of assault with a gun in the United States (Funk, 1995).  Handgun crimes were accountable for 13 percent of all the documented violent crimes.  These were enough data alone to provide for the desperate needs for efficient gun control policies. Such policies needed to account for the cost of both sides of the debate. While gun-oriented debates each sought for protection from crimes and violence, there must be a point wherein both sides could meet in order to provide for a safer country for the citizens of the Untied States, especially for its children.
The Picture of the Need for Gun Control
It could all be fun and games for a boys to play with guns but accessible guns had led to serious consequences.
Gun control issues needed to highly consider its connection with the epidemic of school shootings.
References
Brezina, T., & Wright, J. D. (2000). Going Armed in the School Zone. Forum for Applied Research and Public Policy, 15(4), 82.
Cook, P. J., & Ludwig, J. (2000). Gun Violence: The Real Costs. Oxford: Oxford University Press.
Funk, T. M. (1995). Gun Control and Economic Discrimination: The Melting-Point Case-in-Point. Journal of Criminal Law and Criminology, 85(3), 764-806.
Jacobs, J. B. (2002). Can Gun Control Work?. New York: Oxford University Press.
Murray, F. J. (1999, June 14). Despite Risks, Americans Use Guns in Self-Defense. Insight on the News, 15, 42.
Slain father taught boy to use gun, priest says. (2008, November). CNN.com. Retrieved on December 5, 2008, from http://www.cnn.com/2008/CRIME/11/08/child.charged.ap/.
Simpsons, T. (2008, March 17). The importance of gun safety. Retrieved on December 5, 2008, from http://memphis.about.com/b/2008/03/17/the-importance-of-gun-safety.htm.
Sproule, C. F., & Kennett, D. J. (1989). Killing with Guns in the USA and Canada 1977-1983: Further Evidence for the Effectiveness of Gun Control. Canadian Journal of Criminology, 31(3), 245-251.
Walsh, D. (2000, March 1). Six-year-old Michigan girl shot and killed in classroom. World Socialist Website. Retrieved on December 5, 2008, from http://www.wsws.org/articles/2000/mar2000/flin-m01.shtml.