Gun Control as a Social Problem Essay Sample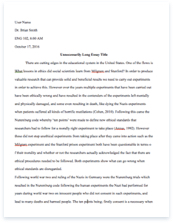 The whole doc is available only for registered users
OPEN DOC
Pages:
Word count: 1073
Category: guns
Download Essay
A limited time offer!
Get a custom sample essay written according to your requirements urgent 3h delivery guaranteed
Order Now
Gun Control as a Social Problem Essay Sample
The sociological approach to addressing social problem provides a different perspective of those social problems than other disciplines. Sociology demands a look at the self created structures of a society that result in the creation of social problems (Gurrero, 2011). This perspective allows sociologists to examine the relationships between the macro view of society and the micro view of society (Gurrero, 2011). The study of the individuals and institutions that compose a society through objective and systematic analysis allow for sociologists to understand the root causes of social problems (Gurrero, 2011).
Individuals may not relate their problems to problems that the entire society has, likewise the solutions to individual problems are not necessarily the best solution to social problems. For instance if a young family does not earn enough money to support their family, they must ask for help. The individual problem in this case is the same as a social problem. The individual's solutions to this problem may be to ask family for money or assistance. Society as a whole is responsible for taking care of its member's welfare, thusly; government creates institutions in order to deal with the social problem of welfare.
While social problems have both subjective and objective realities, the significance of a social problem is dependent upon its subjective reality (Gurrero, 2011). Objective realities are the hard and fast numbers associated with a social problem; these are the confirmed statistical data points that are not subjected to individual perspective (Gurrerro, 2011). The subjective reality of a social problem is what brings the social problem to the entirety of society and determines its significance. While the numbers of crimes committed with guns was stable from 1998 to 2006, the last year data was available for; this objective data shows no need for drastic gun control legislation (Bureau of Justice Statistics, 2006). However, the subjective realities relating to the tragic mass shootings in Aurora, Colorado and Newtown, Connecticut have brought gun control to the forefront of social problems in 2013(Pearson, 2012)(Stoller, Strauss & Stanglin, 2012)(Steinhauer, 2013).
Gun control in the United States is a social problem that came to the attention of the entire society as particularly serious in the last months of 2012. Social institutions have made gun control a social problem because of the type of weapons used during mass shootings resulting in a higher number of victims. In 2012, there were three nationally publicized shootings, two of which received only mild outcry for gun control. On December 14, 2012, a gunman entered Sandy Hook Elementary and killed 26 people (Stoller, Strauss & Stanglin, 2012). Twenty of the victims were children (Stoller, Strauss & Stanglin, 2012). The national media and liberal political action groups provided a deluge of opinions to the American public which did not necessarily accurately represent the objective realities. Those objective realities would show that the statistics of crimes committed with a gun dropped drastically from 600,000 to just over 350,000 from 1993 to 2002 (Bureau of Justice Statistics, 2006). Additionally, this statistic stayed steady, between 350,000 and 400,000, from 2002 to 2006, which was the last year available for this statistic (Bureau of Justice Statistics, 2006).
Currently, the answer to gun control as a social problem is to tighten the restrictions on people obtaining weapons. The government institutions and legislative bodies believe that by restricting access to weapons, even mandating the amount of ammunition each weapon can hold, this will prevent future mass shootings (Steinhauer, 2013). Additionally, the American public believes that someone must be mentally ill or at least psychologically disturbed to commit such a crime; therefore, the requirement for mental health professionals to report these people to state and national authorities has become mandated by legislation in New York State (Ariosto, 2013).
As a society, the United States has determined there is a need for social control regarding who is entitled to own guns and what types of guns they may own. Social control is a method in which the establishment of norms and values controls how society actions. Currently, media portrayal of gun owners and the semi-truthful arguments of how guns are responsible for majority of violent crimes create a prejudice against legal gun owners who have never committed a violent crime with a gun (Ariosto, 2013). Prejudice and discrimination against gun owners is leading the demand for social change.
Even now, gun owners are discriminated against for holding their beliefs as those beliefs become deviant. Federal and state legislative bodies are beginning to incite social change by creating new norms, societies acceptance of new legislation will result in a new social construction of reality. Social change is the method in which societies change the norms which define and potentially create social problems. The United States is undergoing a state of social change regarding the need for and use of firearms. The Bill of Rights of the United States Constitutions, a guiding document for the foundation of American society, is a key indicator that guns are an important part of United States society. As a social problem, gun control will be a key focal point for the United States over the next few months. The storied history of guns in the United States coupled with over two centuries of gun freedom protected by the Constitution means this era of social change could rival that of racial equality in the 1960s.
References:
Ariosto, D. (2013) N.Y. governor signs nation's first gun-control bill since Newtown. CNN.com. Retrieved from http://www.cnn.com/2013/01/15/us/new-york-gun-bill/index.html. Accessed on January 18, 2013. Bureau of Justice Statistics. (2006). Key Facts At A Glance. United States Department of Justice. Retrieved from http://bjs.ojp.usdoj.gov/content/glance/guncrime.cfm. Accessed on January 16, 2013. Crone, J. A. (2011) How can we solve our social problems? (2nd
ed.) Los Angeles, CA: Sage. Leon-Guerrero, A. (2011). Social problems: Community, policy, and social action (3rd ed.) Los Angeles, CA: Sage. National Committee on Pay Equity. (2012) Wage Gap Statistically Unchanged and Still Stagnant. Retrieved from http://www.pay-equity.org/. Accessed on January 18, 2013. Pearson, M. (2012). Gunman turns 'Batman' screening into real-life 'horror film' CNN.com. Retrieved from http://www.cnn.com/2012/07/20/us/colorado-theater-shooting/index.html. Accessed on January 18, 2013. Steinhauer, J. (2013) Democrats Are Split Over How to Shape Approach to Gun Bills. The New York Times. Retrieved from http://www.nytimes.com/2013/01/18/us/politics/democrats-in-congress-split-over-approach-to-gun-laws.html?_r=0. Accessed on January 19, 2013 Stoller, G.; Strauss, G.; & Stanglin, D. (2012) Gunman kills mom, 26 others in school shooting spree. USA Today. Retrieved from http://www.usatoday.com/story/news/nation/2012/12/14/school-shooting-connecticut/1769367/. Accessed on January 17, 2013.