Has the Educational System Responded to the Needs of a Newly Unified Germany? Essay Sample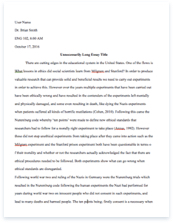 The whole doc is available only for registered users
OPEN DOC
Download Essay
A limited time offer!
Get a custom sample essay written according to your requirements urgent 3h delivery guaranteed
Order Now
Has the Educational System Responded to the Needs of a Newly Unified Germany? Essay Sample
     Prior to November 9, 1989 the Berlin Wall "sealed" the border between West and East Germany" and on October 3, 1990 Germany was officially reunited (Mitter, p. 45).  The fall of the Berlin Wall marked the end of a socialist regime and a period of "revolutionary change for the "socialist education system" (Mitter, p. 45).  However, despite the collapse of the Berlin Wall and efforts to unify a divided nation, Germany appears to have missed the point.
Nine months ago, in September 1990,  . . . the SPD was revived as a common party in and for the whole of Germany – an extraordinary event in the history of Germany's Social Democrats and also in my own career, in  the life-story of many among us.  I remember it with emotion.  After a pathetic start for the common party and for the common State, humdrum normality has caught up with us.  Are we really an all-Germany party (already)?  This question is legitimate, because an affirmative answer is far from being self-evident.  After all, the SPD – of course, fortunately and unfortunately – is part of the German people, mirrored in our frame of mind and consciousness . . .  Assessing the unification process raises bitterness.
The unification of the State has been completed, but in economic, social and, above all, human respects, we cold not have imagined the cleavage in our worst
Nightmares, and we would not have wished to do so.  The Wall (i.e. the Berlin Wall) was not only a brutal fact but at the same time the symbol of severance; moreover, it has apparently concealed the depth of the actual split.  Now, since it has fortunately disappeared, prejudices and alienation strike against each other, sharp and undisguised.  Reproaches are both superficial and embittered.  'Egoism, arrogance, lack of consideration, colonialist mentality' – these reproaches are hurled at the 'Besser-Wessis' (i.e. West German know-alls).  'Laziness, helplessness, tearfulness, impatience, immodesty' all these are aimed at 'Ossis' (i.e. the East Germans).
(Thierse, 1991 in Mitter, p. 46)
As a result, Germany's citizens, economy, states, educational progress, and basic overall functioning as a nation has suffered.  Bringing down a physical barrier does not eliminate all barriers and solidify reunification especially when the efforts are not supported from a top-down approach.  The focus of this paper is to evaluate the response of the educational system to respond to the needs of the newly unified Germany, taking into consideration public, vocational, and higher educations' status, organization, and responses to the reformed state.
     East Germany and West Germany were composed of two vastly different educational systems.  West Germany was composed of a three-tiered system and East Germany's educational system was a unitary secondary school with "no internal differentiation of students" (Wilde, p. 42; Beck, et al., p. 3).  When the country was unified in 1990, Germany failed to bring the two systems together.  "Rather than use "the positive aspects of both systems, and opportunity for much needed reform, West Germany, as the "Victor," decided to abandon the East German school system and require the entire country to use the three-tiered system" (Beck et al., p. 3).
Figure 1.1  The Three-Tier System (West German Model)  [Ed. Ashwill in Beck et al., p. 15]
Ertl and Phillip (642) reported that the unique opportunity for full-state education reform failed to be seized and this reflected unwillingness on behalf of Germany to depart from established norms.
     The OCED's 2000 PISA Test scores (p. 5) reported Germany below average in all literary areas tested (math, science, and reading) [Stanat et al., p.1 ;Beck et al., p.10].  Germany ranked 25th out of 32 countries tested in their overall reading, math and scientific literary scores (Deutche, p. 5 ; Beck et al., p.14 ).    Approximately one-fourth of all students tested read at an elementary grade level (Overview of Germany's Results, p. 3; Beck et al., p. 10).  The three-tiered system adopted by Germany after the collapse of the Berlin Wall and used by the West prior, proved to be unfruitful in meeting the educational needs of the nation following the reunification of Germany.  Allowing the reunification of the three-tiered system left students "lagging behind "compared to counterparts in the European Union"  (Beck et al., p. 3).
     In striking contrast to the status of student performance on the PISA tests and quite a paradox within itself, higher education enrollment in Germany has dramatically increased in latter years.  There has been a significant increase in the demand in the German workforce for academically skilled workers as opposed to earlier years in which on the job training or vocational training dominated the market.  However, the paradox to this situation lies in while there is a significant rise in the flux of students in the university setting they typically take 5.25 years to complete their degree and .25 of them take eight years, all longer than students in comparable counterparts in the European Union  (Orr et al., p. 4).  Additionally, only 70% of the students complete their degree (Orr et al., p. 4).  Thus, the conclusion that can be drawn based on student performance in higher education though there is an increase in enrollment and demand in the workforce for academically skilled labor is that students are arriving in the university setting with inadequate skills for higher education.
     When East and West Germany originally united  Ertl and Phillip (620; Beck et al., p. 17) had already cited among others that there was the opportunity available for full-scale educational reform and the lack of initiative on part of the German educational system to seize this opportunity had left German students "lagging behind European counterparts" (Beck et al., p. 3) when they were tested on performance tests according to PISA test scores 2000-2006 (Overview of Germany's Results, p. 4; Beck et al., p. 10).  The strengths of the East was pushed aside during the reunification and the West' ideals for education adopted for all with no top-down guidance.  All governance for education public school and co-governance decision making for higher education was put in the authority of local Landers.  The higher education institutions did maintain some autonomy as they were private institutions with public funding (hence eventually came some control from the Landers handed down from the state).
   Two  of the periods of historical chances for change that have occurred as cited by Dr. Deckert-Peaceman (p. 6) are the fall of the Berlin Wall  (leading and symbolizing the reunification of Germany) and the PISA Shock,  occurring since 1989.  However, responses of the school system to meet the changing demands of society has not improved during  since these major events as was typical of its character not to improve throughout history to the changing needs of the German society, whether separated or united.
   As stated by Dr. Heike Deckert-Peaceman (p.2):
 ". . . despite several historical chances to make real reforms, little has been fundamentally changed.  In no other OECD country are pupils separated into hierarchic scholastic tracks at such an early age and with such lasting effect.  This means that in the fourth grade, at the approximate age of 10, a child's academic track, occupation and societal status have essentially been decided.  It was not possible to institute a longer period of shared schooling for young children during the Weimar Republic due to the resistance of the privileged and conservative and, despite repeated attempts, little has changed over the passed 90 years."
     Despite the reunification of Germany physically due to the collapse of the Berlin Wall much work is left to be completed.  After nearly two decades Germany's education system is lagging behind that of other European Nations.  Instead of embracing the diversity of differences between the East and West in terms of education and adopting a full-scale education reform to meet the needs of a unified Germany, East Germany was essentially pushed aside and the West German model adopted.  As a result,  students' are performing poorly and this will ultimately affect Germany's economic and social progress within its own country and within the world.
References
   Beck, M., et al.  (2007).  Reform in the german educational system:  an ongoing process.  On the Internet at:   globalizationandeducation.ed.uiuc.edu/…/GSEB/2007/Germany 2007.pdf
   Deckert-Peaceman, H.  (2007).  Starting school in Germany.  a case study of an inclusive, private school.  A paper presented at the AARE Conference 2007, University of Notre Dame:  Australia, Fremantle
   Mitter, W.  (1992).  Educational adjustments and perspectives in a united germany.  Comparative Education, 28 (1), 45-52.  On the Internet at:   http://dx.doi.org/10.1080/03050069202280105
   Orr, D., et al.  (2007).  Performance-based funding as an instrument of competition in German higher education.  Journal of Higher Education, 29 (1), 2-23.
   Overview of Germany's Results (2000).   On the internet at:
http://www.mpib-berlin.mpg.de/pisa/PISA-2000_Overview.pdf
   Stanat, et al., (2007).  PISA 2000:  Overview of the study:  design, method, and results.  Christian Albers University, Kiel, Germany:  On the Internet at http://pisa-org
    Thierse, W.  (1991).  Quote from speech at Party Rally in Bremen.  Der Tagesspiegel, 29 May 1991, p. 8:  In Mitter, W.  (1992).  Educational adjustments and perspectives in a united Germany.  Comparative Education, 28 (1), 45-52.  On the Internet at:   http://dx.doi.org/10.1080/03050069202280105
   U.S. Department of Education.  (1999).  Teacher education in germany:  case study findings.  Ed.  Ashwill, M.  Buffalo, NY
  Welle, D.  (2002).  German schools – ripe for reform.  On the internet at:
http://www.dw-world.de/dw/article/0,2144,575601,00.html
  Wilde, Stephanie.  (2007).  "Secondary education in germany 1990-2000:  'one decade of non-reform in unified german education'?"  Oxford Review of Education, 28, 39-51.  Academic Search Premier (EBSCOHost Research Databases).  In