Hate Crimes Essay Sample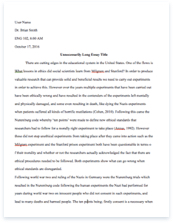 Pages: 3
Word count: 790
Rewriting Possibility: 99%

(excellent)

Category: crime
Get Full Essay
Get access to this section to get all help you need with your essay and educational issues.
Get Access
Introduction of TOPIC
Hate crimes refer to the targeting of an individual based on his association with a particular social group that is identified by a specific characteristic such as race or religion (Rosen, 2007). Other specific social groups include nationality, gender, age and even political affiliation. Hate crimes, also called bias-motivated crimes, should not be confused with conventional crime since the latter is not intentionally directed at a specific individual.
Hate crimes are usually enacted in order to instill fear and to intimidate a special social group. Sociological analysis has identified different forms of hate crimes. These incidents may be associated with physical assault as well as damage to the target individual's property. Other hate crimes are involved with bullying as well as verbal abuse and offense. There are also types of hate crimes that are characterized by graffiti.
There is increasing concern regarding hate crimes and legislators of several countries have attempted to create policy that would attend to such unlawful actions that have been occurring for several decades (Duffin, 2007). A few examples of historical hate crimes would include the maltreatment of Christians by the Romans as well as the eradication of News by the German Nazis. Lately, the massive killings in Bosnia and the genocides observed in Rwanda are major examples of hate crimes in the modern world. It should be understood that hate crimes have influenced the society and the manner in which the future social structure would evolve.
For example, the colonization of the New World by the Europeans during the 16th and 17th centuries have resulted in hate crimes against the native Americans, which were strongly associated with violence and terrorism. Another example o
f a hate crime is the century-old execution of African Americans in the United States as well as the
forced displacement of black families from neighborhoods that were resided in by white Americans. Another current type of hate crime is the offensive actions against homosexuals and trans-gender individuals.
The hate crime related to the resistance to Black Americans is considered as the most observed prejudicial action in the United States. It is interesting to think that such prejudice has resulted in the American population, when African-Americans actually comprise the second biggest minority group in the United States. The United States federal government has documented that there are approximately 8,000 hate crimes committed against Blacks each year. Other hate crimes that have been reported include those actions against the Jews, homosexuals and the Latino population.
Legislation guidelines have been implemented to address the issue of hate crimes in the United States (Abrams, 2007). To date, there are four types of laws that are related to these hate-motivated actions. Firstly, there are laws that describe which specific actions could be classified as hate crimes. Secondly, laws have been created to implement penalties against individuals who perform such unlawful acts. Thirdly, there are also laws that describe specific causes of action in performing a hate crime. And lastly, there are laws that have been created to required particular government agencies to gather statistics on hate crimes.
In Canada, the Canadian Criminal Code was implemented in 1966 which provides specific penalties to different types of hate crimes, including that influenced by race, religion, disability and even sexual orientation. Such type of discrimination is thus not tolerated in Canada and severe punishment will be given to anyone who commits acts of bias or prejudice. A parallel has been released in the United States and this is known as the Matthew Shepard Act or the Local Law Enforcement Hate Crimes Prevention Act of 2007 (Stout, 2007).
Hate crimes, or bias-motivated crimes, are prejudiced actions against a particular social group that is identified by a specific characteristic such nationality, gender, age and even political affiliation, and are usually enacted in order to instill fear and to intimidate a special social group. The prolonged and increasing number of hate crimes committed around the world has prompted legislators to create laws that would protect specific social groups, as well as prevent particular individuals from further intimating specific groups of people through violence and threats.
References
Abrams J (2007): House passes extended hate crimes bill. Guardian Unlimited, 05-03-2007.
Duffin C (2007): Policing hate crime. Nurs. Stand. 21(22):18-9.
Rosen IC (2007): Revenge: The hate that dare not speak its name: a psychoanalytic perspective. J. Am. Psychoanal. Assoc. 55(2):595-620.
Stout D (2007): House votes to expand 'hate crime' protections. New York Times, 5-03-2007.