Health and Social Care Essay Sample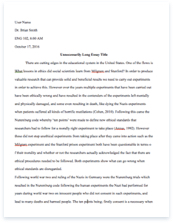 The whole doc is available only for registered users
OPEN DOC
Pages:
Word count: 1151
Category: death
Get Full Essay
Get access to this section to get all help you need with your essay and educational issues.
Get Access
Health and Social Care Essay Sample
Babies are almost unmoving when they are born and they have very little muscle coordination. Slowly month by month their muscles begin to strengthen and babies start to control their movements. At age of 2 months infants are able to raise their head when lying on their stomach, at age of 6 months they are able to sit without support by 8months they start to crawl, at age of 12 months they can walk without any help, at age of 3years they can jump and ride tricycle. Intellectual (Learning, Language)
By the age of 18months children should know at least six words. Most of the children's at age of 2years should be able to put two or three words together into a simple sentence. By the age of 3years most children speech should be understandable and children should be able to speak in complete sentences and they also love to listen to stories. Emotional (Attachment/bonding)
Newborn babies cannot understand what is happening to them. They do not know who helps when they cry. They feel happy when they feed, but they do not know what 'happy' is. And also they cry when they are hungry or need to sleep. Infants will start to develop trust when parents begin to fulfill their needs such as when changing an infant's nappy, feeding them, hold hand when they cry. Social (Learning)
Babies of a few days old will react to the sound of a human speech and focus on picture of human faces more than on other pictures. As children develop, they are more able to express their feelings verbally. Often children start nursery at this age and this provides an opportunity for them to share time with different age groups.
Childhood (3-11)
Physical
Growth and motor skill development
Growth continues to be rapid during this stage but not fast as in the first three years and there body proportions are beginning to be more like adult. During this age their motor skills get improve their running speed increases , they can throw ball, play football, they can button and unbutton their clothes by themselves they start going school to learn they will have a good balance of their body by the age of 6-8 Intellectual
Rapid learning
As children get older they are able to carry out more logical activities. As children progress through this stage they become fluent in language and may develop good vocabulary. They are able to build sentences and use grammar fairly well. This is the time when children often start formal schooling. Emotional
Independence
At this stage children progress through this stage they begin to loosen the bonds with their main careers although they still need their support. They begin to be more independent and start to develop a sense of self and their communication skills continue to improve. Social (relationships and friends)
At this stage children make up complex games with other, organizing themselves and making up their own rules. Children's join in many different activities with other and learn to share and take turns. As they develop their reading skills improve and they will have better responding to other people/kids emotional.
Teenager (11-18)
Physical (Change at puberty)
At this stage boys and girls begin to change and look different as they grow into young men and women. Many changes take place in boys and girls during puberty boy's voice get deep, muscle development, body hair and public hair and girl's breast development, their body become more curvy. Intellectual (Throughout life)
Most of the Teenagers are start to think about possibilities for their long term futures and plan ahead. They make decisions such as whether or not to continue in education or to go out to work. Emotional (Relationships)
Teenagers become less dependent on family for emotional support and turn to their friends for advice. This called the influence the peer group. Young people want to be accepted by their friends and this can sometimes lead to difficult situations, affecting both self esteem and self concept. Some adolescence feel worried or unsure about the future and other feel like nobody understand them and some of them are moody. Social (Independence)
As teenagers gain independence, they spend more time with friends. This allows them practice social skills as teenagers turn more to their peers they often struggle because they want to be liked.
Adult (19-65) (Ageing)
People in their twenties and thirties are usually at the top (peak) of their physical development. They are fully mature and at this age they have children's. From about the age of 30 the physical ageing process begins and people begin to notice a number of changes. This can include, flexibility reduces and sight decline, bones lose calcium. Intellectual (Problem solving)
At the age of 20 some of them either continue with their education or start to work at this age. Many young adults continue with their education at a college or university. Young adult continue to develop problem-solving and decision making skills. At the age of 19 to 40 they have good memory to remember things, more aware of the things that are going around them and more aware of what's going on in the world. Emotional (Bonding)
Some adult in their twenties and thirties thinking about life partners and developing close emotional bonds. This is also the time when many people decide to start a family, which means new responsibilities. Social
Some adult in their twenties usually do not have too many responsibilities
and most people are able to spend quite a lot of their free time socializing. And some at age of 22+ they start to work and get married and look after their kids and families
Old 65+
Physical (Ageing)
At this stage most of the older people will have to deal with some sort of disability as they are no longer able to do the same things they did when they were younger. At this stage many people face some problem, some memory loss, their eyes sight get weak, they can't hear properly.
Intellectual (possible effects in older people)
Older people can still learn different skills and hobbies, they can learn a foreign language, playing musical instrument. Many of these activities also involve increased interactions with other people which itself provides mental stimulation. Some older people are less able to solve problems as quickly. The risk of memory loss increases with age.
Emotional (retirement)
Many older people are pleased to have more free time and are able to spend their retirement visiting family and friends or pursuing their hobbies. Also they help their family if they need support they feel sad or cry when their family member or relative die. Social
Usually old people don't work that means less social contact but they spend more time with friends and family and many older people prepare for retirement.