Health Care: A Critique Essay Sample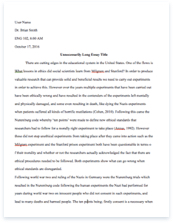 The whole doc is available only for registered users
OPEN DOC
Download Essay
A limited time offer!
Get a custom sample essay written according to your requirements urgent 3h delivery guaranteed
Order Now
Health Care: A Critique Essay Sample
            The importance of attending to health care needs cannot be undermined because of the mere fact that they are unlimited, unconstrained and bottomless. This is why health care practice is a never-ending challenge with large rooms for innovation and development in the past decades and in the coming years. The only dilemma which hinders this endeavor is the limited resources that may provide the best health care services to the people who need them at any time.
            It is sad to note that despite the big expenditures the United States have allotted for their health care system, they are still lagging behind other industrialized nations as England, Sweden, Netherlands, France, New Zealand, Japan, Canada, Australia, Belgium and Denmark in terms of infant mortality and life expectancy rates. Moreover, even with said enormous expenditures there are still those who are deprived of acquiring good and adequate health care services. These are the uninsured.
            The irony of the U.S. insurance system is that only those with jobs can avail it. The jobless have no room in the U.S. insurance system. And all these individuals, jobless or not, at some time in their lives necessitate health care services. Health care is supposed to be for everyone who needs it. Basically, it is even the reason why these health care practitioners choose this vocation — to help those who need them but so suddenly, the insurance system takes charge and decides who to render services to. Instead of feeling "at peace" every time one gets sick thinking that the insurance will take care of it, it has become a burden especially for the uninsured. There is no security but a feeling of helplessness. The sad part of this entire "story" is that only the health insurance chief executives get richer as they savor fat millions of bucks they earn each year from the insurance amortizations that are deducted from working Americans. The film producer and writer Michael Moore even released a film entitled "Sicko" and has been a very controversial documentary since then after it revealed the real scores of health care injustices in America.
The failure of the U.S. health care system is their too much emphasis on curative measures rather than preventive methods of dealing with health conditions. It has been said that the uninsured can be treated and given medical care if their conditions are already terminal or in the last stages. Whatever medical treatment is given if the prognosis or its degree of curability is low, it is still useless. If said treatment has been given at an earlier time when the patient's condition is still with higher hopes of being restored to health, then the patient can be spared from dying.
Another failure is the very high cost of health care in the United States but the possibility of getting cured through its latest technology and procedures have not actually proven to be very effective though there are patients who have benefited from them. In addition, medicines are way too expensive too. Among the public who are greatly affected by these overly priced services are the aged. They suffer the bulk of the difficulties of these health care policies.
The injustices of the American health care system are too much to bear. It is therefore but relieving to take Michael Moore's health care proposals into consideration: (1) Every resident of the United States must have free, universal health care for life; (2) All insurance companies must be abolished; and (3) Pharmaceutical companies must be strictly regulated like a public utility. Many have criticized these suggestions especially those who are in the insurance industry but what is of the essence here is public medical safety. The United States health care system must be given a second look or else, more Americans will lose their lives without a fight.
References
"Michael Moore's Health Care Proposal." (n.d.). Sicko. Retrieved October 10, 2007, from http://www.michaelmoore.com/sicko/health-care-proposal/