Health Care in Brazil Essay Sample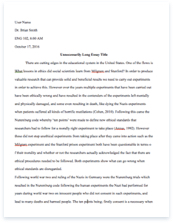 The whole doc is available only for registered users
OPEN DOC
Download Essay
Get Full Essay
Get access to this section to get all the help you need with your essay and educational goals.
Get Access
Health Care in Brazil Essay Sample
How much do we really know about healthcare in Brazil?  What are the needs for the citizens of Brazil when it comes to hospital placement in the country, and how much do me know about the  pharmaceutical imports and healthcare supplies, that are necessary to treat patients in Brazil where many patients have fallen ill to various  chronic diseases and infections and has drastically affected the mortality rate for Brazilians.
We will examine these important questions and answer each of them, as to what possibilities may better equip the country of Brazil, to better suit the needs for the health care industry in Brazil and what concerns are being addressed, already and grasp a better understanding of why it's important that health care in Brazil, seriously needs to be addressed.
            "We do know that there is a growing demand for healthcare in Brazil," explains (2004, Frost & Sullivan) Even though there are over seventy-eight hundred hospitals in Brazil, where there are only a partial percent of the population of Brazilians who will receive proper healthcare, reports  Frost and Sullivan, 2004 when they discuss the Brazilian Healthcare Industry.  Due to the poorly distribution of hospitals in the country of Brazil, certain areas of the population have many hospitals in their local areas, where in other areas, the hospital may be a very long distance away from the patient.
            The Brazilian hospitals are supplied with medical supplies and operating equipment, where thirty percent come from Germany, the United States of America and Japan. Many of the medical supplies needed, such as surgical gloves used for sanitation purposes, plastic tubes that are used for special applications and syringes have been excluded from the import duties.
With the growing number of patients being reported as having chronic diseases, infections and seeing that the mortality rate of the population of Brazil is on the rise, we need to immediately address the governing council of health care reform, and ask how we may better obtain these necessities for the Brazilian people.
            We also know that Brazil ranks number ten for the world's largest market for drugs, then ranks second largest, only Mexico ranks higher, for the world's largest market for drugs. What has led the multinational companies to lead the pharmacy area with seventy percent of their share, while other foreign companies try to expand the use of generic drugs.
            Brazil is a member of the Southern Cone Common Market, (MERCOSUR) and relies more often on the countries of Agentina, Uruguay and Paraguay when it comes to trading and investments.
            Very high price tags of these drugs, the fluctuation of the interest rates, and the rise in R&D costs is the reason that the market is held back in Brazil.
            President Lula has shown great concern and has taken a special interest in bringing about reforms for the country of Brazil. The Brazilian government has been condemned for not being able to bring about socio-economic development in their country.
            His concern has helped the citizens deal with the situation and keep high expectations that there will be some kind of positive turn around for the healthcare industry in Brazil.  Because they know that their leader sees and understands the problems in healthcare, they expect that he will at least try to make a difference for the Brazilian people.
            New macroeconomics reforms have seriously helped in making Brazil an appealing and preferred point of interest and destination for foreign investors. Deregulation, Privatization, and the withholding of and removal of various areas and barriers to the competition, have now greatly caused many more multi-national companies to start setting up a base by means of Greenfield projects and acquisitions.
            Private investors feel that investment and trade policies are on the positive side for private investments where special capital goods are exempt from custom tariffs and also the other forms of taxes and duties.
            Brazil spends eight percent of its GDP, which equals thirty billion US dollars, on healthcare and 1.8 billion for medical equipment reports a survey (2007, Brazilian medical survey.)
            The best prospects for the people of  Brazil are for advanced medical supplies and equipment which include diagnostic equipment, implants, disposable supplies, and various components for the medical field to be delivered into the country where it is so desired.
            To get a better and more clear understanding about Health Care improvement, Yosef D. Dlugacz; PhD., explains to us about the different performance measurement methods in Health Care and connects them with their practical impact on clinical patients outcomes.
            While learning about Brazilian Health Care, and better understanding what needs to be changed or altered in the health care industry, such as the need for hospitals to be located more properly, for convenience, and by then understanding the most important basic needs of the Brazilian citizens, such as locating more disposable gloves and surgical supplies, we can more properly address the health care needs of the citizens of the county of Brazil.
We can also trust that the very concerned President of Brazil will properly address the needs and basic concerns of the Brazilian people, and make arrangements for obtaining medical and surgical supplies and instruments, and make important steps in building more hospitals and finding ways to import more surgical and medical supplies into the country.  With that basic concern being addressed, it offers much hope for Brazil.
(2007, Brazilian Medical Survey, Pharmaseuticals in Brazil, )
( 2006, Dlugacz, Yosef D.; Measuring Health Care: Using Quality Data for Operational, Financial, and Clinical Improvement, p. 1)
( 2004, Frost & Sullivan, The Brazilian Health Care Industry, Health Care Technologies Trade Mission US Commercial Service, p. 54)