Health Care Management Essay Sample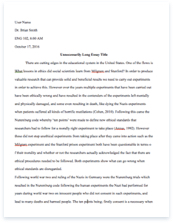 The whole doc is available only for registered users
OPEN DOC
Get Full Essay
Get access to this section to get all help you need with your essay and educational issues.
Get Access
Health Care Management Essay Sample
            Successful health care management is realized through the application of a series of processes that lead to preferred outcomes. Apparently, this includes assessment, planning/organizing, implementation and staffing. The nursing process is the most important operation in all nursing actions. In fact, it is the very essence of health care management which is deemed pertinent in any clinical setting, in any frame of reference and encompasses any philosophy. The uniqueness of this 'art and science' depends on how it is applied in the health care management skills to clients and patients.
Assessment
            Assessment provides an estimate of the degree to which a client or patient is achieving the level of health possible for them, identifies specific deficiencies or guidance needed and estimates the possible effects of health care interventions. It involves the following steps which are taken with the active participation and cooperation of the client or patient especially in decision-making: collection of data and intensive fact finding, the application of professional judgment in estimating the meaning and importance of this information to the client or patient, the availability of health care resources that can be provided, and the degree of change which nursing intervention can be expected to effect.
Planning/Organizing
            The planning and organizing for nursing action or health care management is based on the actual and potential problems that were identified and of main concern. Planning and organizing nursing actions include the following steps: goal setting, constructing a plan of action and developing an operational plan. Goals in these terms should be specific, measurable, attainable, realistic and time-bounded.
            The planning and organizing phase of health care management is concerned with choosing from among the possible courses of action, selecting the appropriate types of nursing intervention, identifying suitable and available resources for care and developing an operational plan. To establish an operational plan, the health care manager and practitioner must organize and establish priorities, stages and coordinate activities in the health care environment and facility.
Implementation
            In health care management, implementation involves various nursing interventions which have been determined by the goals and objectives which have beer previously formulated. The health care manager and practitioners carry our nursing procedures which are consistent with the health care plan and are adapted to clinical settings which promote a safe and therapeutic environment. In so doing, the health care giver must absorb the client and patient as well as his/her family in materializing the health care plan in order to motivate them to assume responsibility for his/her care, and to be able to educate and maintain desired level of function, explaining and responding to questions to clarify uncertainties and ability for self-care. Thus the role of the health care manager and practitioner shifts from direct care giver to becoming a teacher.
Staffing
            Staffing includes activities to guarantee sufficient number and blend of team members and staffing considerations such as patient needs, staff satisfaction and organizational needs.
Primary considerations for staffing comprise of number of patients, amount of care required, staff experience and skills and preparation. Patient classification systems/acuity levels group patients according to health care needs. As recommended by the American Nurses Association, classification system considerations are age and functional ability, communication skills, cultural and linguistic diversities, severity/urgency of the admitting condition, scheduled procedures, ability to meet health care requisites, availability of social supports and other specific needs (as cited in Mosby, Inc., n.d.).
Staffing needs must be met because satisfied nurses provide higher quality and supplementary cost-effective care. Round the clock and whole year round staffing needs create staffing challenges through resourceful staffing alternatives and staff contribution about staffing per se. To meet organizational needs, there must be financial management and an effective balancing of the number of staff assigned per patient and staff mixing procedures. Licensing and accreditation, customer satisfaction and quality care are also considered. The major challenge therefore is "appropriate staffing within budget constraints with well-trained, competent, professional staff members who are committed to providing safe, high-quality care" (Mosby, Inc., n.d.).
Conclusion
            In health care management, there must be specific assignments, responsibilities, and authorities or decision-makers to complete patient care. This can be done through proper assessment, planning/organizing, staffing and implementation. The health care strategy should match the number and category of health care givers to patient care needs. Beyond all these, the bottom-line remains on the quality and standard of health care the clients and patients receive.
References
Mosby, Inc. (n.d.). Staffing and Nursing Care Delivery Models. Retrieved July 26, 2007, from file:///C:/Documents%20and%20Settings/greenlone/Local%20Settings/Temporary%20Internet%20Files/Content.IE5/OZALKP4R/Nursing%2520Care%2520Delivery%5B2%5D.ppt#259,11,Total Patient Care – pdf